Ten years ago, I took a solitary intermission in Sacramento's Arco Arena to pre-empt the serpentine ladies' room lines.  When I returned to my seat, Annie cried, "Oh, you missed it, Mom!"  A woman next to my little sister Melanie said, "I can't believe he just did that to you!"
The cause for this disbelief?  A small and mighty Russian ice dancer had caught Melanie's eye, climbed several rows to our corner seats and asked "what's your name?"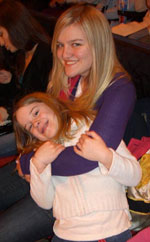 "Melanie," she answered.
"Don't worry Melanie," Gorsha Sur assured in his thick accent, "I won't drop you."  And with that he dipped her in a romance-novel worthy swoon.  Nothing so awesome had ever happened to us at our six previous years at the Stars on Ice show.  And I'd been in the bathroom. 
Ever since Melanie first told me about Stars on Ice sixteen years ago, we've made it our annual tradition.  Stars on Ice features creative music, themes, costumes and innovative choreography for the non-Kindergarten crowd.  They group skaters in unexpected and delightful ways.  The smallish, tightly bonded cast clearly likes one other. 
Melanie and I consider Stars on Ice a vehicle to feed our sisterly bond.  We've attended the show in Seattle and Sacramento and back to Seattle, tracing Mel and Bill's moves.  The Portland show is closer to my Salem home, but I use trains, planes and automobiles to watch it wherever Mel and family reside.  
I started inviting my Annie along when she hit middle school—around the time of the Gorsha Sur swoon.  We decided to increase our chances of skater interactions by investing in closer seats.  That's how we scored some front row fun:  Scott Hamilton spraying Melanie with ice after a too-sudden stop; Kurt Browning growling at Annie during a panty-tossing Tom Jones tune.  (I hate the word "panty" but underwear just doesn't work here.)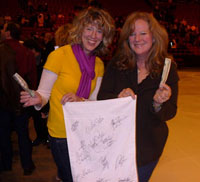 Last year we sat in the front row at the far end of the rink.  During a group number, I chair-danced to the beat, pumping my arms overhead.  Ilia Kulik noticed and mimicked my motions.  Annie was mortified. 
This year we sat front row center in Seattle's Key Arena.  Mel expanded our tradition by inviting her daughter Suzanne. At intermission Suzanne switched places with me so she could sit next to Annie.  This allowed Mel and me better opportunity to whisper and make trouble during the show.  "Don't embarrass me, Mom," Annie warned, recalling my Ilia Kulik chair-dance.  Foolishly, she underestimated the possibilities of our new seating arrangement. 
The second half of the show began with a testosterone group number.  Imagine six guys wearing purple sleeveless spandex shirts and black leather pants with silver studded "W's" on their pockets.  Six studs with studs.  They gyrated in mock Chippendale fashion to a Bon Jovi song called "We Got It Going On." 
"We should wave money at 'em," Melanie jokingly suggested.  To her surprise, I went for my purse.  I was in.  But I had only tens and twenties; it seemed excessive for our purposes. 
"Got any ones?" I asked.  Mel found some and passed me a bill.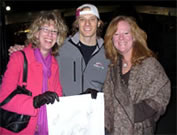 "Fold it like this," she instructed, doubling it lengthwise.  Mel seemed to know a lot about waving money for Chippendales, I thought.  In truth, our Chippendale expertise came almost entirely from that old Chris Farley/Patrick Swayze Saturday Night Live skit.    
We waved our ones and the skaters began to notice and laugh.  Annie tried snatching my dollar but I held tight.  Near the end of the song Michael Weiss passed while heading for the chorus-line finale.  "Michael, come here!"  Melanie barked.    
Over 10,000 fans followed Michael and his spotlight as he skated to Melanie and me.  Before us stood Michael Weiss, a man universally known as a devoted daddy and husband.  Suddenly a frontal dollar stuffing seemed all sorts of wrong.  But Mel knew just what to do.  "Turn around," she ordered.  Michael obeyed. 
Melanie tucked her dollar into Michael's silver-studded pocket and I poked mine into his belt.  Michael skated away with our dollars flapping behind from his behind.  The other guys looked puzzled by Michael's delay.  When Michael reached them, he grabbed our dollar tips and waved them around.  The guys roared and offered knuckle-fisted high-fives.
Mel flushed scarlet and suffered a thumping heart.  I suffered less post-traumatic-Chippendale syndrome, probably because everything had largely been Melanie's initiative.  I just reached for some Malt Balls and enjoyed the show.  But my time was coming. 
A few songs later, Michael delivered a high-energy interpretation of AC/DC's "You Shook Me All Night Long."  We got close-up displays of his handstands, flips and rocker scowls.  Afterwards Yuka Sato and John Zimmerman handed Michael a towel to wipe away his sweat, and they dabbed each other with it.  John, Yuka and Michael looked to the crowd and asked who wanted the sweaty cloth.  "Who wants it most?  Who's the greatest fan?"
The three rounded the rink before John approached, grinning.  He pointed to us and yelled, "You!"  Michael carried the towel over, ready to deliver.  But he stopped short. 
"Just a second," he said, tucking the towel into the back of his belt.  He turned around and jutted his studly-W toward us in a non-verbal, "I dare ya."  Mel momentarily froze, so I pulled the sweaty towel from his pants.  Michael turned, laughed, and opened his arms wide.  We did the sweaty hug and then he was gone. 
I wasn't sure what to do next with the spotlight still on me, so I twirled the towel over my head.  I turned to the thousands in the stands behind me, lassoing the towel and rotating my hips in unison.  Some primal instinct had overtaken me.  But the crowd behind didn't seem to share my enthusiasm, so I sat down.  This time I was the one with the thumping heart.     
During the next number, we examined the sweaty towel, each taking a good sniff.  Besides the stink, it contained make-up and the signatures of all the Stars on Ice cast members.  We'll frame it and pass it back and forth, we decided--once the odor dissipates.
After the show, we spotted some fans loitering near the skater's buses, eager for autographs and photos.  John Zimmerman posed with us and our towel.  "Michael loved it," he reported.  "You made his evening.  Plus he got two dollars."  We'd hoped Michael enjoyed our antics and were relieved for the confirmation.  We'd understood their Chippendales joke and they understood ours.  Somehow, middle-aged moms tucking dollars into the pants of a faithful family man meant nothing more than innocent fun.  Thankfully, everyone got it.   
Both of our girls wanted to be the ones to tell the story to their daddies.  Oddly enough, neither of our husbands seemed surprised.  "Sounds like Mom's being an introvert again," Jim said.
Suzanne described our experience to Bill like this: "Mom and Aunt Jean stuck money in a skater man's pants at the ice show and then got his sweaty towel."  Bill laughed, "Oh, really?"
Mel and I couldn't have done this a decade ago.  Such freedom only comes with age—the older, the bolder, we say.  You care less about what people think, or even what 10,000 people think.  The threshold of embarrassment rises.  So when you spot that little piece of harmless wonder, or that sweaty skater towel, you can grab hold without hesitation.     
Annie hates to admit it, but she loved what happened.  Still, she'll probably try to separate Mel and me during next year's Stars on Ice.  I can promise nothing. 
-