PORTUGAL STORIES, PART 1
What do you get when you combine a bridge that resembles the Golden Gate, an elevator that looks like a mini Eiffel Tower, and a joyful pedestrian promenade similar to Barcelona's Las Ramblas, but safer?  The answer:  Lisbon!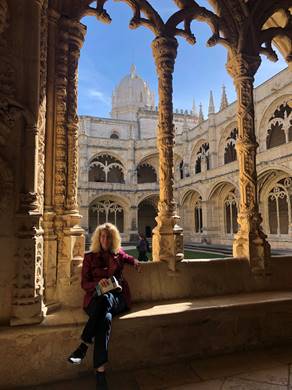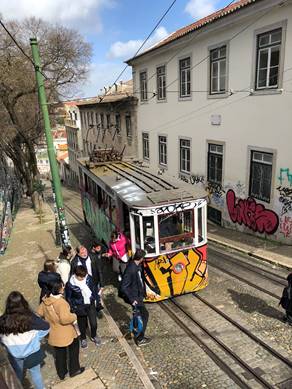 Jeronimo's Monastery in Belem - Lisbon funicular
After our flight got temporarily diverted to Porto (a plane had stalled on the runway at Lisbon) and we couldn't reach our pick-up driver (she'd changed her number) we lost confidence.  "Is our apartment even real?" Jim fretted.  Fortunately everything turned around as soon as we got our code to our place and set out into this beautiful, affordable city filled with warm people and warmer custard pastries where everybody happily speaks at least four languages fluently, including English.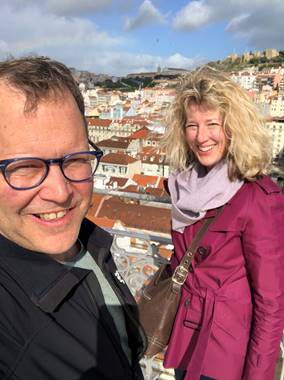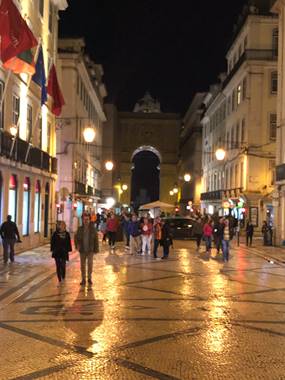 View from top of Elevador Santa Justa - Baixa neighborhood
Politics:
Portugal, a late-comer of democracy, had to borrow a boatload of money to upgrade their transportation and sanitation problems in order to join the European Union.  I like to gently quiz cab drivers in foreign cities about culture and politics, knowing they're more likely to tell strangers they'll never meet again what they really think.  And in Lisbon I hear "we're very poor." 
Portugal still recovers from its E.U. debt, the economic downturn of 2008 and the fascist era of Antonio Salazar--a figure uncannily like Spain's Francisco Franco.  Both terrorized for decades over similar time periods, ruling all aspects of life and brutalizing anyone whispering of opposition.  Jim and I toured Lisbon's Museum of Resistance and Freedom https://www.museudoaljube.pt/, a place that probably doesn't make most tourists' short-lists and offers little explanation in English.  They seemed slightly surprised to see us. 
Like Spain, Portugal attained democracy only following the death of its dictator.  Portugal's nearly-bloodless revolution occurred in Lisbon on April 25,1974 when the once-vicious police force finally ran out of mojo.  Protesters gathered that day in city squares, neutralizing police by sticking carnation flowers into the barrels of their rifles.  Hence, the Carnation Revolution:  https://en.wikipedia.org/wiki/Carnation_Revolution
Service-workers:
In preparation for our trips, I attempt to purchase as many on-line tickets as possible beforehand.  This didn't work so well for Portugal.  Even for major sites, many don't offer pre-paid tickets or their websites malfunction.  When we stand in ticket lines here, we regularly encounter single sellers who don't accept credit cards, sometimes runs out of paper tickets, and may or may not have correct change on hand. 
The good news is that almost everything--housing, food, restaurants, taxis and venues are delightfully inexpensive.  Perhaps venues keep their prices low to allow access to the lower-earners of Portugal? 
We are pleased that they've not resorted to dual pricing like in Mexico (one cost for Mexicans, another for everyone else) or charging entrance to churches (like much of Europe).  Maybe some of that will change as tourism continues to explode in Portugal. 
When Portuguese businesses have hands-on owners, like Carlos with his Os Jeronimos Restaurant in nearby Belen, we find enthusiastic service, greetings with handshakes and good humor.  "Try our swordfish.  No, no, you don't want the salmon--salmon is like eating something from a swimming pool.  Fish should come from the ocean!"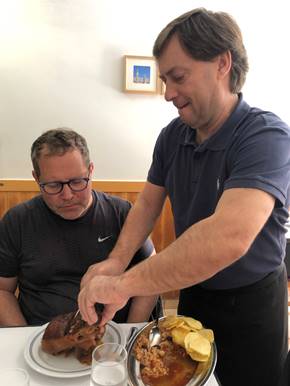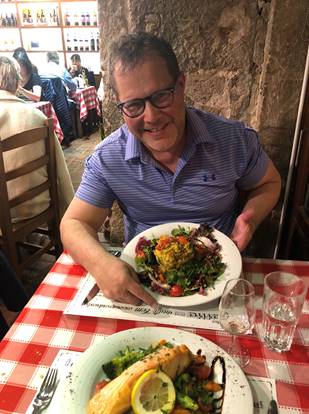 Restaurante Os Jeronimos in Belem
But Portuguese guys that punch the clock seem to have a different standard.  At the Eiffel Tower-like Santa Justa Elevator, our attendant seemed annoyed when Jim and I didn't disembark at the viewpoint on our round-trip ride.  (We'd visited the viewpoint the day before.)  The attendant stepped out of the elevator onto the platform to make a phone call.  Eventually he gave up on our exiting the box and delivered us back down, still on the phone as we dropped.  At the bottom, he snuck away to extend his chat, removed from the sight-line of the ever-growing line of elevator riders.  Apparently the guy needed a break.  We were the first ride of the day.
At the Maritime Museum, we attempted to visit the Royal Barge wing, but a rope blocked our admittance.  I flashed our ticket to the attendant.  "Are you German?" he asked. 
"No, American," I said.  
"Sorry, it's closed," he answered, giving no explanation about anything Germanic.  Afterwards I wished I'd mentioned my quarter German ancestry, perhaps throwing out a few of my German words, thanks to John F Kennedy:  "Ich bin ein Berliner!"  
Just to see what the guy would say. 
We aren't sure if these peculiarities result from the Portuguese trying to catch up and adapt to the recent wave of tourists.  Maybe they're still sorting out democracy?  Or maybe they just have yet to be transformed--good or bad--by the influx of the American dollar? 
Protest Marching:
Normally I reserve my travel evenings for reading, writing and recovering while Jim wanders out for late day photos.  Tonight he convinced me to accompany him. 
We walked to the nearby Placa do Comercio square where some type of gathering swelled.  Usually when we travel, Jim bolts as far as possible from any political demonstration.  But this seemed like an upbeat group comprised mainly of women, so he was okay with further investigation.  Or possibly he was just pleased I'd decided to join him out after dinner, I don't know.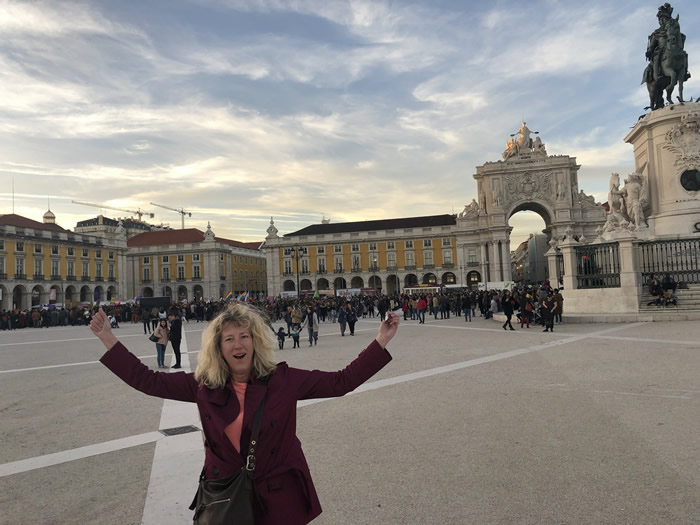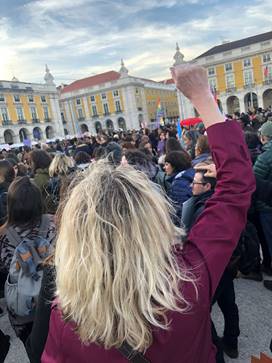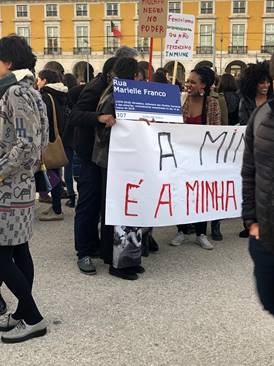 Praca do Comercio
I also had no idea what the crowd was demonstrating, but I decided to join them anyway, because partaking in local culture is what I do.  I didn't understand what the speakers yelled, but I'm pretty sure we all chanted Justisa! in response.  (And not Battista! as Jim cried out.) 
No doubt we puzzled our protesting compatriots. 
I saw a handful of rainbow flags flying but soon spotted women carrying carnations and more banners condemning violence against women and patriarchy in general.  (Portuguese pronunciation mystifies me but I can read the language fairly well because it's like Spanish's first-cousin.) 
I started piecing everything together in my head.  Okay, I'd heard that Portugal falls behind the curve in patriarchy...Carnations...Smiling gangs of gals.  Oh, yeah, we are celebrating International Women's Day today! 
And that's how I became a rare blonde Portuguese marcher.  A fleeting American political envoy.  A happenstance protester against patriarchy in central Lisbon.  Fight the power, baby. 
Tiles:
If last year's artistic trip-theme to Northern Italy was mosaics, this year's to Portugal is tiles.  You can find these beautiful pieces everywhere here, sometimes adorning entire facades of buildings. 
Before we left Salem, I researched the best places to purchase a dozen tiles for our kitchen revival project and found just the right respectable antique shop that specializes in them in Lisbon.  They offer old tiles at fair prices that had been removed from old walls during remodels or tear downs.  We found a row of tiles from the late 1700's that averaged just $25 each (Jim bravely requested--and received--a volume discount.)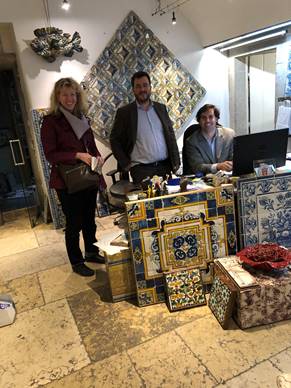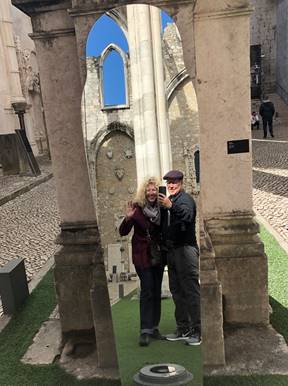 Lisbon tile shop d'Orey Azulejos - Convento do Carmo
We plan to install these tiles near our kitchen table as part of our undertaking that includes Jim painting our refrigerator an ultramarine blue (a risk, but it turned out great, seriously!)  We've been switching out our switch-plates into ceramic scenes painted by Jim, reminiscent of Van Gogh's "Starry, Starry Night."  We selected some of our favorite ancient mosaic designs from Ravenna, Italy churches and Jim translated them into painted murals on our backsplash walls. 
We're leaving our kitchen counters, cabinets, floor and remaining appliances untouched, blowing the bulk of our budget on lighting, paint and antique Portuguese tiles.  When I asked Annie what she thought of our artistic kitchen, she just smiled and said, "It looks like you guys." 
I'm not sure if that's good or bad, but we're content.  And our kitchen will never grow dated because it's already utterly ancient in the truest meaning of the word.  
Coffee shop below our apartment