In the far reaches of my refrigerator, I stumbled upon my forgotten bowl of cranberry sauce, surely missed by at least one of the 18 souls who joined us for Thanksgiving dinner, yet not a single one of them mentioned its absence.  Too polite. 
I laughed.  I'd concealed those cranberries the day before the holiday.  I'd dumped them from their metal tins, added fresh orange juice to obscure their can-ness, and poured them into my hand-decorated bowl that resembles a half watermelon.  I'd hoped my handiwork with the crock might mask my lack of cranberry crafting.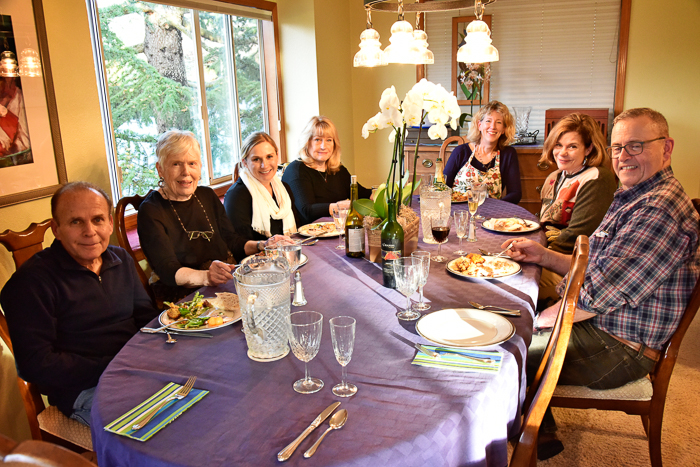 All that subterfuge for nothing.  Still, I had no regrets.  During that week preceding Thanksgiving, I'd shifted my energies towards grandma time as much as possible.  Whatever moments I could reasonably swap from the kitchen into tossing nerfballs up our stairs with a toddler, I did.  
After disposing of the cranberry sauce, I moved onto the green bean casserole, or least the dregs of it.  I'd insisted on fabricating this traditional recipe full of yet more canned ingredients.  But as the cream of mushroom soup slithered out its metal container and slurped into a bowl, I lost my taste for the dish.  Given the volume remaining in my casserole pan, apparently so had others.  Next year, we go fresh. 
My refrigerator started to look better--emptier--getting closer to the point where I could leave it unattended for a week.  Jim and I would be leaving soon for our 35th wedding anniversary trip to Maui, a much-anticipated vacation following Jim's big gallery show, hosting our grand-babies (and their parents) and Thanksgiving at our house, and most significantly--my dad's death and funeral.  We've had a full fall season.  We needed to get away.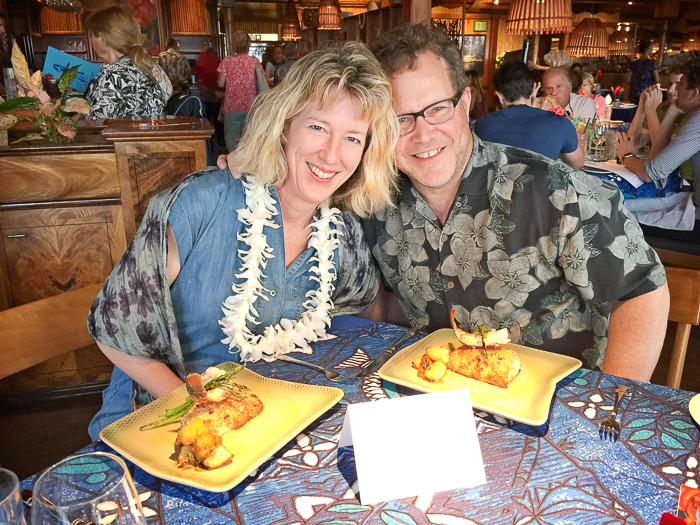 But before that vacation, I had to finish vacating my fridge.  I removed the remnants of the sweet potato soufflé, of which there remained very little.  The recipe, gifted to me by my authentic Georgian friend, Beverly, during our Air Force years, had become an extended family favorite.  No wonder--a few tweaks and it could pass for dessert, so full of eggs, brown sugar and butter it was.  This sweet potato dish had staying power, on the hips and in the Thanksgiving menu. 
Next to go--various pieces of pie, berry concoctions from the Willamette Fruit Company.  Farm ladies (who happen to attend our church) churn out these pies and deliver them to our most local of grocery stores in frozen form.  We bake them in our own ovens, pretending we'd done the labor ourselves...but with better results.  I will never make another pie from scratch again. 
I've known only two cooks capable of finer pie-making:  my mom, Ruth, and her best friend, Lois.  Lois (now gone many years) and Mom would gather their families in the summer for huckleberry picking high in the Jefferson Wilderness area.  Our precious berries chilled the next several weeks in their freezers before surfacing at Thanksgiving in pie form.  We feasted either in Salem or in Lincoln City, but didn't care much where we went, just as long as our families spent the holiday together, which we always did. 
Lois's daughter Dana (who is like my third sister) and her family still join us for Thanksgiving.  Dana brings her expert Luxembourg salad, her decadent crab appetizer, and her kitchen-worthy husband, Tom.  Tom inherited his aunt's Thanksgiving spoon, its metal worn down on one edge from years of gravy stirring.  He probably carried it along in his pocket, just in case. 
I'd temporarily forgotten about Tom and his gravy spoon when I assigned last-minute Thanksgiving chores at my house this year.  I gave gravy duty to my cousin Jeanne, an adept chef herself and a reliable source of help not just in my kitchen but in general.  I pointed Jeanne towards my gravy prep and my "Thanksgiving With Ruth" instructions.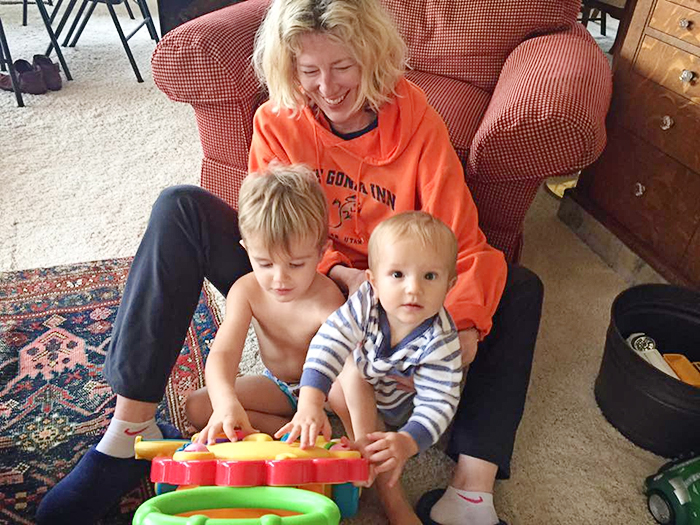 Several years ago my mom decided she'd had enough of holding the helm of Thanksgiving dinner.  She typed out all her acquired wisdom of the meal preparation for each of her daughters, Dana included, so we could replicate the experience ourselves in the fashion of Ruth & Lois. 
The result?  A delightful mishmash of directions, the written equivalent of Ruth whispering over our shoulders offering tips and guidance each step of the way.  Don't mind her ramblings, or her frequent self-interruptions.  "Oh, I forgot to mention earlier that you should complete this other step first..."  We all consider our Thanksgivings With Ruth guide an imperfect treasure.
Jeanne started reading through Ruth's gravy page and immediately got confused, as would anyone.  Tom, who had been hovering about, happily jumped in, eventually assuming gravy-duty entirely.  (He declined use of Thanksgiving With Ruth for some reason.)  Jeanne, relieved to relinquish the job, moved onto other tasks.  Jeanne's husband, Alan, chatted with Jim as he carved the turkey. 
Never before had I roasted a Thanksgiving turkey entirely on my own.  In the past, Mom agreed to help me prep the bird the night before.  She eagerly dug her arms into the necessary cavities and retrieved those nasty sacks of giblet and neck.  She'd oil the turkey thoroughly before contorting him into yoga poses I never could replicate.  Finally, we'd stick him into a brown paper bag, a practice retained by each of Ruth and Lois's cooking proteges.
I'd assumed Mom would once again assist me on Thanksgiving-Eve, but this time she responded that she really didn't dig digging into the bird after all.  And besides, I already had my Thanksgiving With Ruth guide, she reminded me, so I should go at it myself.  So I did.  
But come Thanksgiving crunch-time, Mom couldn't help but wander into the kitchen to witness the last-minute frenzy.  She watched for a moment, smiled, then escaped before anyone could toss her an apron or a cooking question.  She returned to the living room to hang out with our kids and their families.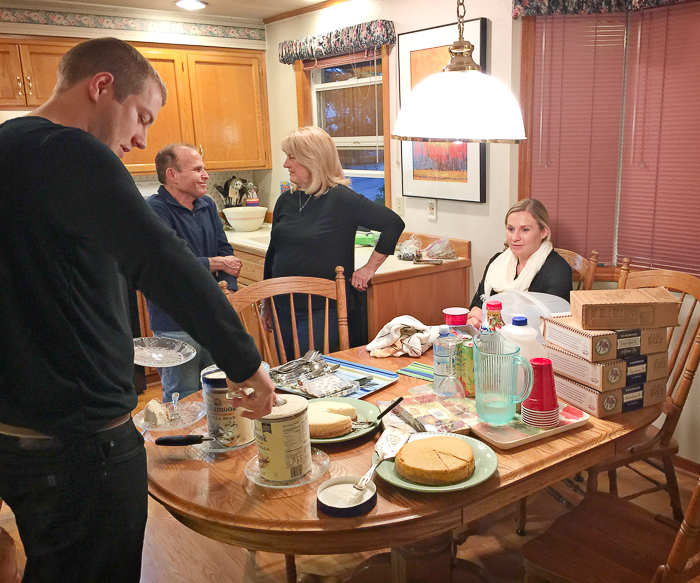 In our Thanksgiving living room the next generations buzzed and snacked on Dungeness crab dip and attended their young-ones.  They'd brought next-generation Thanksgiving foods such as green salads and fresh veggie trays to counteract our canned-good traditions.  Someday down the road, they'll head the heat of their own Thanksgiving kitchen; if they're lucky, they'll inherit their own copies of Thanksgivings With Ruth.  But this year, they had the actual Ruth with them in the living room instead of the kitchen with us. 
Back in the kitchen, I observed and assessed my helpers:  Jim, Jeanne, Alan, Dana and Tom.  They know about crunch-time, every one of them.  Not just in the Thanksgiving kitchen, but in life.  They also know about crunch-time at the end of life.   
These kinfolk showed up for me more than just in the kitchen:  They showed up in my dad's last days.  They sat at his bedside when he could no longer walk or talk.  They delivered joy and positive distraction and snickerdoodle cookies.  And when Alan visited, he brought his dog, Cupcake.  Dad delighted in all of it. 
I concluded my post-Thanksgiving refrigerator purge.  I tossed those last pieces of turkey, once all golden goodness but now past their prime.  I wiped down the shelves of my fridge and looked ahead to refilling it with new delights for December. 
I've made space for Christmas and for the next generations that plan to join us.  We're ready to share our old traditions with our family's youth.  And we're open to starting some new traditions with them, some fresh ones.