France and Spain/Coronavirus trip, March 2020 
We've been back for nine days since our journey, still feeling healthy, having greatly limited our social interaction--I guess we're calling that "social distancing" now. 
Following are my journal notes from our trip along with a few additions from Jim.  (He's the one who came up with the title for this piece.) 
Oh, how nonchalant we were before we left for Paris!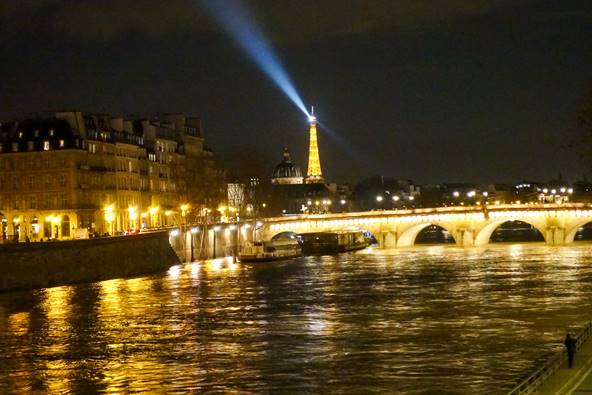 Monday,  March 2
Location:  Salem, Oregon
Concerned friends and neighbors ask if we plan to continue our trip to coronavirus-infested Europe.  My answer of "yep" results in responses like "OH MY GOSH, JEAN!" 
Yes, all caps in text and voice. 
I'd mulled over every detail of this trip, a journey where I'd hoped to visit Chartres Cathedral outside Paris and the nearly-completed Sagrada Familia Cathedral in Barcelona.  As France and Spain reported a handful of cases, I asked Jim if we should cancel.  "No!" he said, and I agreed.  We may regret it, but we have decided to continue for three main reasons: 
 We figure we could almost as easily contract the virus at home.  Jim still works one day per week doing emergency dentistry, a job with plenty of airborne viruses. 
 We will be staying in apartments for the bulk of our trip, with less potential exposure and almost certain availability to stay on if necessary.  Plus more room to move about if quarantined.  None of us will forget those cruiseship passengers trapped in windowless rooms for two weeks.  If we are sick, we will spread out our misery in several 17th-century rooms. 
With Jim mostly retired, if we get stuck outside the US, we have the time and finances to linger in Europe for a while longer, if necessary.  Maybe wander up to currently virus-free Belgium?
France follows next in line after Italy, Asia and Iran with infection numbers.  Knowing this, we've stocked supplies, getting a jump at Walgreen and Fred Meyer's shelves of hand sanitizer, gloves, wipes, medications and even toilet paper for our return, assuming there might be shortages.  Our bags have never been heavier.  We're also equipped with granola bars, cashews and caramel M & M's for emergency snacks. 
Tuesday, March 3
Location:  Portland Airport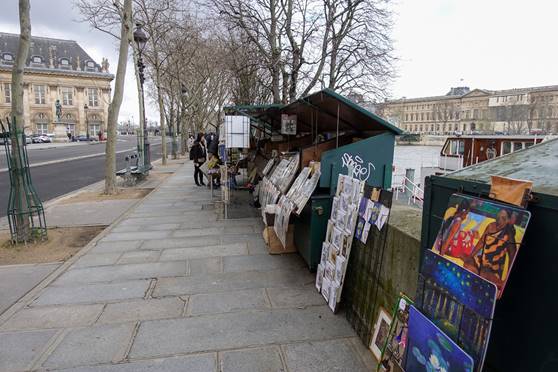 Portland airport's economy red parking, our usual, definitely had cars but we scored the closest parking spot in our lives, right inside the entrance.
Leading up to this moment, the start of our trip, I'd concocted elaborate strategies to limit others touching our stuff:  we wouldn't allow the driver to grab our bags, we'd wipe down passports after gate attendants handled them, etc.
When the parking shuttle bus arrived, Jim passed me our two carry-ons, with him tasked with our suitcases.  Immediately the driver snatched our bags.  We sat as removed from everyone as possible on the bus but a woman across from us coughed two or three times.  I weaponized my hand sanitizer on Jim, squirting about ten times the necessary amount:  my anti-coronavirus learning curve.  Upon arriving at the terminal, our driver once again seized our bags before we could and then topped it off with a pat on my shoulder as I exited. 
Gate and security attendants handled our passports and paperwork without any protection.  We waltzed through the TSA pre-check and immediately went to wash our hands.  Twice. 
The airport is quiet.  Not empty, but more like 8 PM weeknight quiet.  We currently sit at the Deschutes restaurant for lunch at a far table as we await our boarding in about an hour.  We ordered fish and chips to share, which we plan to eat using our forks.  I decided eating french fries with utensils might offer good sanitation rehearsal, along with becoming more aware at how often we unknowingly touch our faces. 
We have the best-laid plans, but really we can only do so much.  In the end, frequent hand-washing may be what saves us.  By the way, people seem to be washing their hands much longer than usual, as they should, and the paper towels were depleted. 
The waitress just delivered our lunch.  Jim immediately seized a fry and popped it into his mouth.  We're doomed. 
We boarded our plane, wiped down a bunch of surfaces on and around our seats, silently cheering all the unoccupied space surrounding us.  The opposite side bulkhead seats were empty so I moved to snag them but immediately switched to the empty front center seats after a woman coughed in the seat behind. 
Wednesday, March 4
Location:  Amsterdam Airport
Jim and I have settled in Amsterdam's airport for our four-hour layover, finding a peaceful place to chill in an upstairs foodcourt booth.  We had to take the elevator because of our bag trolley, remembering not to touch the lift buttons with our bare hands--a prime breeding ground.  Napkins work, then we just throw them away.  Jim and I have been taking turns shutting our eyes, one of us always awake to monitor our gear. 
A few more folks wear masks here In Amsterdam, but still a rarity.  The only time we got concerned was standing in the passport security line with a bunch of the mask-wearers and the occasional cougher amongst them. 
I still struggle with not touching my face, especially when I feel an itch in the works.  I limit my face-touching to when I've just washed my hands or when I can use a clean tissue to scratch.  But I think I just need to mentally overcome the urge and embrace the itch. 
I just read online that if France goes from level two epidemic to level three (the highest) they might close all train travel.  Already they're discouraging all unnecessary travel.  Past flu epidemics of other types take 2-3 months to fully clear--could we get stuck in Europe until June?  Jim says I need to stop reading the news as it just gets me worried.  He's probably right but I feel like I need to stay informed.  
__________________________________________________________________________
We just arrived at our friend Robert's rental apartment in Paris.  I'd coached Jim on how everyone here is now supposed to avoid hugs and even the traditional Parisian cheek kisses.  He agreed. 
We entered the apartment with Robert's codes and minutes later he bounded upstairs to greet us.  Jim embraced him.  I wasn't sure if Robert or Jim had initiated the hug, so I decided I needed to follow suit.  (Turns out Jim had moved in for the hug.)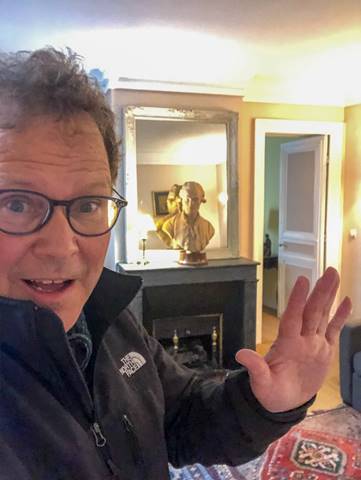 Robert plans to leave for Greece on Monday, not returning until after our scheduled departure on the 15th.  Robert assured us that our apartment would be available should we get stuck here longer with the coronavirus, at least until the end of the month.
After Robert left, we took off for our usual first evening exploratory walk to fight jet-lag.  We strolled down to Notre Dame to survey the re-construction progress from the fire.  Fortunately the Cathedral looks largely the same from the front, but they do have a huge amount of work to complete on the rest.  Workers have added wooden buttresses to support the old stone ones, probably a temporary fix to avert collapse.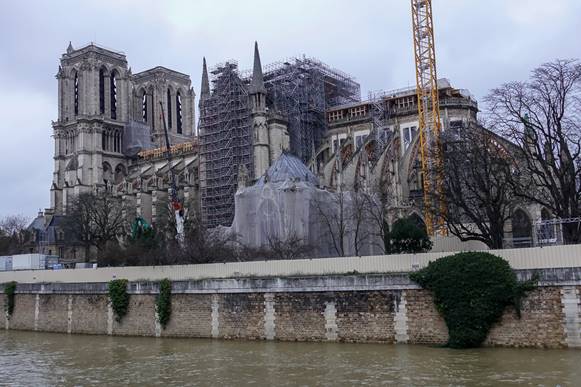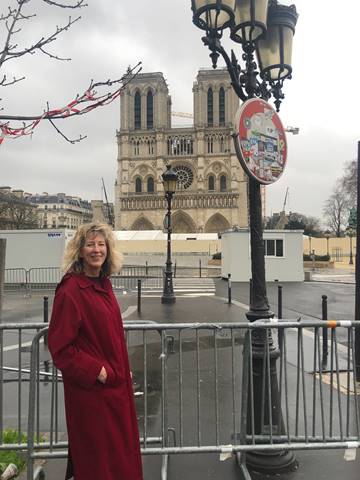 Our first crosswalk required button-pushing; Jim instinctually did the deed bare-knuckled.  Oops.  Good thing we brought our disinfectant. 
On our walk we noticed lots of skinny black pants and knee-length red coats.  Red hats or cheerful-colored scarves complete the current Parisian look.  One gal clipped a small red bottle of hand-sanitizer to her purse; she may be onto something new.  We wonder if this particular fashion will linger beyond the virus. 
My red coat hangs too long for the trend but apparently it still qualifies because a Parisian woman asked me for directions on a residential street.  Later a Parisian man walking with his girlfriend made eye contact with me and randomly said "bon soir."  Perhaps Parisians are grateful to have Americans not cancelling trips to their city.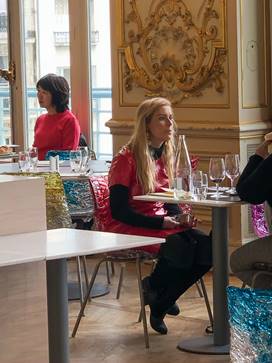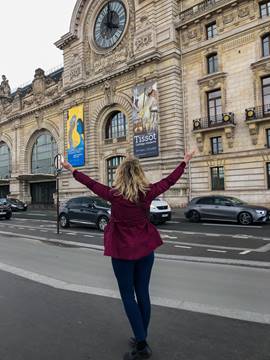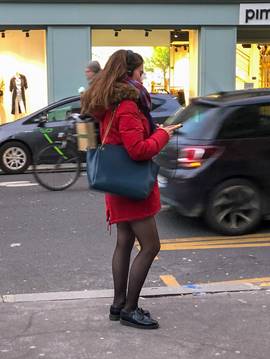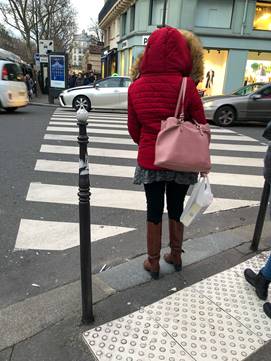 We saw no Asian tour groups whatsoever.  Asians at the airports often wore masks, but otherwise a mask in Paris screams, "I am sick!" 
We spent about E 70 groceries at our neighborhood Fanprix market, purchasing some dinner items to round out our usual vacation breakfast and snack foods.  Since we have no real oven, I heated up a specialty frozen pizza in our French-speaking microwave.  In my mechanical confusion, I decided just to blast until hot.  Fortunately the pizza came out perfectly--except when Jim bit into a little olive with a pit in it.  He nearly broke a tooth.  That would have been especially challenging during this virus scare.  I doubt pit-olived-pizzas pass code in the US, but here in France, I could see it.
Thursday, March 5
Location:  Paris
The Louvre reopened yesterday afternoon after two days of virus-closure.  Staff had unanimously voted to shut until they could enact better safety measures to protect themselves.  To avoid touching anything of the 5,000 guests that visit per day, they decided to not accept cash--just credit cards and passes.  The entrance had almost no line and all we had to do to enter was slide our pass under a scanning bar while staff observed from afar.  
Mona Lisa had new Disneyland-style waiting lines, probably frustrating pick-pockets with the barricaded division.  Instead of pushing your way up to the front, now you have to wait in an orderly queue to get your Mona-selfy.  Since we'd been up close with Mona before, we decided just to snap our photo from the sidelines, making sure to leave a safe distance between us and the other visitors.  That's basically how we operated everywhere, stepping carefully away from others along sidewalks and inside buildings.
Except for the Mona Lisa, the museum felt fairly quiet.  Normally we'd have to navigate around lots of big tour groups in Louvre but didn't notice any this time.  Once a guy coughed; I observed that's a pretty effective way to clear space around you. 
Jim still can't stop talking about the many Renoirs and Monets he had to himself.  He says that getting to see Veronese's "Wedding at Cana" all alone was like having a one-on-one conversation with the artist. 
https://en.wikipedia.org/wiki/The_Wedding_at_Cana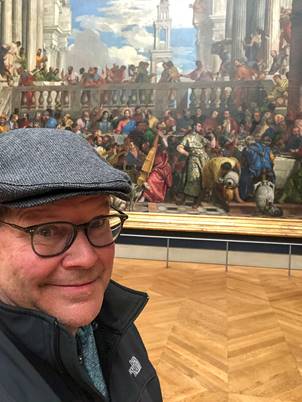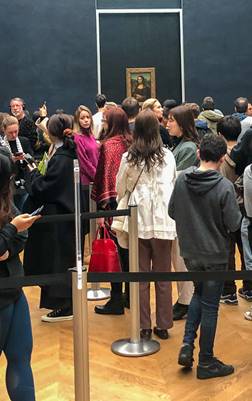 "Because you're not sharing the experience with other people, you get a more intimate connection with the work," Jim explains.  Spoken like an artist himself, I'd say. 
We witnessed several people grabbing stair and escalator rails.  I cringed, even moreso than watching guests fondle the 3,000 BC Middle Eastern artifacts.  The Louvre staff seemed more engrossed with their cell phones than their visitors.  Once I asked for the location of the nearest bathroom.  "Either upstairs or downstairs," the guard answered.  Jim wondered if staff had deliberately disengaged in quiet protest and self-protection.
Jim and I didn't touch anything our entire time there except in the bathroom--once we finally found it.  We're getting skilled at holding doors open with our feet.  We sat down exactly once in over four hours, in a lonely corner of the cafeteria for a café au lait break, preceded of course by table and hand-cleansing.
People continue to address me in French, and when I ask them a question in their language, they don't automatically switch to English as in the past.  Maybe because most Americans have fled the country?  Jim says it's because I'm wearing my shorter plum coat.
After the Louvre, we walked down the Tuileries Garden towards the Petit Palais.  We'd just averted a big rainstorm and had to dodge multiple puddles.  Due to some construction, we diverted around the Orangerie Museum.  We observed a man and a woman loitering at the top of some stairs in our path.  Jim spotted them talking about us, immediately pegging them as scammers. 
The couple seemed to ignore us as we passed, surprising us.  But as we climbed down the stairs, a flurry of water droplets flew past my legs.  I assumed the drops originated from a nearby puddle, though mystified how they'd splatted me from such an odd angle.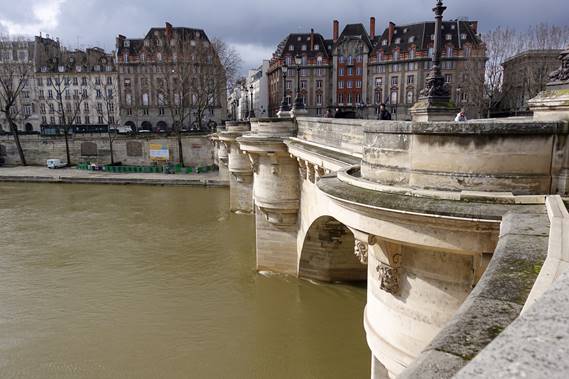 The woman yelled from behind, running down towards us in excitement.  "Lady, lady!" she cried. 
Jim looked at her over his shoulder and said NO!  She slinked back.
Down the road a ways, Jim noticed a bunch of goop on my coat.  At first he figured it was coffee but to me it looked more like bird poop, slightly green and plenty of it.  Jim had some on the back of his coat, too, as well as his scarf.  Later he found some in my hair.  Yuck.
Jim worried that it might have been acid but I told him that the scammers wouldn't have wanted to throw anything actually toxic at us since they undoubtedly planned to help clean up the supposed bird poop mess.  We removed most of it ourselves then and there, thanks to our coronavirus supplies of wipes and kleenex tissues.  (And of course we gave everything a thorough washing back at our apartment later.) 
Jim had never heard of such a scam but I had, though it often involves "accidentally-spilled" liquid on your front.  The scammer helps clean you up while also cleaning out your pockets. 
https://www.flightnetwork.com/blog/bird-poop-scam-deal/
No doubt the scammers bird-pooped both of us so that we wouldn't witness their thieving during the clean-up phase.  I imagine they might have a harder time with this particular scam in the era of coronavirus, when few want any touching at all. 
"No thank you, please leave the bird poop alone."
We aren't upset, mostly grateful that we didn't get robbed.  In my buttoned front coat pockets I had my driver's license, museum passes and cell phone, everything else stashed away in my money belt.  Jim carried all his credit cards, apartment keys, cell phone and a good chunk of cash in his zippered front jacket pockets, zippers that master thieves would likely have little trouble accessing.  Jim decided to better redistribute his valuables tomorrow.
Fortunately we'd held onto Jim's wallet because we otherwise would have missed an amazing lunch at the Petit Palais. 
http://www.petitpalais.paris.fr/ 
We arrived late on purpose to avoid crowds and selected a table upstairs in their elegant restaurant, one of only two tables occupied on that level.  Jim declared they served him some of the most tender beef he'd ever eaten. 
Since we've decided to bypass all metro-riding, we hiked back to our apartment, passing the Assemblée Nationale (France's Parliament).  About fifty yellow police vans screamed their way to the front of the building.  [The next day we read that one of the ministers had contracted the virus and two days later it spread to others, including the minister of culture.  Jim suspects we witnessed a mass evacuation.]
Friday, March 6
Location:  Paris
This morning we visited one of my favorite sites in Paris, the 13th-century Saint Chapelle.  http://www.sainte-chapelle.fr/
I gazed up at those stunning stained glass windows that never fail to inspire me, thoroughly blissing out, before turning and spotting Jim cheerfully taking a photo of some Japanese men with their own camera.  I was not pleased, to say the least.  I immediately doused his hands in sanitizer, multiple times, followed with a scrubbing of alcohol wipes.  Then he got an earful of words.  We shouldn't be touching anyone else's camera...or anything...at all. 
The guys had asked Jim to take their photo, something he's normally happy to do.  Jim didn't want to appear unfriendly so he said yes.  I suggested he try answering anyone with such a request, "Sorry, no," with a smile and a friendly wave.  He practiced but invariably added words like "thank you."  My guy is too nice for our own good, but I doubt he'll repeat this particular breach in cleanliness.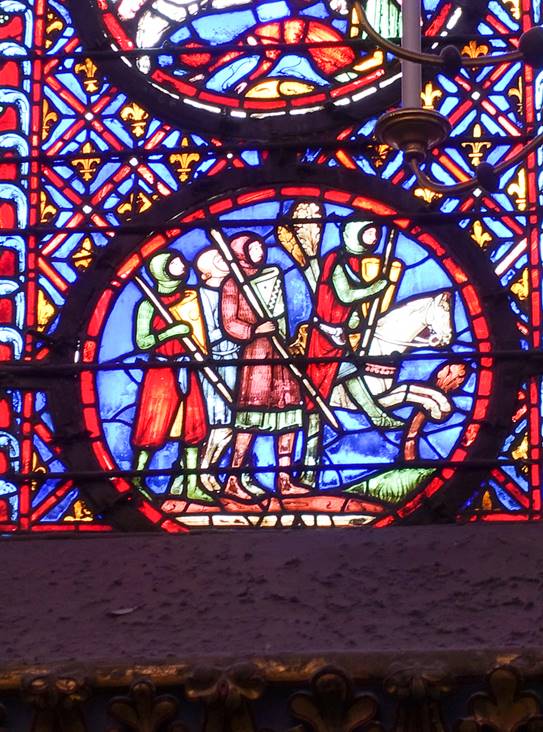 On our walk from Saint Chapelle to the Orsay Museum, three young eastern European women approached us with "English?" and extended clipboards.  They earned a quick NO from us both.  Almost certainly they planned to use their clipboards as a distraction while their companions robbed us. 
https://www.tripadvisor.com/ShowTopic-g187147-i14-k9613888-Don_t_Sign_the_Petition_the_Scam_in_Paris-Paris_Ile_de_France.html 
We grow smarter in small ways.
The Orsay had no line--something we'd never experienced before--with a complete absence of tour groups.  And we didn't get robbed either, like the time Jim had his wallet stolen there after renting an audio guide.  (We bypass all audio guides now anyway because of the infection risk.)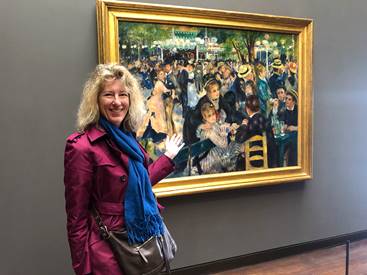 Jim lead the way in the Orsay, dazzled by some of his favorite works of art in the world.  He couldn't believe how we had several of the museum's spaces as our own private showings.  "Here we are," Jim repeated, "standing in this room full of Cezannes, Monets and Van Goghs...just us." 
https://www.musee-orsay.fr/en/events/exhibitions/in-the-museums/exhibitions-in-the-musee-dorsay/article/cezanne-4148.html?cHash=1c83243c42 
We will never experience the Orsay like this again.   
The Orsay continuously changes its exhibits.  Jim explains that the government uses generous tax breaks to encourage citizens to donate art to France in their wills, and the Orsay clearly has benefitted from this policy.  Recent contributions filled several rooms.  One donor requested that the pieces of his collection, including a Van Gogh, remain together while on display, like an extended family.  Perhaps the paintings had grown so accustomed with each other over time that they couldn't bear to part company. 
I observed several young women at the Orsay grabbing escalator and stair rails without hesitation.  Sometimes they'd brush their hands along the rail the entire way down, collecting and spreading viruses on their descent.  I shuddered. 
We washed and sanitized then treated ourselves to lunch in the fancy Orsay restaurant, largely because we knew it would have considerably less traffic.  Deliberately waiting until after 1 PM scored us an abundance of colorful open seats.  Jim reports his steak at the Orsay was "seared to perfection."  The French understand cooking and presentation like no place else.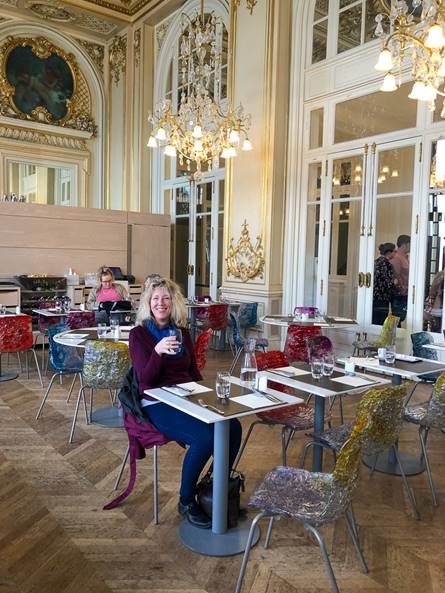 Our waitress, who spoke perfect English, plays women's football in France, a semi-professional sport.  She loves American football, which she explains is catching on in France.  She asked where we were from, replying she knew Oregon because of the Ducks.  Our waitress also follows the Miami Hurricanes because of a connection with a friend, but it took me a minute to understand what she was talking about with her pronunciation of the word "hurricane."  She said that she wishes French schools incorporated sports in their curricula like we do; you have to initiate your own athletics in France. 
Last night we cancelled some of our more virus-risky plans, ones involving special group tours or concerts.  I received kind e-mails back from our Barcelona Civil War walking tour and our Parisian Croissant cooking class tour, promising we will not be charged.  The concert organizers indicated that as of now, the concerts continue.  We plan to skip tomorrow night's Vivaldi at the Madeleine church but probably will check out the Chopin/Mozart event nearby next week.  If it's not too crowded and we can sit on the fringes, we might stay.  I've yet to hear back from our Montmartre walking food tour, but we don't anticipate any refund as they indicate a firm no-cancellation policy on their website.  We shall see if they change that in these unusual circumstances. 
Jim went on a solo-journey with his camera to take sunset photos near Notre Dame.  He witnessed cafes brimming with Parisians as usual, crammed hip to hip, laughing, smoking and socializing.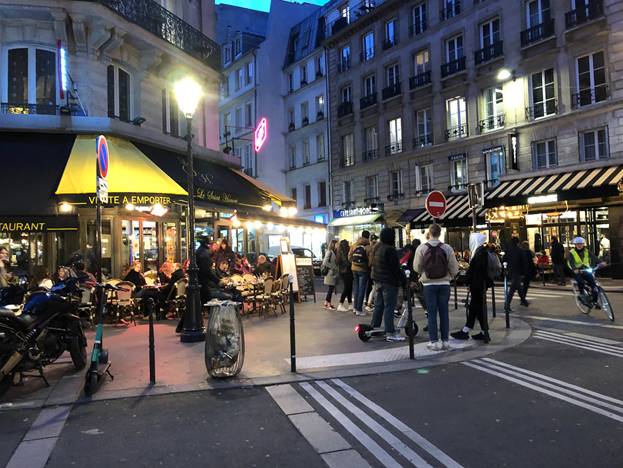 While a lot feels compromised in Paris right now, including a scorched Notre Dame and our inability to move as normal, it's still Paris.   
Saturday, March 7
Location:  Paris to Amsterdam
I retired for bed about 9:30 PM and woke up about midnight with jet-lag.  In our apartment dining room, I read how the virus had exploded to 618 cases in France.  Every day the numbers mushroom. 
French President Macron again mentioned the likelihood of raising the health crisis designation from 2 to 3, hinting at some sort of upcoming travel ban.
Travel ban...  I thought more about that.  We wouldn't even be able to escape France for a place like Belgium, as we originally envisioned.  (And now Belgium has over 100 cases of its own.)  If we took our couple nights away from the apartment to see the chateaux in the Loire Valley, might we get trapped in the small town of Amboise without our full suitcases? 
Worse yet, might the US add France to a restricted return list? 
Jim woke up about 1:30 AM and I shared my concerns with him.  Previously he'd managed to ease my fears, but Macron's travel ban warnings struck a chord with him.  We could get stuck indefinitely anywhere in France, including in the hotel of small chateaux town with just our day bags.  We reached a decision:  time to go!
We brainstormed the best way out with a new urgency.  What if Macron announced his travel ban this morning?  Would all flights and trains fill in desperation to get out before a ban took effect?  Could we be scrambling over the last train out of Paris like the last life raft off the Titanic?
"A Night to Remember" movie:  https://www.youtube.com/watch?v=owAMhhUmAVA
Should we fly out of Charles de Gaulle airport?  Or take a train up to Amsterdam and leave from there?  I researched upcoming escape times for both options.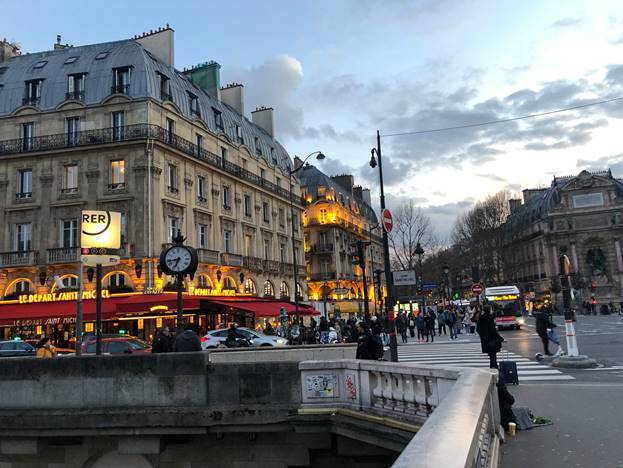 Delta had announced no-fee changes for international flights the day before we flew to France.  We figured our chances of getting our flight switched improved from flying out of Amsterdam, our original departure city.
We called Delta who indicated a four-hour call-back time.  It ended up taking six hours, a tense wait.  Though sleep felt impossible, Jim and I eventually took turns laying down to get some rest. 
We organized all our stuff including suitcases and tidied up the kitchen.  I'd accidentally bought two big packages of paper towels instead of one each of toilet paper and paper towel.  Guess we wouldn't need to buy that toilet paper after all...  Keeping physically busy helped while we awaited Delta's call.  
Jim worried the train might sell out given all the chaos, so we resolved our transportation to Amsterdam during our Delta waiting time.  We decided to exit France, no matter what, booking our train tickets even before straightening out our flight.
I called the Amsterdam airport Sheraton and reserved for the next evening.  We'd planned to stay there on March 23, so it was a pretty simple switch.  Hotel rates had plummeted in the interim, no doubt given the dearth of travelers, so we actually profited with this particular revision.
I e-mailed our Amboise hotel to cancel and they soon wrote me back with a "no problem."  I also messaged our Barcelona apartment to cancel but have yet to hear anything from them.  They carry a strict cancellation policy (the biggest disadvantage of renting apartment vs. hotels.)  Since I have no personal connection with the owner, I don't expect any sort of refund, but I guess we will see. [Note:  eventually I got a full credit for a future trip.]
I also didn't expect to freely cancel our original train reservations for Paris to Barcelona, our day trip to Chartres, and our two-night away at the Loire Valley.  By this point, I'd overloaded with stress and sleep deprivation, so Jim kindly agreed to investigate the train cancellation situation.  I provided all my paperwork and answered his questions as he sorted through it online.  Remarkably, we got a lot refunded. 
After hour five, Jim called Delta on his phone and they stated a three-hour call-back.  He then worked another option using a number provided with our Delta credit card, getting put on speaker-phone hold for the next hour with a single Kenny G tune blasting on repeat.  
On Delta's website, new one-way flights listed at nearly $3,000 each.  On-line-Delta clarified that because of the coronavirus, they would wave change fees, but travelers were still on the hook for any normal uptick in cost.  Would we have to pay almost $6,000 to leave Europe?  We discussed how long we'd be willing to stick around for a more reasonable fare.  Not long, we decided, realizing we get might trapped in Amsterdam with even a short delay.   
At hour six, my phone finally rang, momentarily jolting my fried nerves.  While I spoke on the phone with the Delta agent, Jim crossed his fingers and fiddled with his Legos.  I had a hard time hearing the agent given the rustle of plastic blocks, so I asked Jim to please pause with his toys.  He explained he was "stress-playing" with his Legos. 
The Delta agent said we could change fares for about $350 each.  We grabbed it.  We lobbied for seat assignments but Delta's partner, KLM, doesn't normally assign seats the last 48 hours prior to their flights.  Afterwards, Jim called KLM and did our best to get a marginal assurance of seat assignments, but we won't fully know until tomorrow's check-in. 
At about 7:30 AM, I called Robert to let him know we were leaving but got no answer.  At 8 AM, he tried calling me back but I didn't recognize his voice and he sounded suspiciously like a scammer. 
"Robert?" I asked. 
"Who is this?" he responded. 
"What is your last name?" I answered. 
Robert hesitated before saying something like "Roger?"
I hung up on him.  Turns out he had "morning voice" (his words) and he was equally confused who I was.  Eventually it occurred to me that that might actually have been Robert and I called him back.  We got it all sorted out and had a good chuckle about the confusion.  We had a lot going on that morning, for sure. 
Robert expressed surprise at our leaving, but he understood.  He generously offered us a credit for the eight days we would miss.
Fortunately we'd researched the location of the nearest taxi rank to our apartment.  After taking out the trash (it requires us both to accomplish any such task while overseas) and washing more dishes, we were nearly ready to vacate.  Someone knocked on our door and handed us a sack-full of hot food.  Jim thanked the delivery guy, figuring it was a goodbye lunch from Robert.  Suddenly our Russian neighbors across the hall popped out and claimed the food.  We all laughed. 
We said goodbye to Robert (Jim hugged him again.  No, Jim!) and dragged our bags over the taxi rank near the Pantheon.  The ride to the Gare du Nord train station went pretty quick, much simpler than to the airport. 
Few travelers wandered the Gare du Nord.  The station had helpful workers, so patient with us as we fumbled around.  I imagine they were appreciative to still have some American tourists there.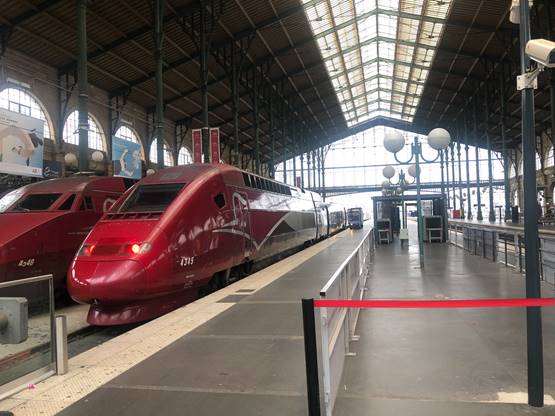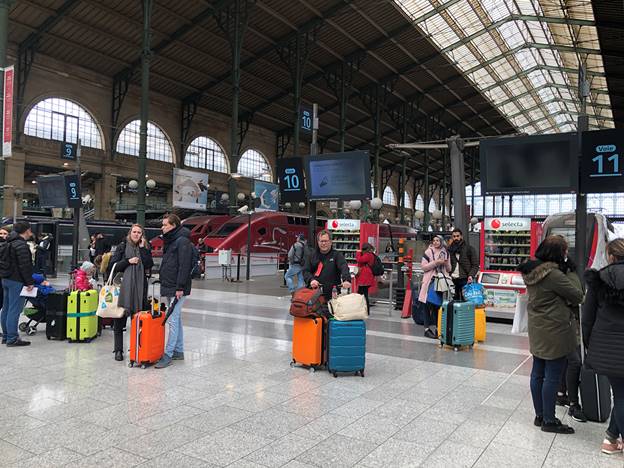 Around the station, several screens announced sanitary practices like hand-washing after coughing.  Younger folks grabbed escalator and stair rails throughout the train station.
We had to pass through two metal detector booths before boarding the train but found them completely unmanned.  Every passenger caused red lights and beeping as they pulled their bags through.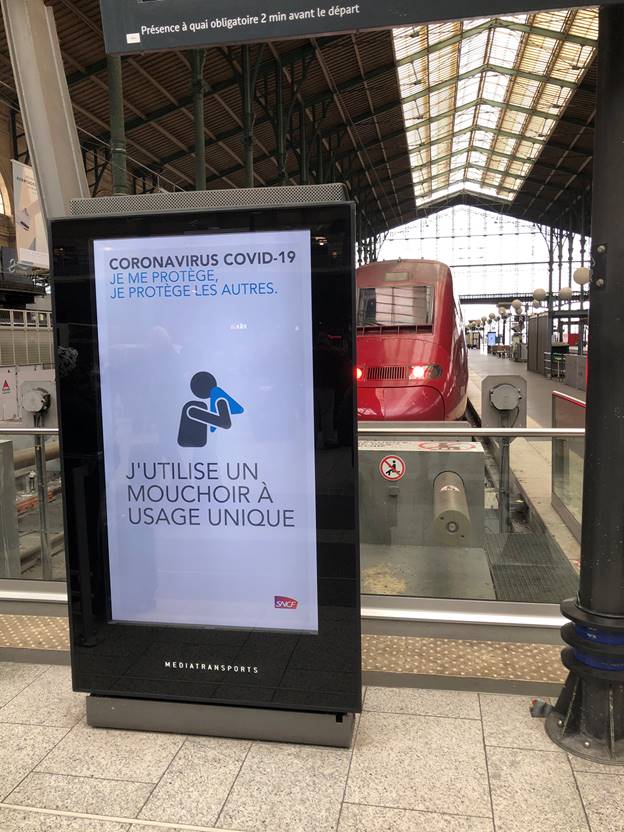 The train extended longer than any I'd ever seen.  Coach numbers rose before dropping, confusing nearly everyone.  Eventually we reached our coach #13.  Back in 2015, three young friends from Oregon and California stopped a terrorist shooter in coach #12 on this very same Amsterdam/Paris route. 
Still, we were thrilled to climb aboard this train.  Jim worried we might be stopped at the last minute with an announcement by Macron, so we inwardly cheered as we pulled from the station. 
Our "comfort" coach had plenty of open seats.  A woman repeatedly coughed in front, surely concerning all present, but she sat far enough away from us that we weren't too worried.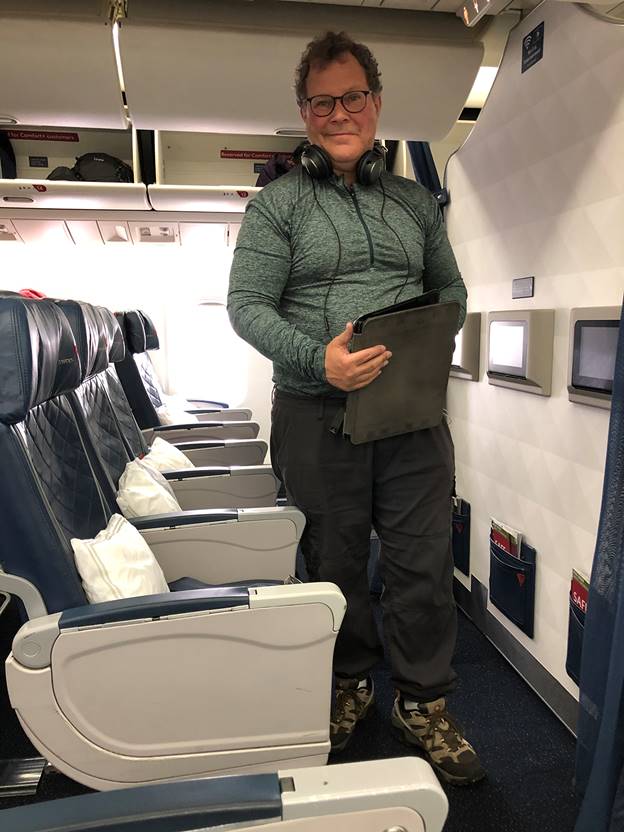 Even though I very rarely can sleep on any moving vehicle, and even though we faced backwards, I dozed off for a bit.  Jim soon followed suit, getting over an hour of good sleep.  When I awoke, I texted a few family and friends of our change of plans.
Few passengers milled about at Amsterdam's airport.  We marched straight to the nearby Sheraton where we encountered only a handful of other guests. 
The Sheraton assigned us a room on the 5th floor at the end of the hall.  We've not seen nor heard another person on our floor.  Perhaps they're deliberately fanning people out during this outbreak?  
Entering our room, we immediately washed our hands thoroughly, and wiped down all the flat surfaces like handles, switches and appliances.  I'm grateful we're so well equipped, though I have a feeling that this room may have been vacant for several days before our arrival. 
I just took a long hot shower and feel so happy and relaxed after accomplishing such a major move on the fly.  While our previous travel experience surely helped, normally I take my sweet time in planning, and this quick revision took me miles beyond my comfort zone. 
Our flight leaves tomorrow at 9-something AM.  Even though we aren't assured of our seats, I can't wait to enter that plane. 
I plan to go to bed soon.  Who knows how my sleep cycle will go?  I've averaged about three hours of deep sleep per night for the past few days.  Tonight is when I'd normally turn a corner with the jet-lag but this is no ordinary trip. 
Monday, March 9
Location:  Salem, Oregon
We returned home safely yesterday afternoon.  I can't express how relieved I feel.  Last night I slept through the night for the first time in almost  a week; eight hours straight makes a tremendous difference.  We feel healthy and rested. 
Our flight home couldn't have gone any easier.  Walking across the skybridge from the Sheraton to the airport was wonderful.  We had either no lines or very short ones the entire way. 
Jim and I continued liberal usage of our hand-sanitizer.  We had to pass our passports to multiple agents, which bothered me.  We located a remote corner in the Amsterdam airport, camping there while waiting for our flight.  We joined our gate moments before they started calling for boarding, ten minutes early.  Staff lined us up in pens for several minutes while they appeared to observe us for illness. 
Though fuller than before, our plane still had several open seats.  I started watching the movie, "Knives Out," but soon grew drowsy.  I ended up sleeping for the next three hours, a record for me, a bundle of exhaustion and relief.
No overseas flight ever felt so quick and easy. 
Back in Portland, we still had to face US customs.  Fortunately France didn't ring any huge alarm bells with our agents quite yet. 
Now at home, we plan to keep a pretty low profile at the house for a couple of weeks with outings mainly at Minto Brown Park.  At this point, the US government suggests that folks older than 60 (i.e., Jim; me, approaching) stay generally at home now anyways.  And I just read that our Marion County reported its first case of the virus yesterday. 
But we're thrilled to be back in the US.