SEVILLA
Monday, February 13
We're in semi-tropical southern Spain, in romantic Sevilla.  Both the people and the weather run warmer here, and more traditionally Spanish.  Sevilla still holds bullfights while most of the country bans them as barbaric.  Venues throughout the city present flamenco dance.  And as our taxi driver offered when he guided us to our hotel, "Sevilla's very Catholic."  I understand what he meant now.
Here are my impressions about these three distinctive of Sevilla:
OH, Macarena!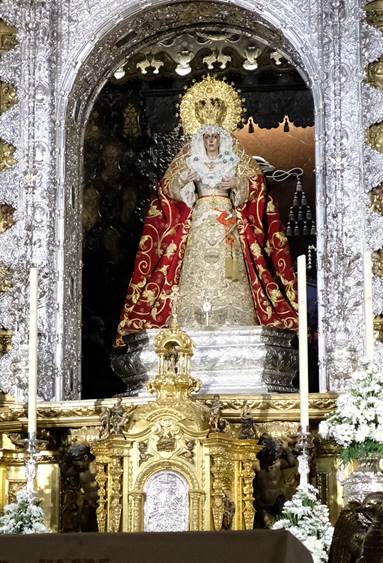 Yesterday we toured the Basilica de la Macarena.  Yes, that Macarena, as in the 90s dance craze.  Sculpted in the 17th century, La Macarena is a Baroque statue of the Virgin Mary.  This life-sized doll stands prominently on the altar of her very own church.  She boasts human hair and articulating arms.  Her rich wardrobe--don't forget undergarments--allows re-styling according to the occasion and season.
Five crystal tears roll down this "Weeping Virgin's" face, which displays an expression caught somewhere between grief and joy.  Worshippers can assign whatever emotions they're experiencing onto her.  She understands their pains and celebrations. 
Over the centuries, prominent Spaniards, including military figures and bullfighters, have gifted La Macarena costly jewels in order to secure their safety.  Macarena is patron saint of bullfighting, so in 1912, toreador Jose Ortega gave Macarena five large emerald broaches (which must be her favorites--she wears them no matter her outfit) for protection.  This worked great for Jose until 1920, when a bull gored him to death. 
Macarena takes center stage each Holy Week when she rides in a grand procession.  She sits atop an elaborate gilded float of gold, silver, and baby angel heads that Sevillian men carry through the city.  Sevillians wail, clap, and toss roses as she passes.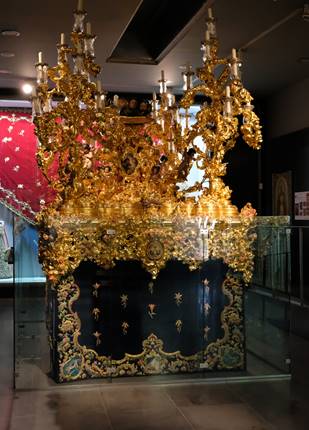 Macarena's golden float
A large doll-like statue of Jesus sits in the side niche of the Macarena church.  While Jesus rides first in the Easter parade, he takes second billing in the Basilica. 
Another church in town, La Iglesia del Salvador, contains other incarnations of Mary which join the parade, but La Macarena is the toast of Sevilla's Easter week pageantry.
Toro, Toro, Toro!
Despite animal-rights objections, Sevilla continues to hold a popular run of fights.  I'd experienced a bullfight in Sevilla in the 1970s but didn't necessarily need to witness one again.  
Yesterday we took a tour of the bull-ring, being curious of the practice but not actually wanting to see a fight.  While studying in Segovia a few years ago, our Annie watched a toreador on TV, and said that the vulnerable bull reminded her of our old dog, Bailey. 
Hard to get the image of a cowering Labrador out of our minds.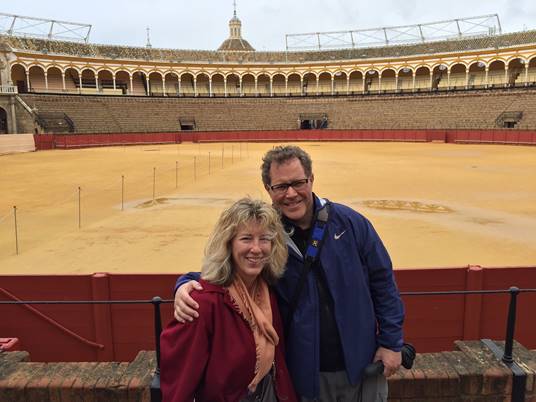 Our guide at the bull-ring explained how after each bullfight the bulls are divvied up to area butchers for their meat.  Later one young American woman in our group asked if all the bulls died in the bullfights.
"Well, of course, or else we wouldn't be able to eat them!"
In the Land of Carmen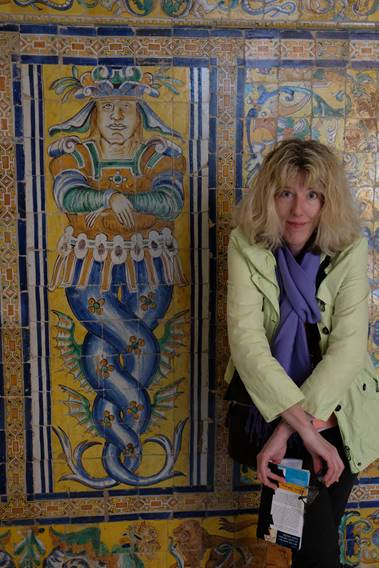 A third characteristic of Sevilla is its music, specifically its Spanish guitar and flamenco dance.  Sevilla houses a significant population of Roma, or gypsies, who traditionally excel in guitar and dance.  The wailing tunes and staccato movement hail back to Islamic roots, stronger here in southern Spain where the Moors held out the longest.
Jim kept suggesting I purchase one of the flamenco costumes in the trinket
Our hotel courtyard
shops.  "I'm sure they come in all sizes," he said, helpfully.  I told him I'd buy a flamenco dress just as soon as he'd try on one of the bull fighter outfits.
He's not brought it up again. 
Our hotel hosts a small nightly concert in the lobby with a Spanish guitar player.  Our first night we had a talented young man who must have studied in some type of music conservatory.  His playing was precise, complex and moving.  He tackled classical pieces that I failed to recognize yet still brought me near tears. 
The guitarist sunk so deeply into his music that it was almost as if we
weren't in the room.  Only when he'd complete a piece would he look up at our applause with a shy smile as if to say, oh yeah, you're here.  Then he'd continue.
Last night we attended another lobby recital and discovered a different guitar player.  He hadn't brought the same accoutrements of foot rest and music stand.  He made regular eye contact with us while playing a less complicated piece that sounded oddly familiar.  After a while I recognized it as a Spanish-guitar take on the 1970s Broadway musical tune, "Send in the Clowns."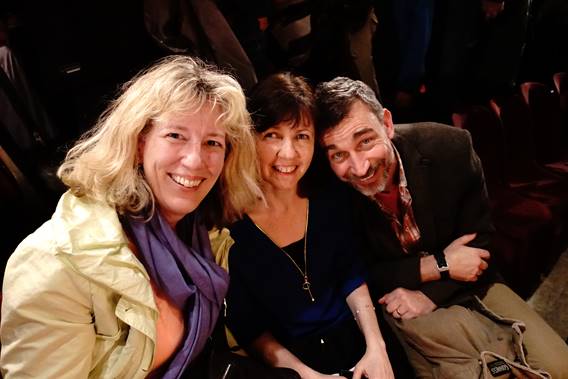 Photo after the Flamenco show with still more new English friends, Bridget and John.  They'd like to visit New England someday because they have a passion for Gilmore Girls and want to find a Stars Hollow.
GRANADA
February 16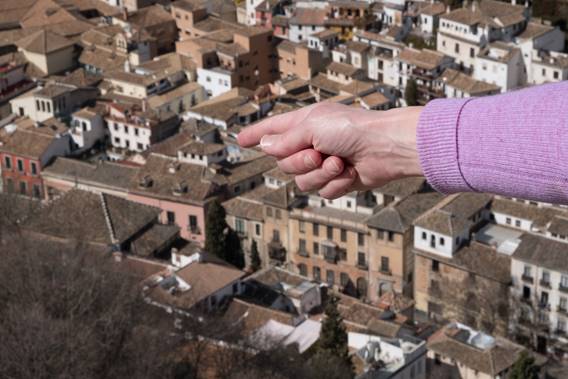 Photo of our hotel taken from the top of the Alhambra
We're here in Granada, a slightly grittier yet still friendly southern Spanish city, and one with the greatest Spanish site of them all:  the Alhambra.  But more on that later.
On the hillside past the Alhambra you'll find a neighborhood called the Sacromonte which houses gypsies, nomads and free spirits.  Some live in caves burrowed into the hillside.  They jimmy-rig electricity for indoors and share communal outhouses outdoors.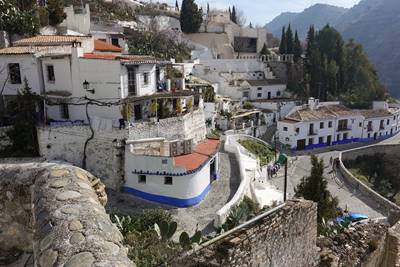 Cave houses
We can picture this neighborhood one day catching the imagination of the world and turning into another Santorini with its iconic cave houses.  But for now it's not a place you want to carry your wallet after dark.
Sign translated:  "If you would like a drink, call at the window." (Another sign listed prices.)
Granada's streets and plazas feature cheerful hippies playing guitar, sax and whatever they can fashion into a drum.  They sell handmade trinkets, but I think it's really more ab
out the creating than the selling for them.  I read that many of these young folks are actually trust-fund babies from northern Spain, determined to disappoint their daddies.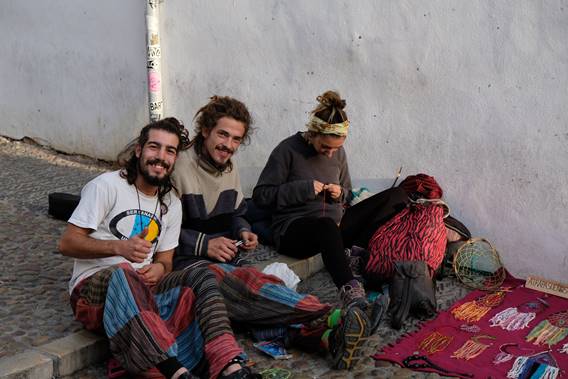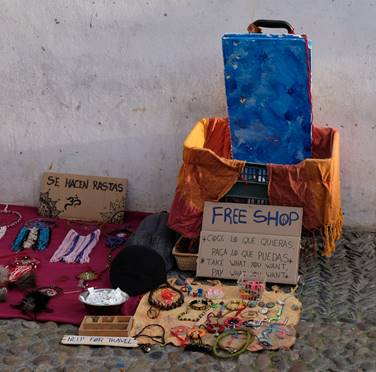 Living in Oregon, we are accustomed to and comfortable with hippies.  Often before we leave a European city, we'll lighten our pockets of metal currency by gifting beggars our small change.  Here in Granada, Jim selected a couple of mellow musical hippies as beneficiaries of our coin dump.  It felt right.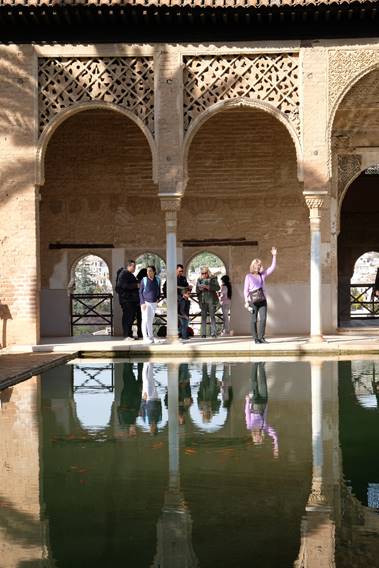 Inside the Alhambra
And of course we visited the Alhambra, the last Moorish palace in Spain.  In 1492, King Ferdinand and Queen Isabel's military conquered the palace as well as the city of Granada, pushing the Moors off their final strong-hold in Europe. 
Since then Islamic folks have slowly returned, now up to about 10% of Granada's population, some of them Spanish converts.  With financial backing from a couple wealthier Middle-Eastern countries, they've constructed a new mosque on the hill-side--right next to the most popular viewpoint of the Alhambra.  No doubt that particular pick of property is no accident.