March 23   Saint Joseph, Missouri to Springfield, Illinois
Advantages of road-tripping during an early vaccination period of a world-wide pandemic:
 Slashed hotel rates
 Early check-ins everywhere
 Mild traffic
 Discounted airfare home.
 Near-empty museums and sites (the ones still operating during Covid, at least.) 
BTW, we've seen no homeless since Portland and mid-westerners urge us to "have a blessed day."
The road and I have become one.  I've taken to wearing pretty much the same comfy outer clothing each day, pieces that camouflage Sophie's hair and slobber.  Due to a small scratch on my left eyelid, I've temporarily trashed all eye make-up, and exactly nobody needs lipstick with a mask on.  Spews of dog saliva lacquer my hair each day. 
I'll need a road-trip make-over before Saturday or New York may not permit my passage across the border. 
We go full-on Missouri on an expressway crossing the Show-Me State, tuning into a small town radio station.  We listen to the call-in birthday greetings and the reading of obituaries.  The Trenton, MO radio jockey speaks with a twang, over-enunciates, and pauses. between. every. word.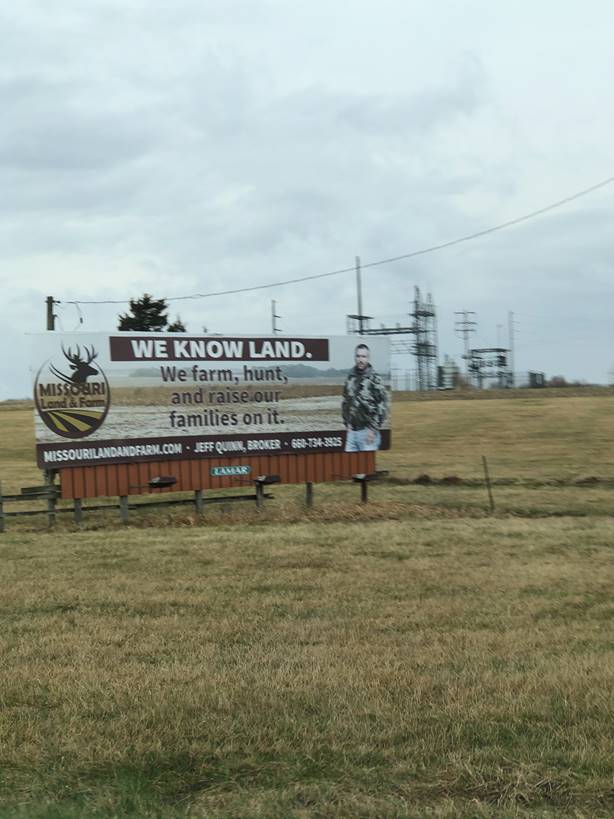 We traverse Coon and then Locust Creek, where the over-enunciator reports about the stolen pick-up truck and updates us on the soybean market.  We learn how best to feed your rabbits to make (them) good feed, and about the cowboy "who's cowboyed all his life."  Yesterday Trenton's town council voted to allow snakes up to eight feet instead of six--just remember your $190 fee. 
We cross the Mississippi River then along Route 66 to the vibrant city of Springfield, Illinois, grown-up home of pre-president Abraham Lincoln.  The Lincoln Library runs a smart and well-designed museum, friendly and void of the nearly 800 school children who visit in a world without Covid. 
I provide some immaturity to the museum myself by camera-posing too closely to re-created Lincoln figures and accidentally set off an alarm.  The guard assures me all is well and we chat.  His name is Lynn and after he asks where we come from, he mentions both Oregon schools making basketball's Sweet Sixteen.  Lynn served in the Air Force for 24 years then 20 years in the police department before starting his work at the Lincoln Library.  He says he likes telling people he's never had a job that didn't require him to wear a uniform.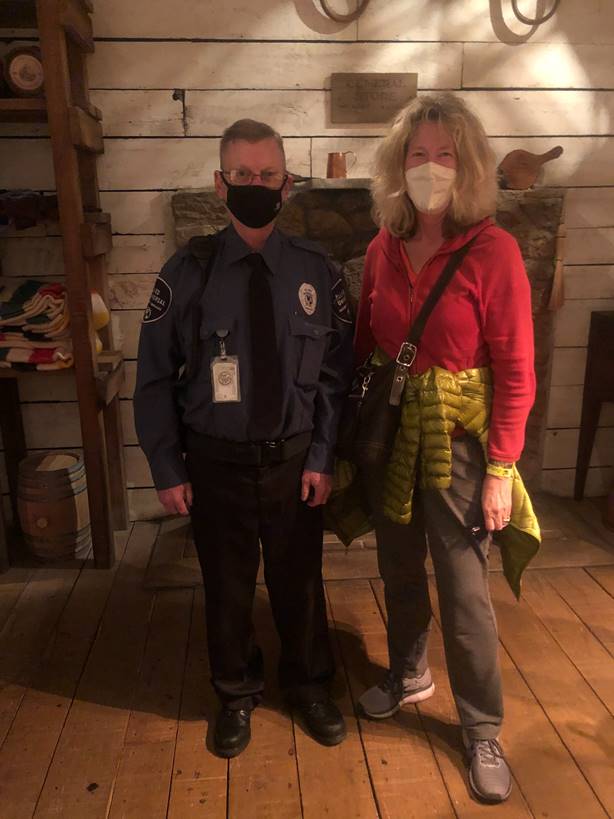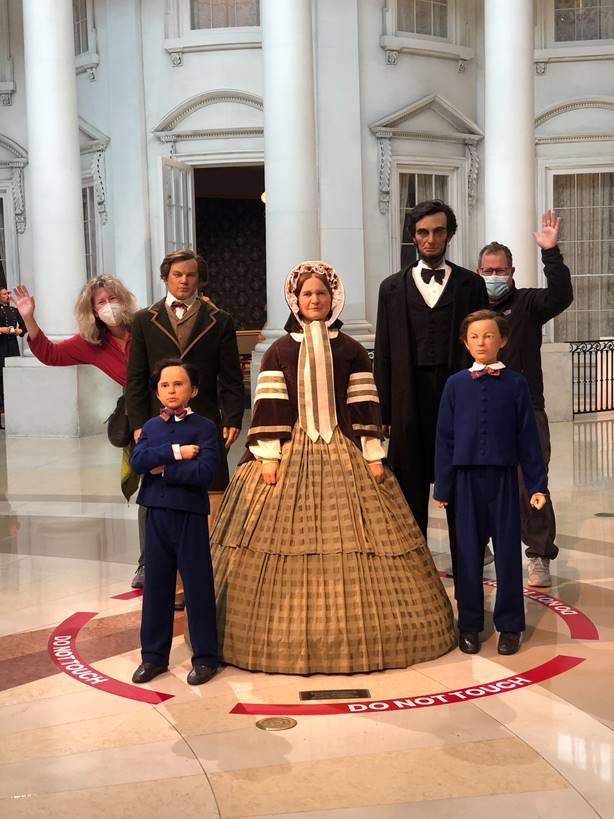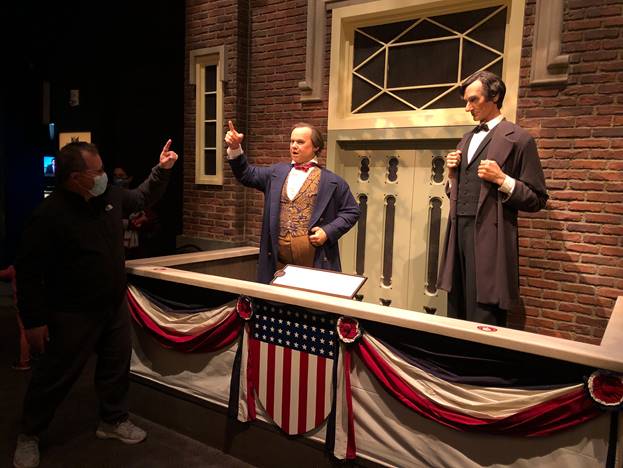 March 24   Springfield, Illinois to Springfield, Ohio
Our only diversion on today's drive was the Rotary Jail Museum in Crawfordsville, Indiana, a funky place loved by folks on TripAdvisor.  Built in 1881 and operated until 1973, it's the only still-functional rotating jail left in the country.  A hand-crank turns a circle of wedge-shaped cells, eight cells each on two levels.  This arrangement requires only one steel door opening per level.  
Though it sounds bizarre, this jail actually delivered more humane treatment than most of its period, with basic creature comforts like heat, three meals a day, beds off the floor, hot showers, and natural light.  Unfortunately inmates--particularly intoxicated ones--had the habit of sticking items like their arms through the bars as their cells rotated.  Only very bad things came of that.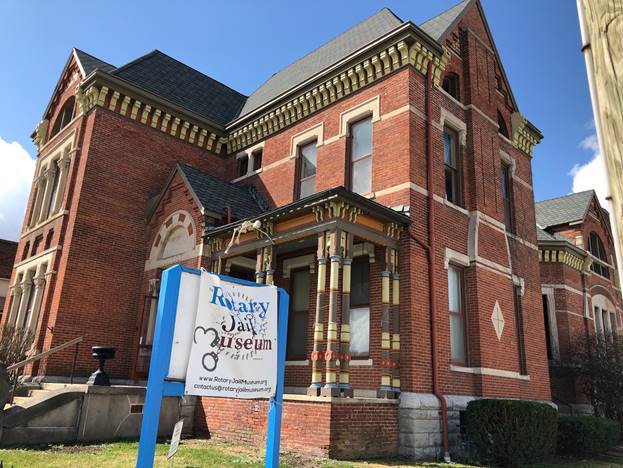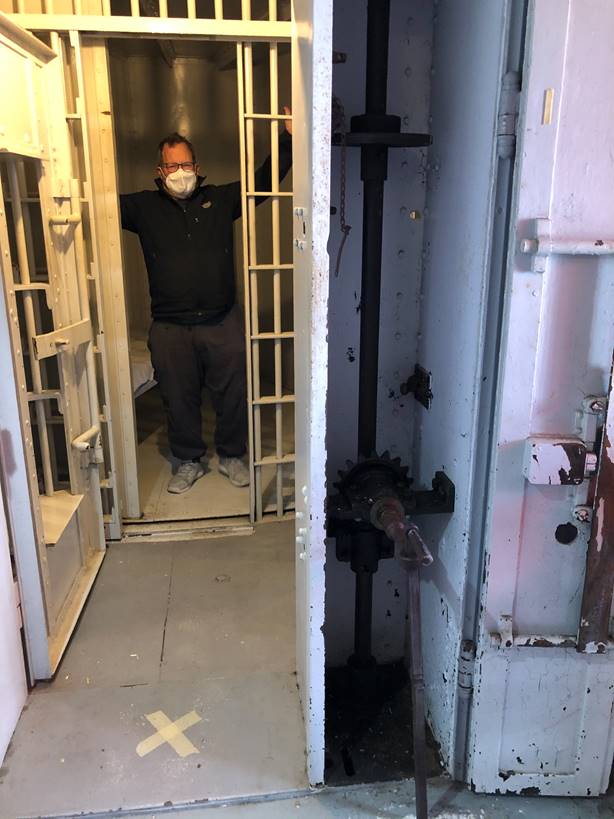 The third floor didn't spin and contained cells for maximum security, women, and lost or runaway kids--the town had nowhere else to house these children for the night.  Women tended to receive harsher sentences than men; perhaps Crawfordsville unfairly considered them as moral standard-bearers of the community.  One woman remained jailed for two weeks for riding her bike on the sidewalk. 
We tackled the freeway system bisecting Indianapolis where I thought about the Oregon State Beavers bubbled on some Covid-protected hotel floor below while awaiting their next big NCAA game on Saturday.  If we were traveling through Indianapolis just a couple days later, I'd try to finagle tickets. 
Sophie thrives at hotels and on walks but has yet to adjust to these car rides.  I realize she can't help it so I never get upset with her, but the huffing and puffing and spit start to wear on me.  Jim amazes me with his patience and lack of frustration with both of us on this journey.  I could not ask for a better traveling companion. 
In 1983, Newsweek named Springfield, Ohio as "an American dream city." Today it ranks amongst the lowest in health, happiness, and well-being.  Due to a drop in manufacturing jobs, the population and median income plummeted while crime skyrocketed.  
I research the city and click on the question, "What is Springfield, Ohio famous for?"
The answer:  "It used to smell like roses."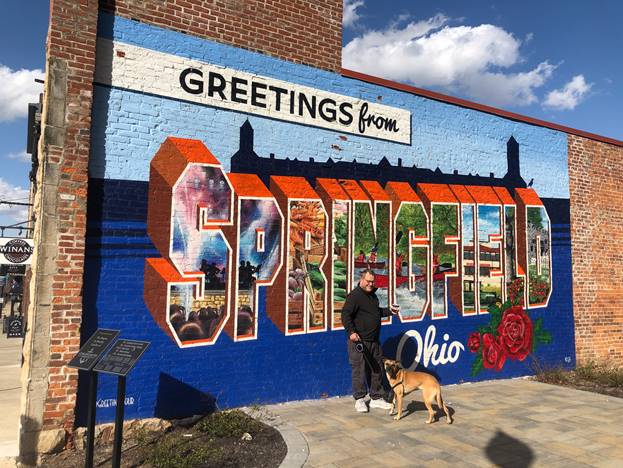 Springfield boasts some impressive old houses, many of them would-be contenders for governor's mansions in other states if rehabilitated.  Jim just ordered one of several books listed on Amazon.com about Springfield's architecture.  We  flash-backed to Saint Joseph, Missouri with its decay and abandonment, but Springfield's bigger and not so scary.  And we can tell the city at least tries, with downtown, job and cultural development. 
I think about how many small Oregon towns suffered with the loss of the timber industry in the 1980s and currently our cities wrestle with homelessness, political unrest, and high housing costs.  We all have our struggles.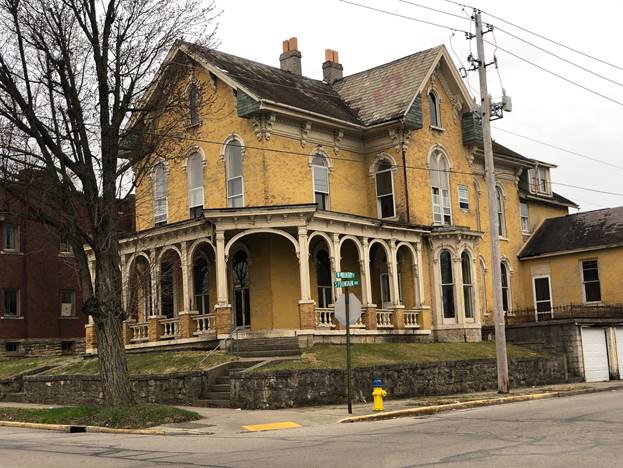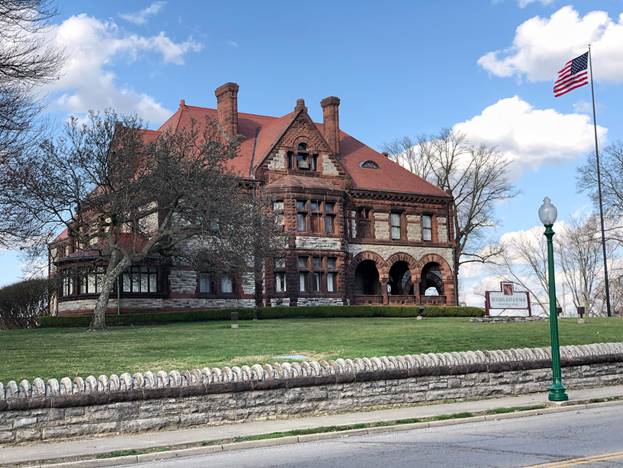 I hit a travel wall in the evening.  I never sleep well the first night in hotel rooms and this journey contains nothing but one-nighters.  But a glance at the grander map of the United States of America reminds us that we've come a long way, baby--we are nearly there.  Before we turn out the lights, Jim reads tomorrow's weather forecast aloud:  heavy winds and possible tornado warnings. 
Somehow I sleep the best night of the trip.
March 25   Springfield, Ohio to Connellsville, Pennsylania
I apply lipstick and new clothing, a drip of chocolate ice cream the undeniable finish to my favorite red travel t-shirt.  Like Springfield, Ohio, I'm working to improve my game.  Now when we drive, I drape my already-slobbered-on jacket over my left shoulder to catch the shower of dog saliva, shielding my fresh shirt underneath. 
This morning we toured Frank Lloyd Wright's Westcott House, the pride of Springfield.  (Trivia:  the United States has 33 cities named Springfield.)  Our docent, the wonderful Phyllis, took us on her first tour since the house re-opened last week after a year of coronavirus closure.  Phyllis said Westcott had difficulty getting volunteer guides, mostly retired folks, to serve until they got vaccinated.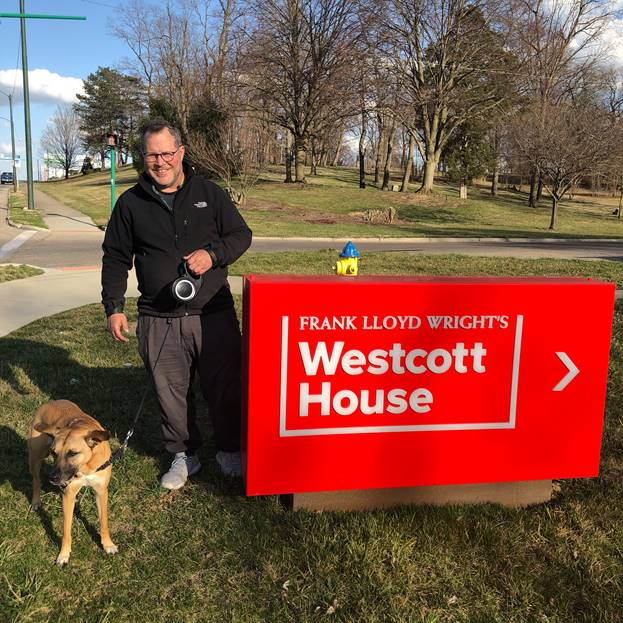 In 2001, the Westcott House Foundation purchased the house in a sorry condition.  Previous owners had subdivided the building into apartments, leaving much of the structure and yard altered and dilapidated. 
The foundation raised $5.8 million to restore Westcott to its original specifications using Wright's 1906 architectural plans.  He'd included precise drawings for furniture and lighting fixtures along with their positioning in the house.  Wright never approved of clients modifying his furniture placement or decor, and was known to sneak into homes to move couches and tables back to their Wright-arrangement.
We had made no comment regarding the decay of Springfield but Phyllis volunteered that, "We're trying to get the city back."  She said that many of the city's mansions had either been converted into apartments or left vacant--except for the homeless living inside of them.  (Mystery partially solved where the homeless stayed.)  Phyllis suggested we visit the palatial Memorial Home down the road afterwards.  "They'll let you go in as long as there's not a body in there."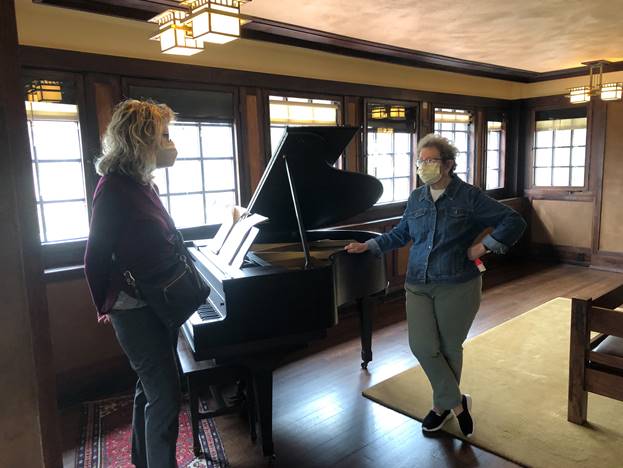 Traveling east from Ohio, we finished listening to our Frank Lloyd Wright book on tape and I sampled the local radio.  We found nothing except country stations.  Reba McEntire cried how the welfare people came and took the baby, pleading with Fancy not to let her down.
I watched for the highway Welcome to Pennsylvania sign and snapped a shot, only to read West Virginia on my camera instead of Pennsylvania.  Jim and I momentarily panicked.  Had we made a wrong turn toward a place much different than New York?  I studied my phone and noticed a narrow spur of West Virginia jutting up between Ohio and Pennsylvania.  The country stations suddenly made sense.