Aix-en-Provence, Day 1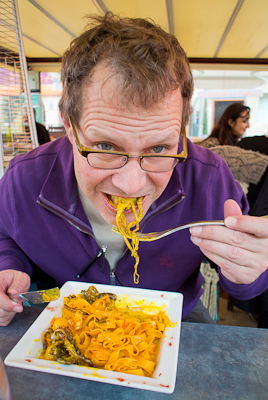 We made it safely to Aix-en-Provence, France.  I sit here in our bed eating caramels while Jim soaks in a jetted hot bath.  We've turned the heat up to some Celsius number that sounds promising, but we're not entirely sure.  We need a little recovery time before we pass out from jet-lag.  The next wave is sure to hit any minute.  We've not slept since we left Salem yesterday, but I think we're well on our way to a good time-zone re-setting of our internal clocks. 
The travel here went perfectly. Finding our hotel in this smallish city proved another matter. Our Marseilles cabbie had never heard of our Bed and Breakfast. He drove us to a non-descript, fairly decrepit old street. The weathered door said nothing except some scrawled French version of "No soliciting." It did have some tiny handwritten notation with our B & B's name next to the doorframe's buzzer. We buzzed, but this couldn't be it, could it? No answer, but we were an hour earlier than we'd told the owner Luc. Maybe this was the business or mailing address? Surely we're not staying here, right?
We wandered around to find answers, dragging our suitcases on Aix's cobble-stoned Medieval streets. We couldn't even locate the tourism office to score a decent map because of our lack of a decent map. We flagged another cabbie down, and he drove us two blocks to a church and dumped us off with some advice about walking across town to some street that wasn't on any of our sad maps. "It might be there," he said. Jim gave him a 10 Euro bill (approximately $13) thinking he'd give us some change back. "That's good," cabbie said, pocketing it all.
An hour later, we made our way back to the questionable-looking possible-B & B exterior, and there was the very charming owner Luc walking towards us! He greeted us and welcomed us into his lovely interior. Book, cover, lesson learned.
Many of the hotels are full in Aix because they held a bike race through town today.  They blocked off some streets and the would-be Tour-de-Francers sped up and down and around some straights and circles.  An announcer recapped the action live over loud speaker, which could be heard throughout town.  On the street barriers, business purchased advertising space to sponsor the event, like you'd see on the outer walls of a professional baseball field or skating area.  We learned that all the riders come from this one small city itself.
It was time to eat something besides airline food.  Luc directed us to a nearby place.  Jim asked me to order for him from the all-French menu.  Pasta looked safe, especially the "Fruits de mer" (seafood) pasta.  Probably shrimp, scallops, possibly a scary mussel or two, but I could pick those out.  I'll try that, I decided.  For Jim, how about a chicken sandwich?  Jim doesn't eat bread or pasta much anymore, but at least we knew what this sandwich was.  I'd forgotten my French dictionary and was worried that any creative ordering of food, especially in my foggy jet-lagged state, might result in a plate of kidneys or gizzards or that raw hamburger dish we witnessed in Paris.  But we couldn't just order their regular hamburger sandwich—too stereotypically American, we decided. 
They brought out my pasta.  First of all, it had a gnarly short black hair in it.  "That's not a hair," Jim claimed.  I held the curled intruder up.  "I guess that's a hair," he qualified.  The "fruits of the sea" were chewy whole baby squids, period.  The pasta itself wasn't to my taste.  Jim gallantly switched meals with me, chewing slowly on the squid so it would look sampled to the waiter.  We took photos, but No Way did he want to say anything about the squid—or the black hair—to the waiter.  I married a pleaser, for sure. 
I ate half of Jim's chicken sandwich and gave him the rest. (After eating, we had to stop by our room because Jim needed to floss out squid remnants from his mouth.)  As we exited the restaurant, we noticed a large group of French students eating their American-style hamburgers.  They looked very good.
I tried to keep us busy to ward off jet-lag for as long as possible.  At Aix's museum to see Jim's beloved Cezanne, we somehow missed the entire wing that held Cezannes.  We had to ask for directions in the museum (no guide or map available.)  Jet-lag nearly overtook us both down there.
On our walk back to the B & B, the skies opened up and we had to scamper along under my tiny travel umbrella. We got hopelessly lost. Here's the pattern: I would get us slightly lost. Jim would get frustrated and decide to take over. "We're near that one church the cabbie dumped us off at, remember? See it? It has a distinctive top." Then he'd get us completely lost. I'd ask a local for help. We'd start out correctly and then soon get lost again. Finally an English lady volunteered to help us. She knew exactly where our mysterious hotel was. Lovely place, she said. Back at our hotel, Jim realized that more than one church in Aix has the same style and distinctive style. I think it's called, "French." : )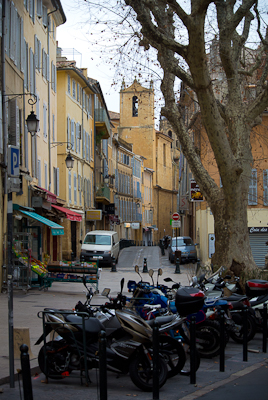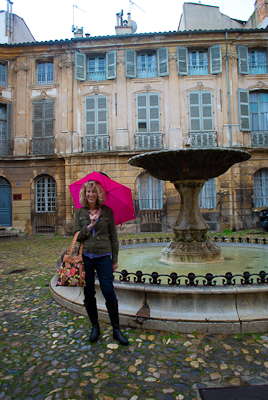 Tomorrow we're hoping to do better.  We'll start with two umbrellas and a decent map and (hopefully) clear heads from an actual night's sleep.  But for now, I need my hot bath, and am nearly ready to surrender to the jet-tag. 
Jim just asked me to order the extra GPS option for our rental car next week.  Now why ever would he be worried about this?
DAY 2, Aix-En-Provence
What a difference a day makes:
We slept 7 hours.  Actually, we went to bed at 9:30 PM and then woke wide-eyed at 1:30 AM.  For the next 4.5 hours, we read, organized our stuff, and took more jetted hot baths.  Then we went back to sleep and awoke at 8 AM.  It was like two abbreviated nights of sleep in one.  Score one for tricking the body!  But as long as it added up 7 hours, I say hooray.
We never got lost, not once.  My navigational skills mysteriously and completely reappeared, plus I never let James lead the way. 
We had a bright, brisk beautiful day, nary a cloud in sight.
I successfully conducted various manners of business in French without my non-English-speaking Aix friends looking befuddled or wishing they could escape my verbal fumbling.  Several times locals asked Jim questions in French, to which Jim responded with a puzzled face.  Locals would repeat the question.  Jim apparently assumed a British affect in these cases, or perhaps a New York attitude (see further notes below.)
We ate nothing disgusting.  The opposite, in fact.
We stumbled upon my favorite candy store of all time, a branch of the Parisian "La Cure Gourmande," which like its name, is capable of curing nearly all of life's ills with its force of gourmet-ity.  Some of you may profit from our visit there…if the tempting products survive two weeks in my close association.  I can guarantee nothing. 
Artist James reveled in a blissful day of Cezanne fantasy come true, like Disneyland for a Mickey Mouse fan, like a fat kid in a "La Cure Gourmande" candy store.  We strolled Cezanne's familiar (featured in paintings, anyway) estate, toured his "just stepped out the door for a moment" preserved studio, and climbed to his hill-top mountain-view perch—the site of inspiration for many a Cezanne masterpieces. 
All in all, a most excellent day. 
Some other notes for day two—
Aix is a lovely small city, known as Paris' country cousin.  Lots of wealth here, lots of fashion, lots of students.  The only Americans we encountered were university exchange students.  One waiter asked if we were English. 
"No, we're Americans," we answered. 
"Are you from New York?" he countered. 
"Do we look like we're English or from New York?" I couldn't resist asking. 
"Yes." 
Nobody's ever mistaken us for English before, much less New Yorkers. 
Finally, I forgot to mention yesterday that Kyle Zirschky flew on our same plane from PDX to Amsterdam.  He was travelling on business with a co-worker to Sweden.  I congratulated Kyle on his engagement (upon which Kyle's work travelling companion asked, "You're engaged?"  Oh, that Kyle!)   I asked him to avoid August 11 as his wedding date, if at all possible.  Or at least make it later in the day.  Kyle just smiled. 
Day 3, Avignon
We started out rough with another restless night's sleep.  I think my body forwarded part two of the previous night's rest to the following day, whispering "Not gonna happen for you tonight, so sorry."  All night we tossed while I considered two things:
I'll survive this.  This is expected.  At least I'm not sick
I can function on little to no sleep.  Done it before.  I birthed and raised three babies, after all.
At breakfast I chatted with the housekeeper, a Spanish woman who spoke four languages fluently.  Even though my Spanish is highly flawed (just ask Annie) I felt pretty proficient conversing with her in it compared to my paltry French.  Later I ran into the housekeeper in the hall where I blurted out my request for more toilet paper… in broken French.  No, I don't know why I defaulted to French.  But all that language juggling—plus the fatigue-- suddenly short-circuited my brain.  I had to lie down for a few minutes while my mind exploded.  The brain can handle only so much at age 50; fortunately the feet are holding out beautifully thus far in southern France.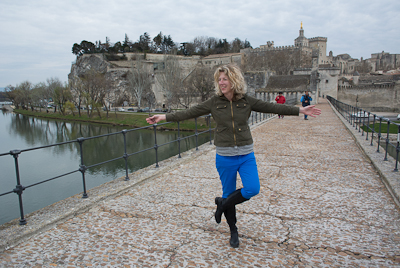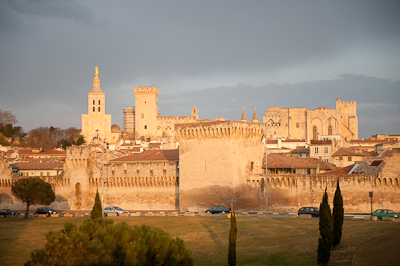 Jim snores loudly next to me, which gives me hope for the same soon. 
Anyway, we took a high speed train west this afternoon and arrived in Avignon, site of the pope's home during the 1300's.  Catherine of Siena—she of decapitated head in Siena that haunted Jim for some time—visited the pope here in Avignon, and was instrumental in convincing him to return to Rome back in the Medieval day.  I don't know if we'll encounter any more Saint Catherine parts in Avignon (such as her fingers, toes, feet and torso in Italy and Spain), but we've certainly come full circle on the woman. 
The papal palace is fascinating, an immensely powerful rambling stone fortress.  It was almost like a Disney caricature of itself.  We wanted to design one of those castle 3-D puzzles using it, or maybe play hide-and-seek in it. 
We also got to see what's left of the ancient St. Benezet Bridge, inspiration for the children's nursery rhythm called, "Sur La Pont d'Avignon."  Think "Frere Jacques" or "Alouette."  We'd watched YouTubers singing and dancing to it on the bridge, and both knew what we had to do.  I went first, only to have some girls applaud and cheer from below.  I sensed a mocking tone, but let's pretend I was fabulous.  It probably didn't help that Jim kept signaling me to sing LOUDER. 
Next was Jim's turn.  "I don't know the French lyrics," he protested.
"Doesn't matter," I answered. 
And it didn't.  You will have to see the result for yourself when Jim sends you all a private link of our performances. 
Speaking of singing, we noticed more than one business in Avignon with the name "American Musicale Soiree and Karaoke."  Puzzling, and disturbing on multiple levels.   We'll have to check it out, but we do already understand that the people here have a special appreciation for American singers & dancers on 12th century bridges. 
Despite this grand cultural American influence of soiree, karaoke and nursery rhythm singing, we've encountered next to no English anywhere and not a single American tourist in Avignon.  We don't know why.
Some observations on Provencal French bathrooms (from my comprehensive sample study of two rooms so far):
Toilets have their own tiny rooms, separate from the sink & shower.  (Be careful touching doorknobs.)
Climbing steep stairs from the lobby to your room in the dark is insufficient cause for keeping on a light and wasting electricity.
No blow-dryers or those mini-bottles of shampoo.
No alarm clocks.
No bidets, like in Spain or Italy.  (Hey, aren't bidets a French invention, anyway?) 
Some observations on Provencal food:
Lots of good pasta, due to its geographical proximity to Italy.  (Generally a safe choice, except for the "Fruits of the sea" varieties.)
Lots of paella due to its geographical proximity to Spain.  (Generally not a paella fan—too much mysterious fruits of the sea.)
Ratatouille (like that mouse movie) and bouillabaisse are menu items waiting to happen for us-- when we get the nerve.  We're working up to it. 
Day 4, Avignon (and Orange)
This morning we gobbled down an artsy breakfast in a morning room with orange walls.  Besides the ubiquitous baguettes and jam, Madame hotel-lady delivered a plate of creatively arranged sliced cheeses and potatoes and oddly-- some hummus.  Back upstairs to grab our gear for our day trip, our phone rang.  It was Monsieur hotel-husband, Patrice.  "You've not finished your breakfast!  You have another course, a sweet one!"  That's how we ended up eating chocolate crepes for dessert, for breakfast.  I guess when you eat hors d'oeuvres at breakfast, it only makes sense to round out the meal up with a crepe dessert.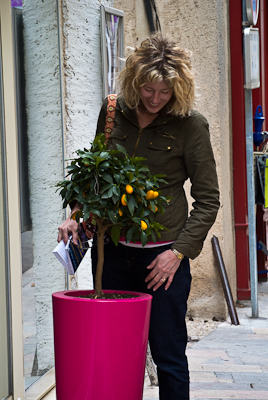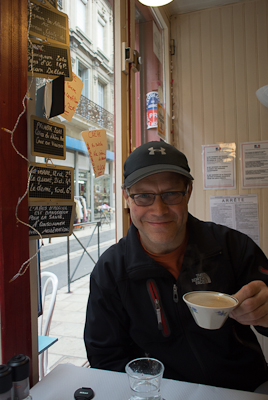 Patrice resembles many French men we see here in the South of France.  Slim-fitted jeans, tailored shirt, chic glasses, sporting a scarf in colors and manner that no American man besides Johnny Weir would consider.  I'm trying to get Jim to capture this trend in photos.  A couple of years ago we spotted—and secretly photographed--Italian men in bright red pants, or as Annie calls them, "Man-Pris."  This year it's French men in fluffy white scarves. 
French men of all ages greet each other with those multiple, back and forth skim-the-cheek kisses.  Two is standard, three if you're tight.  These French guys can cook, too.  My gay-dar is naturally weak, but it would be impossible here. 
Now about that train trip we nearly sacrificed chocolate crepes for this morning...  We decided to add a side trip, an 18-minute high-speed train ride to the town of Orange, site of the only intact Roman theatre wall in all of Europe.  An impressive 2000-year-old place, except while we were there, a siren went off and a recording (which included a rare translation in English) announced that they were experiencing some sort of catastrophe and that everyone needed to "evacuate the premises" immediately.  We decided to try to rescue my driver's license, which I'd deposited to borrow the audio guide, from the impending disaster.  As we approached the office, a young visitor informed us that they were simply conducting a test.   But we redeemed my driver's license and evacuated the premises anyway.  No problem, there's only so much to seeing a wall, cool as it is.   
The town of Orange contains some fairly tale dust.  Meandering manors resemble movie sets.  A tea and crepe shop could substitute for a Frenchified Luke's diner in Gilmore Girls.  Of course, we had to go there.  So that made two crepes for us today.  (BTW, tea—spelled THE—is big here.) 
Even though it's three days away, we're already psyching ourselves up for renting our car.  Today we stopped at the traveler's information office to see about getting a better regional roadway map.  Our hotel front desk lady directed us to the French version of Border's down the street.  There wasn't an English book in sight, so no wonder the clerk seem surprised when I couldn't answer her question about a frequent buyer's card.  Or whatever that was she asked me at check-out.  I really have no idea.  But I do understand her surprise:  Why-ever would a non-French speaker set foot in the dedicated French book store?
James works eight feet away, taking photos of fruits and vegetables with his new flash.  I bought some Provincial pears from one of Orange's little market stores today for this very purpose.  Besides, buying something nearly always garners a "Oui" when I ask if it's okay if my husband takes photos of their establishment.  And you never know when the urge to cook up in-room eggplant will strike. 
Day 5, Avignon (and Arles)
We both slept ten hours last night.  C'est magnifique! 
Another highlight today was when a French woman asked me for directions at the train station.  I was alone, wearing a scarf, scrambling to stamp our tickets.  Probably she was desperate.  I answered, "Je ne parle pas…" and she completed the sentence with "francais?" before smiling and running off in search of somebody who actually knew stuff.  But I liked the misjudgment.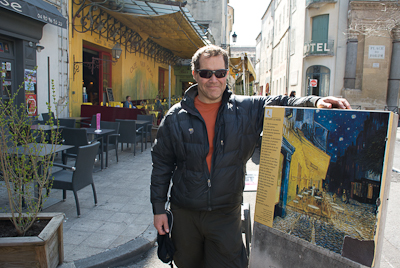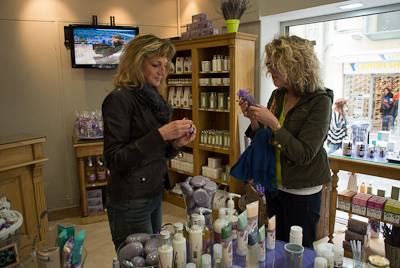 We were en route to Arles today, southern home of Van Gogh during his prolific years.  Van Gogh, a mentally unstable Dutchman, never quite fit in here.  His chasing of Gauguin through the streets with a razor and cutting off his own earlobe for a local prostitute named Rachel didn't exactly endear him with the townsfolk.  They drew up a petition to have Van Gogh locked up, beyond cutting range.  Now that Van Gogh is cutting edge, they can't get enough of him and the tourist dollars he draws. 
Besides the sites of Van Gogh's painting inspirations, Arles' claim to fame is its Roman Arena.  The place resembles Rome's Colosseum, except smaller, and they still hold events there.  Instead of gladiators fighting wild animals, they now host "bull-games," which is like bull-fighting, but kinder and gentler.  The influences of nearby Spain and of animal-rights activists come alive in Arles.
Instead of watching bulls, we decided to watch people for a while.  Armed with a couple of café-cremes decaffeines and an inconspicuous camera, we snapped photos of French-scarved male passer-byers.  We had no shortage of subjects in our half-hour at the side-walk café.  Other camera targets:  bike-riders and dogs. 
Dogs come in two varieties in southern France:  little ones whose legs sprint to the pace of their scarved masters, and big muzzled pit-bulls.  Arles loves its bulls and pit-bulls.  Big and little dogs venture everywhere, including trains, and all sizes leave big and little evidences on the sidewalks.
Now rested, we're making wiser gastronomical choices each day.  Tonight we dined at an Avignon restaurant called La Fou de Fa Fa where I fumbled French with our waitress until I heard her speaking English—native English--with a nearby Asian couple.  She was from England.  Clearly she was kindly humoring me in my attempts, while I was continents away from detecting her non-French accent.  Jim actually is disappointed when we encounter an English-speaking waitress because that means he has to order his own food.  But we both did find it interesting to see a waitress in France speaking with the Japanese couple using English as a common language.
Day 6, Avignon (and Nimes)
An older lady sat across the room, alone, at breakfast this morning.  We heard her conversing with Patrice in English, so we said hello to her and asked where she was from.
"Near New York." Frowning at her plate, she mumbled, "They said it was an omelette, but it's not like any omelette I've ever had!"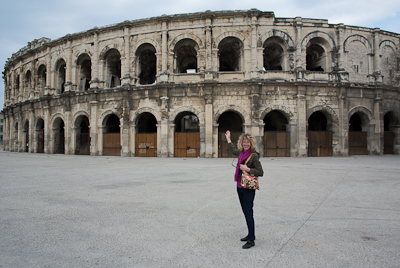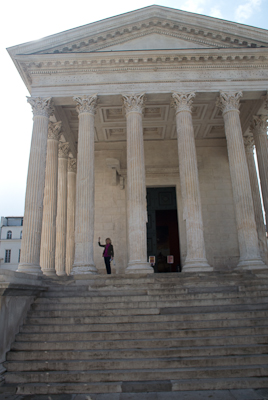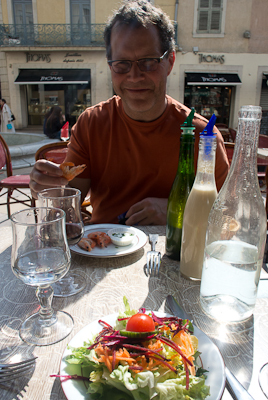 I sensed culture shock from our American friend, and worried that elegant Madame-hotel-owner Annie might have over-heard this exchange.  I changed the subject.  Was she travelling by herself? 
"Yes, I've got some health issues and I always wanted to see the South of France.  I thought they'd be mean to me up in Paris, especially since I don't speak a word of French.  But they weren't."
Her speech was imprecise so we had to listen carefully to understand.
"The Parisians just said I didn't have good English."  And she laughed. 
I told her I was impressed by her bravery.  She waved it off; no big deal. 
Jim and I aren't nearly as tough as this New Yorker, but we did boldly (by our standards) add a couple more day-trips to our itinerary.  Today's was to the city of Nimes, where Denim comes from.  De (from) + Nimes (Nimes) = Denims.  Besides its fabrics, Denims is known for its major Roman ruins.  We had no idea that France arguably has better Roman ruins than Italy.  Seeing these structures here reinforces the wide scope of the Roman Empire.
First we toured Nimes' Arena, considered the best-preserved Roman arena in the world.  Like Arles, they use it today for bull-games, and also for concerts.  Sting and Santana have played here.  Instead of encountering rock stars, we ran into some teenaged student groups on field trips.  To our amusement, they'd arranged to have some French guys dress up like gladiators and give a talk from the arena floor.  We ran into these dudes in a back passageway beforehand, where they struggled to position their gladiator loin-cloths.  I requested a snapshot with one; he wasn't exactly thrilled to accommodate me.  But then, he was a little doughy, plus togged in a big Roman diaper. 
After a few minutes' stroll through picturesque squares and pedestrian-only promenades, we found the Maison Carree.  Or as Rick Steves describes it, a "stunning temple that rivals Rome's Pantheon as the most complete and splendid building that survives the Roman Empire."  Amazing--this perfect, moderately-sized Acropolis-looking building sitting in the middle of Nimes. 
We did some shopping in Nimes.  Stuff that is lightweight ranks high on our list.  We bought some candies (nothing left to carry here, except on our hips), a tiny bottle of lavender oil (we're in lavender country) and a silky nightgown (if not in the South of France, then where?)
Tonight is our last evening in Avignon.  We pulled out Jim's mega-camera to capture early evening at the nursery-rhyme Pont d'Avignon Bridge.  Jim uses this camera judiciously as it tends to make folks anxious.  At the bridge, the big camera drew the attention of a big woman with a small camera.  We stood alone with her on a wide expanse of grass about 200 feet from the bridge; every time Jim positioned for a photo, big woman planted herself immediately in front of him for her own camera vantage-point.  I thought about saying something to her just to determine her nationality. 
Afterwards we took twilight photos of the Pope's Palace.  I stood alone as Jim caught varying angles of the glorious edifice.  An amorous couple spotted me and motioned a request that I take a photo of them with the glowing Palace backdrop. 
"Un, deux, trois…" I said, snapping as they planted a kiss on each other.  I heard some Italian chatter. 
"Italiano?" I asked.
"Si.  Parli italiano?" they asked. 
"No, espagnole," I answered.  Why I blurted that my language was Spanish, I'm not sure.  Maybe because I remember using Spanish as a communication bridge when we were in Italy?
No matter, Italian couple was delighted, and seem to buy the Spanish claim.  I think they were too full of romance to care or notice.  We chatted in some sort of Spanish-Italian hybrid for a minute before saying "Ciao."  I must have the most exotic native-Spanish accent they've ever heard.
Some follow-up notes:
I checked-out one of those "American Musicale Soirees and Karaoke" venues.  They're bars-- filled with brooding, smoking, horse-race-gambling men.  We didn't stick out around for any possible Karaoke. 
Not only are dogs welcome on trains, they are allowed in restaurants.  And I don't just mean service dogs.  Any dogs. 
Avignon to Roussillon (Pont du Gard, St.-Remy), Day 7
"You're in France.  Don't bother dieting.  There will be butter." From a Trip Advisor commentator.
This morning we rented a car in Avignon.  Hertz-man informed us of their special where it was actually cheaper to get the upgraded Mercedes with built-in GPS than the compact we'd reserved with the optional GPS.  That's how we ended up with a Mercedes in the South of France.  That meant we got to learn to:
Use a new GPS.
Transport to our destinations using it.
Operate a Mercedes. 
Not that we're complaining.
Madame GPS first successfully directed us to the nearby Pont du Gard, a 2,000-year-old nearly-perfectly intact aqueduct.  This was well worth the detour.  Next we drove to St.-Remy, where Van Gogh's physician sent him for long-care mental health treatment.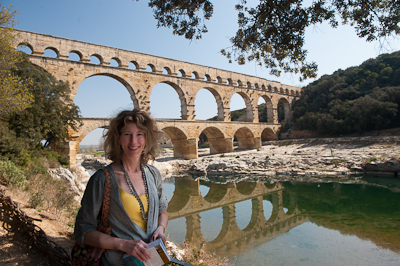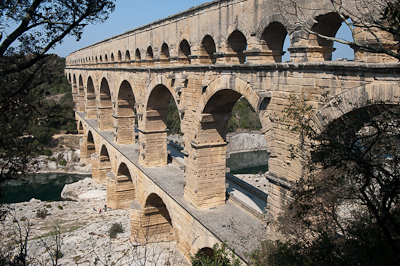 Rick Steves' book warns that the parking lot on the still-operational mental hospital grounds in St.-Remy suffers from a particularly high rate of theft, and to not leave anything in your car.  Given that artist/photographer James hauls our laptops and ipad around, we decided to take turns visiting the Van Gogh site. 
James needed some recovery time after learning how to French-drive a Mercedes, plus he was worried about all those French-speakers out there, so he requested I go first to scout the way. 
I wandered the grounds until I spotted the only sign anywhere that said, "Van Gogh."  Some women emerged from a locked gate nearby and I asked in French if I could enter.  "Oui," they answered.  The gate clicked behind me.  On my way to the building, I passed an outdoor courtyard area where patients wailed and moaned.  Yes, the mental hospital is still fully functional. 
I asked the non-English-speaking receptionist about Van Gogh and she kindly pointed out the correct direction.  But I had to get back out through the locked gate.  For a flash I wondered if I might be trapped in a mental health hospital in the countryside of southern France, with nobody, including Jim, knowing exactly what had happened to me.  "Crazy lady with incoherent speech wants out?  Sure…"  I held my breath as I pushed the buzzer.  Click.  Yes, I was released. 
I roamed the grounds a while longer until I ran into some Russian-Americans, and together we located a door in a chapel that said something in French about Van Gogh's room being closed.  As I walked towards the car, I spotted some tourists exiting an unmarked archway.  I retraced their steps, happy to avoid any buzzered gates.  Down a courtyard hall and around a corner, I found a door with a small sign for the Van Gogh rooms.  There'd been no hints to this location anywhere; it was like they were trying to hide it.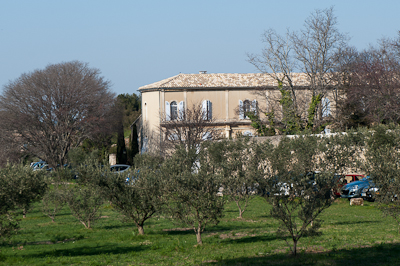 I entered and paid my 4 Euro fee.  But some business first.  Where was the bathroom? I asked in French. I've discovered that if somebody speaks English, often they'll have pity on me and respond in English.  No such luck here.  I got some obscure guidance about going out to the garden and turning left.  So I did.  Outside there were funny little doors and outbuildings, but nothing resembling a bathroom anywhere.  I had to go back and ask Madame again.  This time I got frustrated English.  "Turn left.  It's right there!" she answered, slightly exasperated.  I went back out and found a small wooden door off the garden, unmarked.  Yes, of course it would be like this. 
I was glad I hadn't sent Jim out first.  He'd still be traumatized. 
After I checked out the Van Gogh stuff, I guided Jim back through.  To heck with car thieves.  I even helped a French biker find his way.  And we were all fine.
The GPS did an uneven job of channeling us here to Roussillon tonight.  If we made a wrong turn, it assumed the route was impassable, and urged us to u-turn, detouring somewhere through Germany.  Physical maps still serve a purpose in my mind, and this was one of those times. 
The Mercedes functioned pretty well, except for a couple of times when Jim accidentally hit cruise control (we think) and the accelerator wouldn't respond unless he floored it.  This is not what you want to happen in a French traffic circle with a confused GPS. 
Anyway, we're here and from what we saw at sunset, we're in for some real beauty tomorrow.
Roussillion, Day 8
We're taking a Sabbath today on the Sabbath.  The Mercedes sits in our hotel's impossibly tight reserved parking spot.  We're going nowhere today, and I can't think of a better place to do it. 
Roussillon is the loveliest village I've ever seen.  Meandering streets on this hilltop come embellished with arches, winding staircases, climbing vines, lanterns, chic cafes, boutiques, dramatic viewpoints, and an ancient church—all still in use.  The church's center stone aisle has a wear pattern from the faithful dating back to 1,100 A.D.  You'd have a hard time designing a more perfect little town.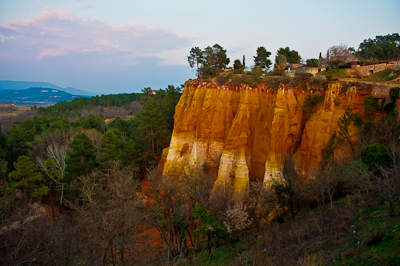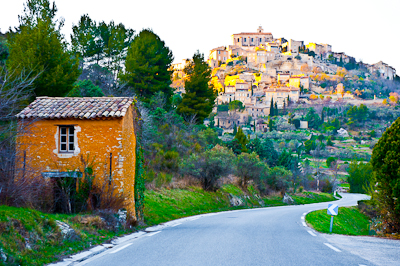 With its striking orange/red cliff-sides, Roussillon is an original source of the pigment called ochre.  We paid a small fee to take a short hike through the ochre area near our hotel.  "Don't wear white," they warned.  Jim spotted some color pigments in baggies at a shop in town; he plans to take some home to use in a painting of Roussillon itself. 
I read that some of France's famous writers holed-up here during Hitler's Occupation of World War II; Roussillon was just enough beyond radar to escape notice.  Today it makes an excellent place to read, nap, stroll and hand-wash one's dirty socks and underwear (and dry on the heated towel rack.)
For lunch I finally found some ratatouille—and I liked it.  Less tasty was last night's aperitif mussel soup surprise.  We appreciated getting English menus at our hotel's elegant restaurant, but you're stretching your element when you don't understand some English food terms.  Like "squab."  You may know it.  We didn't.  Apparently it's a small domesticated pigeon. 
Dog note of the day:  A big blonde Irish-setter mix hung out at an outdoor café with us and some other diners this afternoon.  I think this pretty gal lives down the street.  Everyone loves her, and she knows it.  She lingered at varying tables at our café, sometimes sitting underneath at patrons' feet while they petted her.  She let Jim give her a little love, too.  Eventually she sauntered down the path towards home. 
If I had to be a dog, I'd want to be a French dog, especially in Roussillon.
Day 9, Roussillon
Our hotel room shutters swing in the breeze following a thunderstorm, following a day of sunshine.  James has ventured out for photos in the diffuse light, his favorite.  I spot him from our window.  He walks up a path on the other side of the small gorge that cuts into our ochre red hillside.  I call to him, "Jim! Jim!"
Jim doesn't hear me, but from somewhere below, a man responds each time, "Oui!  Oui!"  (Yes!  Yes!)
I yell out "Jim!" once again.  My French neighbor answers with "Moi, aussi!" (Me, too!)
I suddenly realize that my "Jim" sounds similar to the French "J'aime."  (I love)
Whether monsieur below thought I was commenting on the view, or him, I do not know.  But I think I'll lock my door.
We're discovering sites and villages near Roussillon in this Luberon region.  Down the hill is a perfectly intact stone bridge (the Pont Julien) constructed by the Romans 2,000 years ago.  What blows my mind is that this bridge carried automobile traffic until as recently as 2005, when the French decided they ought to build a modern alternative next to it. 
We also climbed some castle ruins, including one that belonged to the infamous Marquis de Sade, the man from whom the term "sadism" originates.  Today the designer, Pierre Cardin, lives in the restored lower part of the Marquis' castle. 
Dog note of the day:  As we prepared to extricate our car from our hotel spot, we spotted the town dog sauntering down the street.  Where was she going, we wondered?  She boldly entered a bar.  I peered inside, but she'd made her way into the back kitchen area.  A couple of minutes later, she emerged and located a sunny lounging space out front.  I had to find out more about her.  Inside, I asked Monsieur if she was the town dog.  "Oui, Madame."  What was her name?  He answered, but I knew I wouldn't remember.  Could he write it down for me?  He grabbed a restaurant order ticket, wrote on the back, and handed it to me:  RANTANPLAN.  Jim and I think it may just be the French version of Rin-Tin-Tin.  Say it fast.  I would have asked more questions of the bar owner, but this conversation already stretched my French capacities.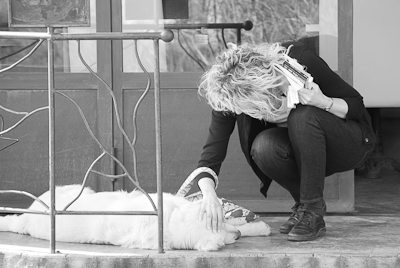 Day 10, Roussillon
Today we hiked up and around the canyon on the north side of Roussillon.  Jim has a strategy:  Keep taking left turns, and eventually you'll make your way back.  Despite signs saying otherwise, this worked.  Voila!
Roussillon's gift shops are finally open after their weekly Sunday/Monday closures.  We purchased some items at the linen and ochre paint-pigment stores, where my limited French came in handy.  The sweet old owner at the ochre shop said bien sur (of course) to my photo request.  Would we like a photo with him in it?  Bien sur, I answered.  Other tourists in the shop requested I pose with Monsieur for their photos.  I may soon be part of somebody's travelogue slide show somewhere. 
Jim suggested I take a video of him buying the ochre.  We caught Monsieur having trouble adding up Jim's ochre selections.  We managed to communicate that we could return after his daughter finished her errands.  Back 30 minutes later to buy our colored powders, Monsieur nearly fainted at the sight of our credit card.  Apparently he doesn't know how to operate that device any better than the calculator.  I told him we could get exact change from our hotel room; Monsieur put his hand on my shoulder and told me that I was a saint.  At least that's what I think he said.  Oh, and he asked if we were Italian (?!)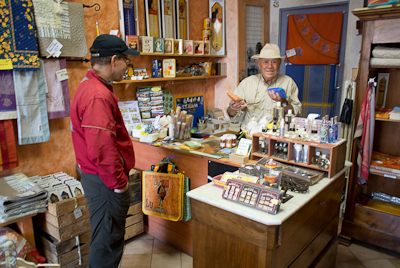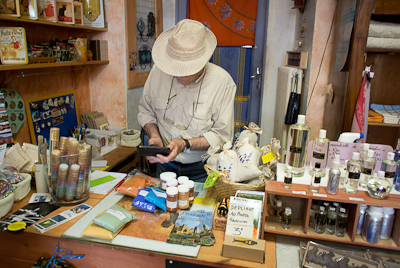 For lunch we drove to a village north of Roussillon, but our delay caused by the ochre purchase put us at 2:30 PM—a half hour past the designated 12-2 French lunch time.  We visited two villages before finding an open café in the larger tourist hill town of Gordes.  Yes, they could serve us food, "just not the pasta, because the water was no longer hot enough." 
French lunch breaks are sacred, and shop hours are short.  Why work anymore than absolutely necessary?  Jim said that the café owners would probably close for lunch themselves if they could. 
A final dog note in Provence:  Madame at the linen shop said that Rantanplan belonged to the bar owner, that she made regular visits to her own shop, and that she was a friendly, loving village pet.  She seemed surprised I knew her name. 
Day 11, Roussillon to Nice
This morning we waved goodbye to Roussillon and Rantanplan, who was being petted outside the bread and pastry shop by the baker before the townspeople arrived for their daily baguettes.  Our drive to return our rental car to Avignon went smoothly, thanks to our maps, road signs and a GPS which we finally fully understood on our last day.  (Oh, the knob moves up and down, too!)  We even bought diesel; everything is just that more complicated in a foreign country where you speak little of the language.  Jim said he couldn't rest until he put the car in park at the Hertz slot outside Avignon's TGV train station. 
We patted ourselves.  We'd survived the hardest part.  So we thought.
The high velocity TGV trains normally run on a schedule you could set your watch by.  Our train to Nice was delayed an hour.  Halfway through our 3 ½ hour ride, we stopped.  Dead stopped.  Nobody seemed to know exactly why or when we might resume our trip.  Something about another train having priority, or maybe another train was blocking the tracks.  I had to get my information second-hand from the snack bar lady because all the announcements were in French.  Jim did pick up a word describing the wait that sounded an awful lot like "indeterminate," which wasn't a good sign.
Train staff brought around snack packs of fruit cocktail, a kid-box of orange juice, a little bag of biscotti, and strangest of all, a can of self-heating coffee.  Push here, be amazed as it heats, shake the colored liquid, and voila, disgusting coffee—so we heard.  (We'd passed on it.)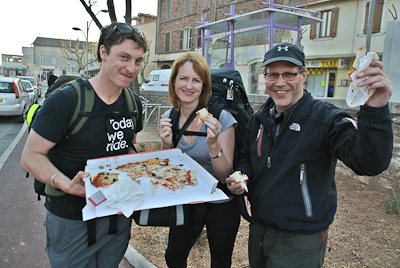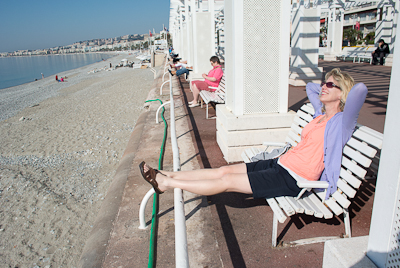 After over two hours of waiting, the train started rolling again.  Another announcement (and more investigation by me) indicated that we'd have to change trains in an upcoming town instead of having a direct route, as planned.    
About a half-hour later, a train employee ran toward the front of the train with a frantic look in her eyes.  Several beefy men soon followed. Clearly, there was some type of emergency. The train stopped.  An announcement said something about a female being sick.  I think it actually referred to the locomotive (feminine noun) being "sick."  Soon passengers from the back filed past us, and I heard the word "fumer."  I thought this meant fumes.  Turns out it means smoke.
Pretty soon, we heard another French announcement.  This one, we didn't need translating.  The French words for "urgent" and "evacuate" sounds pretty similar to English.  We didn't wait around to discover the exact translation, but grabbed our bags and followed the crowds, dropping to the gravel along the track, previously-exited passengers helping catch us.
We were stranded outside the train station of a small village in the south of France.  Fire crews and police arrived with sirens blaring.  The back of our train billowed smoke.  Television news crews arrived to interview passengers.  They ignored us English speakers, going straight for some pretty young French girls.   
Sent out by Jim on another reconnaissance update, I heard what sounded like English voices, just slightly different.  "English?" I asked.  Oh, yes!  They were Aussies, a young couple biking through France on their honeymoon.  Jim came over and we became acquainted with Sarah and Hayden.  We were all thrilled to find some English-speaking comrades.  People turned and stared at our delight, as we were like old friends who just happened to run into each other during this train emergency. 
Hayden described how the door from their train car jammed while passengers behind him started pushing and panicking.  He elbowed his shoulder into the door and popped it open.  Then he went to buy a pizza from the shop down the street for us to share.  Townsfolk at the pizzeria were eager to hear what was happening with the train.  He knew the French words for "train" and "sick" and maybe also "fire," and that seemed enough explanation for them.
Train crews directed us out to the front of the station.  They brought water bottles and cups.  Amongst us were the elderly, nursing mothers, young children and dogs.  We felt a little like refugees.  Funny thing was, once everyone got off the train, nobody got visibly angry or upset.  In fact, a sense of community started developing a little.  People helped each other out, laughed, visited and took photos. 
After about an hour, a replacement train finally arrived.  We found seats in a four-some with Sarah and Hayden and exchanged blog and e-mail information.  After they finish biking in France, they're flying to Los Angeles where they'll rent an R.V. and drive Route 66 to Chicago.   
We're finally in Nice now, arriving six hours late.  I'm exhausted, but grateful.  We were supposed to travel around the Riviera tomorrow, but I think we may just stay in town.  Jim says he needs a break from trains and busses.  Can't imagine why.
Day 12, Nice
A saxophone entertains a block away on the Promenade des Anglais overlooking the Mediterranean.  A light breeze makes the gauzy shades dance over the terrace doors of our 5th floor walk-up apartment here in Nice.  Technically we're in a Bed & Breakfast, but with no staff on site, and with just three units, it feels more apartment-like.  We do still, however, find breakfast waiting in the hallway—a delivery I don't envy for the young woman given the task of hauling it up the many flights of stairs each morning. 
We slept soundly after yesterday's train evacuation, and the only transport we made use of today involved our feet.  Nice is nicer than I thought, very clean and lovely.  We hit perfect weather, too.  The folks here may not have the same genteel politeness of Provence, but we are in a big city, afterall.  It's a happy vacationland.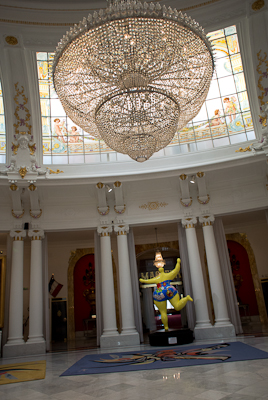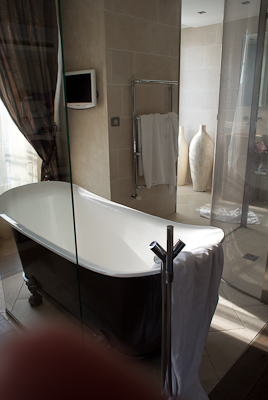 Nice used to be part of Italy and that country's influences abound, particularly in the food.  British hotels and pubs have their place here, too, historically, as well as with today's Londoners seeking some sun. 
Jim insisted on giving me a break from my regular tour guide duties today.  Commandeering Rick Steves' book, he led me through Nice's old town.  Eventually I realized he was making up a good portion of his "tour" as he went along.  I didn't mind too much, as his version was arguable more interesting than our guidebook (if not completely inaccurate.)
I can see a Haagen Daz restaurant (yes, restaurant) from our smaller balcony.  We may just eat there for dinner (yes, dinner.)  We've gone from tourist mode to vacation mode.  A train fire will do that, I think.
Day 13, Nice (Monaco)
Today we rode a bus to Monaco on a one-euro ticket (about $1.30) that transports you all the way from Nice to just shy of Italy.  The view would have been magnificent, were it not for the overcrowded conditions.  We really couldn't complain--at least we had a seat.  For the first time, we saw the French in less-than-polite mode as they shoved their way onboard.  Courtesy often suffers in such moments of desperation.  I can only imagine what this is like during high season.  I think they make these rides so cheap to keep as many people off the narrow cliff-hugging roads as possible, but they obviously need to increase the numbers of their bus fleet.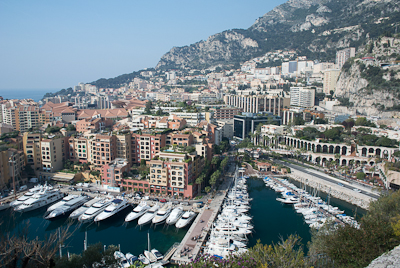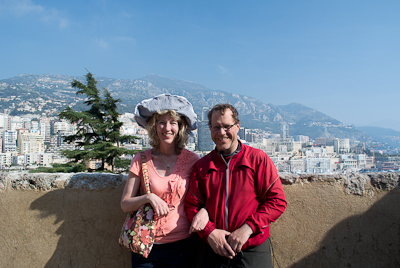 Some Mediterranean gentility resurfaced in Monaco when Jim and I made a wrong turn walking to the palace.  I asked an elegantly dressed lady for help, and she offered to guide us part way there.  Monaco Madame looked expensive, and I mean that in a well-bred, uber-wealthy way, not a hooker way. 
There are so many police and security cameras in Monaco that legend goes you could win a million dollars at the casino and safely walk to the train station in the wee hours with your booty, no problem. 
Monaco itself was pretty much as we'd expected.  Again, we saw more crowds than anywhere else on this off-season trip of ours.  Princess Grace's grave (and to a lesser extent, Prince Rainier's) were top tourist draws in the same cathedral as their 1950's wedding.  Most of Grace's devotees today are senior citizens on group tours.  I doubt our children even know who she is; I imagine that in the coming years, tourist traffic to Grace's gravesite will seriously dwindle. 
Other popular Monaco spots are the bay with its countless gigantic yachts (one worth $200 million), the Monte Carlo race area, and the casino.  We didn't get invited inside any of these places, but we did stumble upon a handy place to buy a yacht, and I spotted more outrageously expensive cars than I've ever seen in my life.
Afterwards we located what we hoped was the bus stop back to Nice.  The buses are supposed to come four times an hour.  After 45 minutes and no bus, we worried we had the wrong location.  Maybe four buses arrive all at once each hour? 
Once back in Nice, we purchased two Haagen Dazs beverages to-go, mine a strawberry-lemon slushy concoction, Jim's a chocolate milkshake.  Take-out is as rare as pre-shelled shrimp here--nobody ever does it.  But sitting on our terrace with a strawberry-lemon slushy was heavenly.  
Before we even left for France, Jim announced that he wanted to have bouillabaisse for dinner one night.  He said he has fond memories of eating it once at the Inn at Otter Crest with his family growing up, and he wanted to experience the real version from its origin here in Nice.  Jim remembered it being soup-like with some floaty fishy stuff. 
I found a place that served the dish a few blocks from our hotel.  We nabbed the last unreserved table since we arrived at 7:30 PM, early by French standards.  The restaurant was lovely and the service attentive, but the bouillabaisse was quite different from the stew-like meal Jim experienced as a child.  It was more a plate of shelled and unshelled seafood stacked atop a shallow base of brown broth.  We identified mussels, a tiny crab (illegal to capture in Oregon, Jim noted), a prawn (with its head and beady eyes intact), a snail (its foot sticking out), and big chunks of various mysterious white fish (on the bone.) 
You have to remember that Jim doesn't even like to eat chicken on the bone. 
I was a little worried how he'd tackle this bouillabaisse, but he was a champ.  The mussels somehow slithered out on their own power into the broth:  task number one, check!  The baby crab-legs were too small to bother with:  check!  Once he pulled the prawn's head off, all was well there.  The snail created the biggest challenge.  After forking its foot, Jim was surprised at the length of Monsieur Snail's body when yanked from his shell.  I asked how he tasted.  "Like a plastic worm," Jim said, grimacing.  Jim admitted he'd spat out the tip of the snail's foot because it was too tough and rubbery.  Apparently eating a plastic worm is one thing, eating rubber is another. 
Given the classy nature of this restaurant, I took what was probably an inappropriate number of photos of Jim and his bouillabaisse.  How could I not?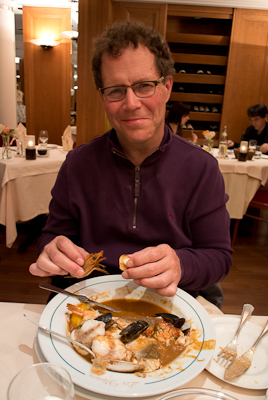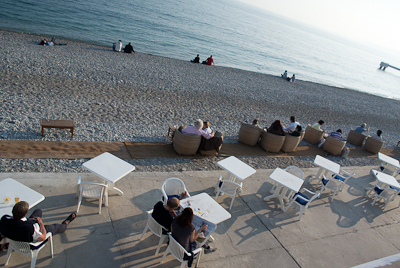 Day 14, Nice (Cannes)
This will probably be my last entry for this trip of ours to Southern France--unless we have some unforeseen drama…  Please let this be my last entry for this trip of ours to Southern France.
Today we bravely faced the train, this time for just a half-hour ride to Cannes.  Fortunately the only smoke we encountered originated from the many French tobacco addicts getting in their last puffs before boarding. 
 Jim wasn't feeling the Cannes half-day trip too much at first, but like the sweet husband he is, agreed to accompany me without complaint.  He ended up enjoying it more than he thought.  We both found Cannes more how we'd imagined "The French Riviera":  private sandy beaches (not rocky, like here in Nice), Rolls Royces, hotel rooms starting at $2,000 per night, plump leathered matrons in two-piece bathing suits, anorexic girls in sky-high heels and too-much make-up, and dogs wearing black be-dazzled coats.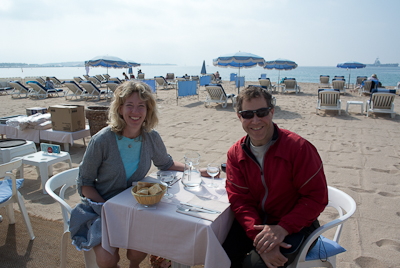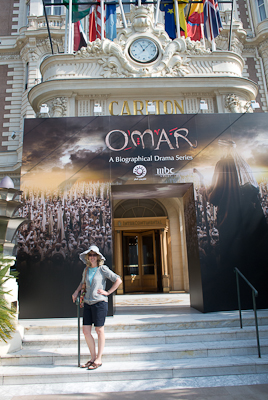 We stopped at the famous Carlton hotel for coffee in the lobby lounge area.  Delicious, but at about $13 per café crème decaffiene, we decided to have lunch elsewhere.  We found such the place on the beach that didn't break the bank so terribly, and finally got in our requisite beach dining experience. 
Down the promenade, we found the Cannes Film Festival building.  We'd read of its underwhelming presence so we weren't surprised at the unimaginative boxy structure.  Think 1970's government building, but without the charm.  Our movie-plex in downtown Salem has more character. 
Some other film convention was going on and most of the front area was roped off for those who wore the coveted lanyard.  The yellow tape didn't stop us from pretending like we walked the red carpet--as far as we could get, anyway.  We also discovered some movie star handprints in cement, including Whoopi Goldberg, Spike Lee, and Julie Andrews. 
Day 15 (Nice to Salem)
Nice had the most airport security we'd ever experienced.  Apparently they'd had some threat the day before, which for us translated into no fewer than seven check-points.  After having our bags scanned, we were directed to Madame TSA for a hand-search of our hand-luggage.  She inspected my e-ticket and dug through my cosmetic bag.  Apparently puzzled by my eye shadow brushes, she had a question for me.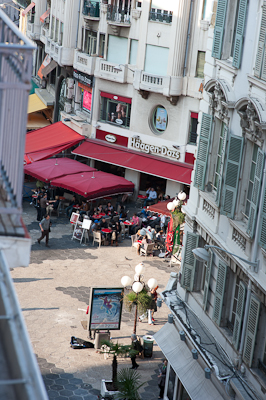 "How many times for you travel from Nice to New York?" she barked in halting English. 
This is my first time, I responded, in the most quiet and submissive manner possible. 
"NO!" she screamed.  "How many TIMES?  How many TIMES?!" 
This exchanged continued, going nowhere.  My heart raced.  I looked over my shoulder to Jim with a pleading look of HELP.  Finally we realized that scary Madame security matron meant to say HOURS instead of TIMES. 
"Nine?" I suggested.  And we were released, just like that.
On the gangway to the plane itself, we had one final checkpoint- a meet-and-greet with some security guards accompanied by German Shepherds.  They were not like Rantanplan from our Roussillon fantasy village. 
I'd love to be back in Roussillon right now, petting the town dog while sipping a café crème.  I don't know why more Americans don't visit the south of France.  There's more to see and experience there than we'd ever imagined.  The Roman ruins, the art history, the hill towns, the beaches, the food, the burning trains—I'd do it all again in a heartbeat.