Stories pulled from my journals during our three-week trip to Italy in February 2016  
CORTONA ARRIVAL:  Today we leave Florence for small-town Tuscany.  We've ready for some green.
Apartment owner Vanna meets us at the train and greets us each with the European double-cheek kiss.  I must remember to work from the right to left with the kisses, or it gets awkward.  Vanna refers to us as her friends.
A quick drive up the hill and we arrive at our apartment, perfect for us with an incredible view.  After Vanna shows us around, Jim and I leave to explore Cortona.  Life is tranquil here with locals out enjoying their town. 
We purchase breakfast and snack foods at the "supermarket" (smaller than a 7-11 back home) which closes from 1:30-4:30 each day for lunch.  Next door we buy fruit at the indoor fruit/veggie stand.  "No self-service" and "Do not touch" signs abound.  Too late--I've already grabbed a container of strawberries.  Still, we get no lecture, just a kind word and a thank you.  We love Cortona.
Ah, what a glorious morning!  The sun shines.  The temperature's cool but not freezing.  As Vanna's first guests of the season we have difficulty warming the apartment.  The radiators blast, but our old stone walls have soaked up too much winter.  We continually run into Vanna around town; she has many friends here.  Vanna explains that she was born in the apartment upstairs.  Her grandparents owned this roomy house, now divided into apartments. 
Jim rips a seam in his pants.  He asks a shopkeeper for a sewing kit but gets offered a lighter instead.  I resort to pantomime, exposing a seam on my jacket while doing an in-and-out sewing motion.  "Ah!" the shopkeeper brightens, snatching a kit from a nearby wall. 
Eventually the apartment grows toasty warm.  Now onto the dishwasher and washing machine, contraptions of confusion for non-Italian speakers.  I just push buttons.  Eventually something kicks in.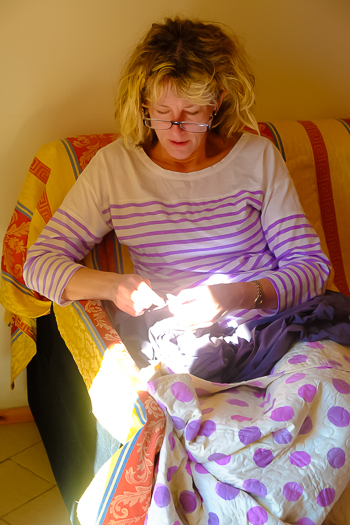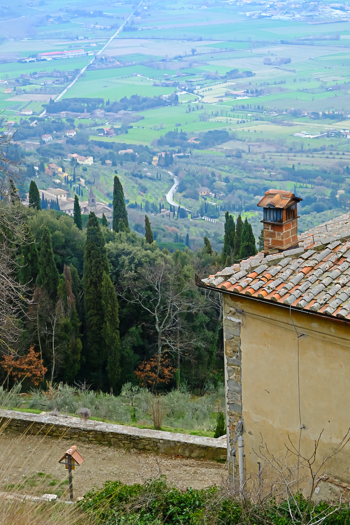 VANNA TOUR: 
We hire Vanna for her first driving tour ever, a 2-3 hour photography hill-town exploration.  Vanna is reluctant because of her lack of English, but she does fine if we speak slowly and clearly.  We learn to take care with word choice.  Jim tells Vanna, "We want to treat for lunch."  Vanna looks puzzled.  I re-phrase, "We want to pay for lunch." 
We are relieved to not drive this time.  Vanna takes us to multiple locations we'd never attempt on our own.  Not caring for freeways, Vanna follows scenic back roads the entire way.  Once she gets lost and we crawl on a gravel road for a few miles.  But no worries for us, we remain in Vanna's capable hands.  Seventy-year-old Vanna drives competently.  She repeatedly asks if we think Italian drivers are scary, as many Americans tell her.  Jim answers, "Yes, but not you, Vanna."
When Vanna gets off-course, she pulls over and rolls down Jim's window while calling out to pedestrians for directions.  Unruffled, they offer suggestions.  Who wouldn't help an Italian grandmother?
"Why he smile so much?" Vanna asks me as Jim bounds for a photo-op, a grin on his face.  I don't tell her it's his introvert way of coping with multiple hours of socializing.  'Oh, he is just so happy here!" I answer.  "So many happy photos!"  Vanna smiles.
Whenever Jim jumps from the car for photos, Vanna and I watch and giggle as he darts down side roads and springs over ditches.  Sometimes Jim has to reverse a few feet to gain momentum to clear a ditch.
Vanna gets a call on her phone from her son, Mirko.  They talk for a minute before Vanna passes her phone to Jim for some conversation.  Jim apologizes for his unusually slow speech, explaining he's been talking like this for the past six hours of our tour with his mother.  Vanna speaks up in Italian, "I can understand what you're saying."
We tell Vanna that during our absence, Jim's office is holding an Italy-themed party back home.  Jim's co-workers asked about his party attendance; he told them he was attending the real Italy instead.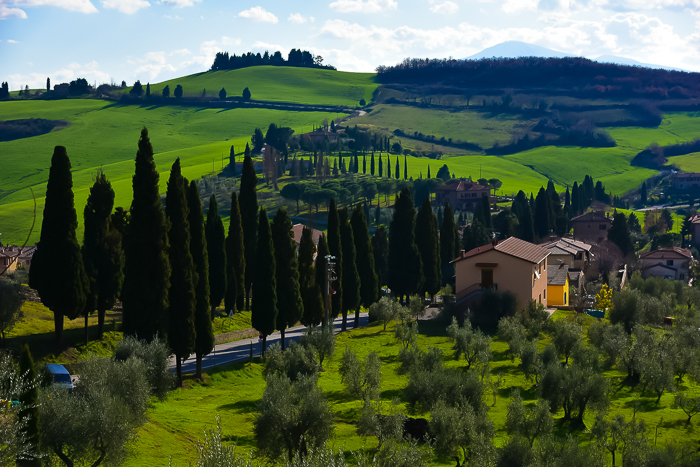 SAINT FRANCIS IN CORTONA: 
Cortona oozes with churches and monastery and convent chapels, most staying open without admission charge.  Often we have the places to ourselves.  One church quietly displays a Bible, tunic and pillow belonging to our new favorite saint, Francis.
We rarely encounter priests or monks, but we run into nuns constantly.  Usually they travel in packs, mostly donned in black but sometimes white.  I never catch a nun sitting down.  You won't find one leisurely sampling a croissant and espresso; these gals keep on the move.
This morning a taxi driver takes us to Le Celle, the convent where Saint Francis resided from 1211-1215.  Wedged into a gorge, this Saint Francis site is a cross between our Silver Creek Falls and Mount Angel Abbey.  A river slices a hillside rimmed with terraces and ancient stone walls.  The funnel of water soothes our senses.  We have no trouble understanding why:
1. Saint Francis loved this place and felt a particular communion with God's creation here. 

2. Visitors call Le Celle "The most non-commercial place in Italy."
Saint Francis kept a tiny, windowless cell in keeping with his message of simplicity.  His bed measures less than a foot wide, with a half log serving as his pillow.  
Signs in Italian urge solitude.  We hear a hint of voices in an adjacent office but never meet another soul except a gentle friar strolling the grounds.  As we pass the friar, I indicate the gorge and say, "belle." 
"Sì bellissimo," he responds, eyes twinkling.
Later I learn that monks request total silence at Le Celle--as in no talking at all.  And there I'd easily chatted with the gracious friar.  We love Franciscans.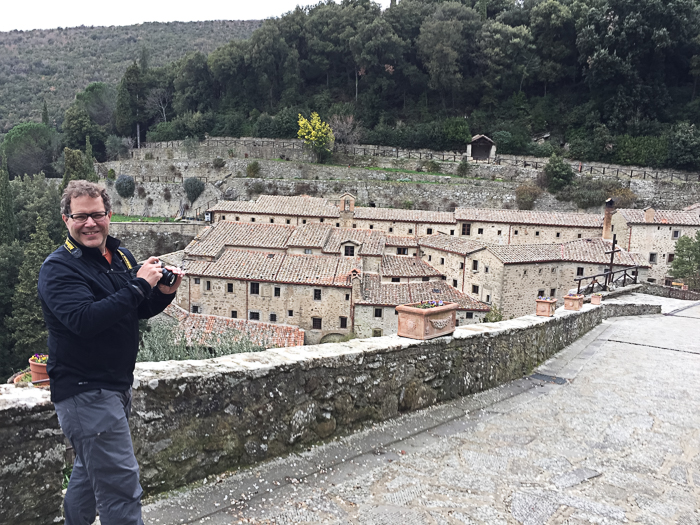 CORTONA CULTURE: 
We notice that Italian pedestrians don't fear motorists like we do.  They don't scurry at the sound of approaching cars or vespas.  They wait until the vehicle reaches them before ambling over just enough for the vehicle to pass. 
Cortona's biggest pastry shop draws the greatest crowds so we figure it must be the wisest choice.  After ordering, we hear a voice call out to us--it's Vanna!  We double-kiss as if old pals and invite Vanna to join us.  I tell her how pleased Jim is with his photos from her driving tour.  Jim asks if she's tired from our big outing.  She looks bewildered at the suggestion, then shakes her head.  No, of course not!
We enjoy having no real schedule for our eight days here in Cortona.  This is the heart our Italy trip--our small town, hang-out, off-season time.  No hotels have opened yet in Cortona and roughly half of all businesses remain closed.  We're rare visitors in this small sea of locals.  We covertly photograph elderly gents who gather in the piazza each afternoon.  We realize we probably snap the same sweet fellows every day.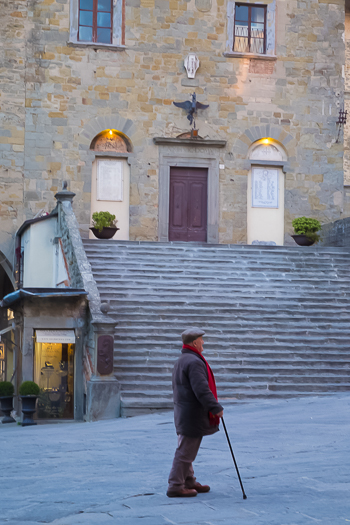 EARLY BIRD DINERS:  
For dining at Cortona's swankiest restaurant, Jim hunts down his non-athletic pants.  When the restaurant opens at 7:30 PM, we arrive first, setting off the security alarm.  This is our way.  Jim says we have established certain travel patterns:  last at tower climbs, first at restaurants. 
Our waitress, the darling young Madelina, says she recognizes us from the pastry shop this morning.  Madelina asks who hosts us as their guest.  She says that we stood out to her because everyone in Cortona knows everyone and they have so few tourists in town right now.
We ask Madelina about tomorrow's Saint's Day for Margherita.  Is it a holiday for everyone?  She answers, no, it's a holiday just for Cortona.  "Santa Margherita is OUR patron saint.  She protects only us, not the other towns," Madelina laughs. 
Jim gets confused during the wine ordering and ends up with a small bottle of house red wine instead of one glass.  After our meal, Madelina offers an after-dinner aperitif:  limoncello, sweet wine, or grappa.  I abstain, but Jim doesn't know which to pick, so Madelina suggests the very-manly grappa.
Jim doesn't grasp the full grip of grappa, but the smell alone suggests it could clean pipes.  Still, Jim never wants to disappoint a waitress or anyone else for that matter, so he tosses back the proffered shot. 
On our walk down the hill, Jim comments it's good he's not driving (yes) and gets unusually talkative.  Back at our apartment, he snatches my eyeglasses and exits the room.  "Where are you taking my glasses?" I call. 
"Oh, I thought they were mine," grappa-effected Jim answers, poking his head back around the corner.
"Yours are on your face."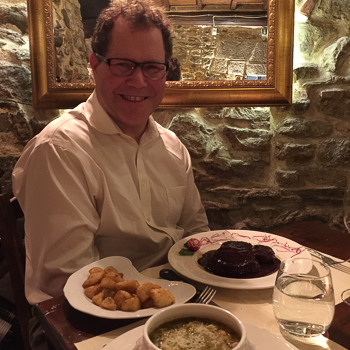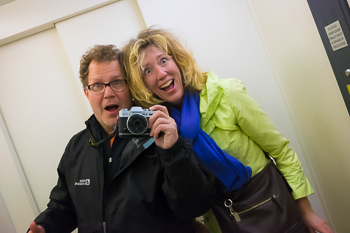 SANTA MARGHERITA DAY:
Today is Saint Margherita's Day in Cortona.  Time to pay homage by hiking back up to her hill-top basilica. 
In the church courtyard we encounter a bunch of vendors selling treats.  Most booths offer identical wares:  plain and candied nuts, chewy fruit candies, chocolates, and bags of intriguing tortilla-chip looking sweets.  I chow down these chips as I write, their crumbs depositing all over my shirt.  The chips taste more like thin waffle cones than tortilla chips--more cookie, less Dorito.
We snake our way inside the standing room-only church.  The schedule indicates continual Masses throughout the day lead by various priests.  Every Mass will be packed. 
I work my way to the front for a better look but am unconcerned about losing Jim since I know he can easily track me in my yellow-green raincoat.  I check Santa Margherita's presentation on her special day, but she looks just the same, reclined atop the altar in all her mummified glory. 
Below in the town square, Jim notices an ambulance on stand-by.  He wonders if it's on alert in case one of the elderly faithful suffer a heart attack while marching up the hill to church today.
I still munch my not-Doritos, but have eaten so many that I grow nauseous.  I should put them out of reach but dread shedding crumbs all over the floor.  I should shake my shirt on the street but fear locking myself outside shoeless and coatless as Jim has left once again to explore while carrying our only key.  Overindulgence of Santa Margherita's chips has sunk me to sorry levels.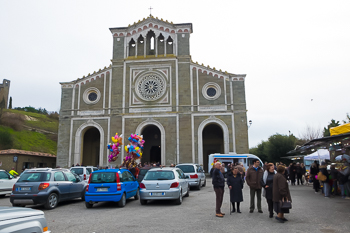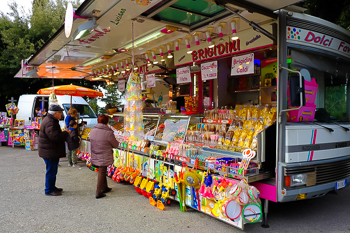 CORTONA HIKING: 
While hiking a wooded trail towards Cortona's Medieval hilltop fortress, Jim recognizes our location as immediately above Bramasole, Frances Mayes's home featured in Under the Tuscan Sun.  I go lawless, leaving the beaten path and dipping into the backyard of Frances's neighbor.  Both houses appear vacant.  Jim follows just closely enough to snap some photos of Bramasole.
Jim spots a German Shepherd bounding toward the neighbor's house on the long driveway below.  The dog outraces a car tailing behind.  Wearing my lime green coat, I serve as a neon beacon to both car and dog. 
Jim makes visual contact with the dog, a glint in the canine eye.  Or maybe a glint off his fangs, Jim can't tell.  But Jim's certain of the dog's message:  "I'm going to kill you!"
Jim screams, "Get out NOW!"  With the German Shepherd in pursuit, we scramble back up to the trail and sprint as fast as our mature legs will carry us. 
Jim fears that the dog will catch my scent so he looks for available sticks to fend off attack.  Eventually he determines we're safe from getting eaten Above the Tuscan Sun.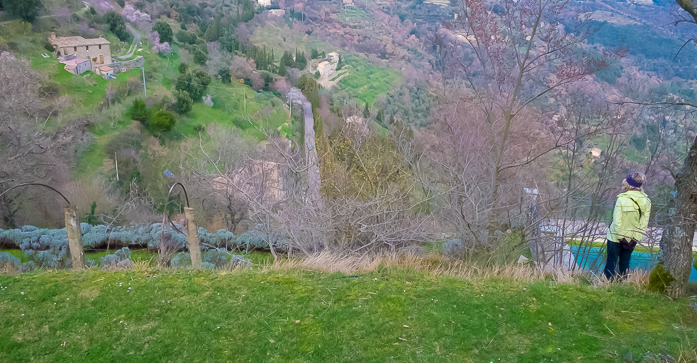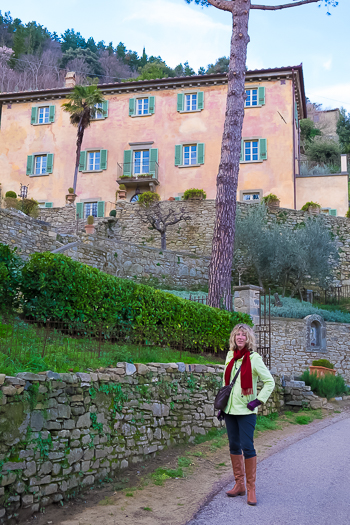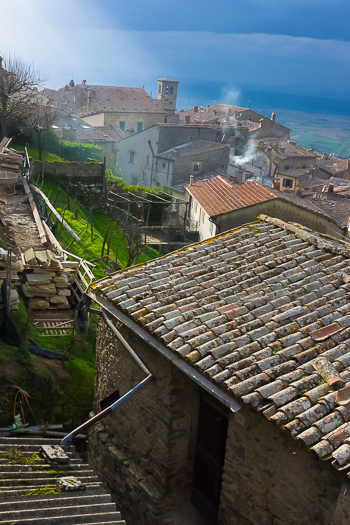 ETRUSCANS:
Jim guides me to an intriguing Etruscan tomb just below town.  "Downhill ten minutes, twenty up," he sells.  Protected only by a chain link fence, I stand amazed at the domed tomb's near-perfect preservation.  Perhaps people feared disturbing this structure these past 3,000 years because it held the dead?  A few yards from the tomb, a farmer burns his pruned olive branches--undoubtedly just as farmers have done here since Etruscan days.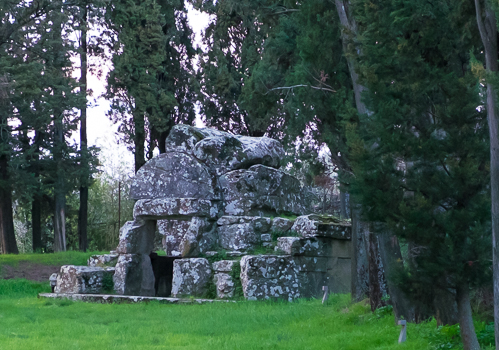 OVER-EATING:
We devour a delicious lunch--pecorini fondue with toasted bread, steak for Jim and mushroom risotto for me.  We read about the chef's chocolate dessert plate. 
"You want it?  I'm sorta full," I tell Jim.  
"Me, too," Jim answers.
"Let's get it," I say.
"Okay," he agrees. 
The chocolate special reminds me of cheese plates where waiters display slabs of various cheeses for selection.  Except here we get pieces of ALL the chocolates:  dark, with crunchies, caramel, peppermint, and others I can't recall because I now suffer a chocolate coma.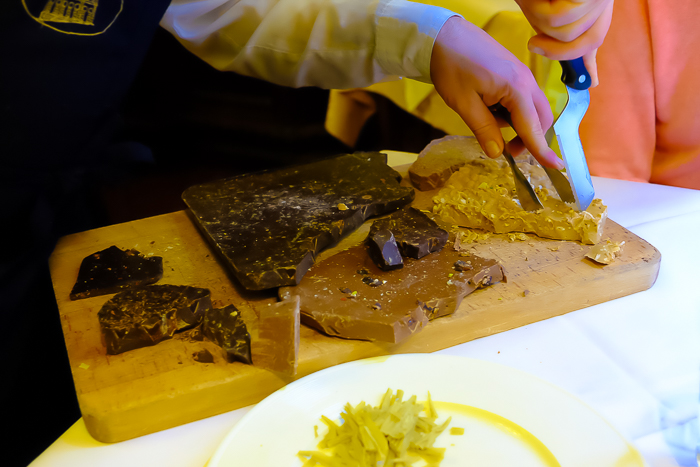 COOKING CLASS:
Vanna's cooking class lasts almost four hours.  She works without notes--all from memory, taste and sight, using recipes she learned as a young girl at the hip of her grandmother in this very kitchen. 
Vanna makes traditional Tuscan dishes of crostini, pasta, chicken and tiramisu.  Vanna emphasizes that Italians like to keep recipes simple, using fewer ingredients than Americans but with an attention to quality.  I scribble down directions but without specifics of measurements or times or temperatures.  I simply estimate what I observe Vanna tossing into the pan or bowl or oven.
Vanna offers wine at the outset.  I politely decline.  She looks stunned.  Nobody has ever turned down wine during cooking class.  Later she says she's amazed at how much wine some Americans put away.  At the end of our meal, Vanna offers us some of her homemade liquor, made with mint from her own garden.  Plus 95% proof alcohol. 
"You are my new older son," Vanna tells me at the end of our cooking class.
"Your new older son?" I clarify.
"Yes, my new older son.  Older than my Mirko," she explains, giving me a goodnight squeeze.
Our time spent with Vanna is the highlight of our stay in Italy.  How often does an American tourist get the opportunity to learn authentic Italian cooking at the hand of an authentic Italian grandmother?
On our last night in Cortona, Vanna stops by our apartment to say farewell.  She hugs us and tells us to come back again but not to wait too long because she's old.  She says saying goodbye is the worst part of this job since we are now her friends.  And she tells me that I'm her "new daughter." 
I'm glad we got that worked out.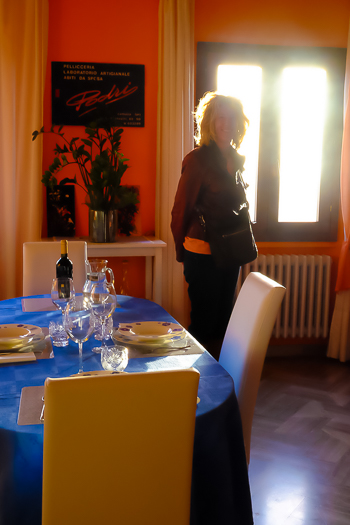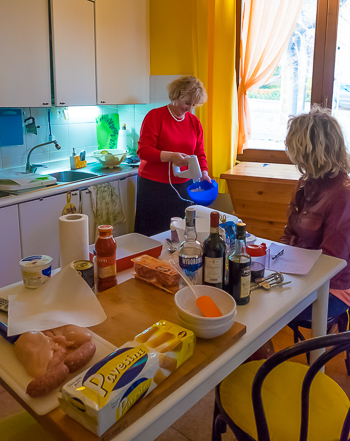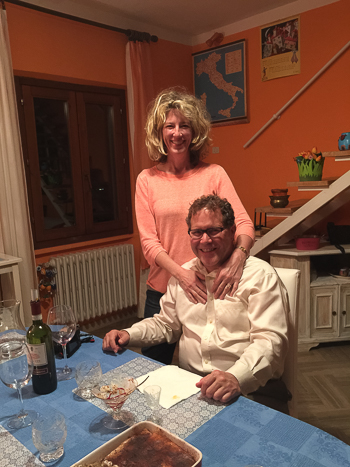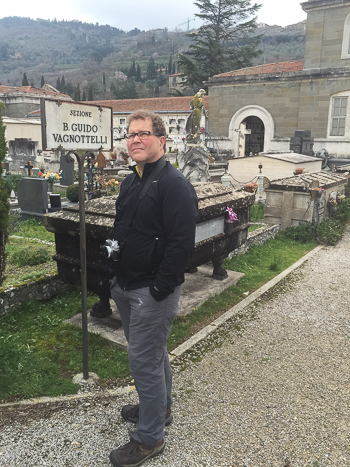 ASSISI:
Assisi is more spiritually-oriented than we'd imagined, drawing devout pilgrims of all stations and stripes.  Priests and nuns take a rare turn as tourist here.  Herds of habit-wearing nuns haul small backpacks for their humble belongings and Saint Francis souvenirs.
We encounter people of every age worshipping throughout town.  Prayer and silence remain the norm in most churches except when a rare tour groups empties in.  But just as quickly they dissipate.  How fortunate to experience this place off-season!  Like Cortona, most hotels and about half of shops and restaurants close from February through early March.
While no church charges admission here, all come well-staffed and cared for by thoughtful workers.  Jim searches for a Fra Angelico fresco in Saint Francis's Basilica.  I whisper our question to a stern-looking security guard.  His face softens and he whispers the answer to me in Italian while gently tapping my elbow a couple of times.  I understand enough to locate the painting.  Such grace extended by this man--while I stand next to a sign calling for silence.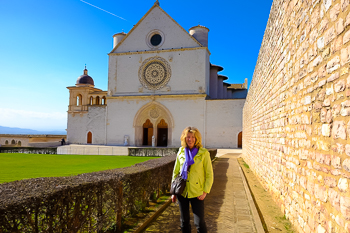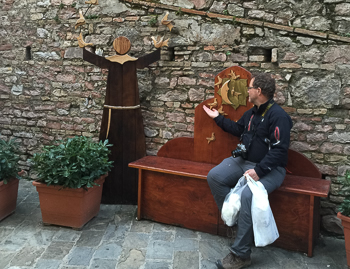 CIVITA DI BAGNOREGIO: 
Our driver Giulio arrives right on time.  He is younger than I'd imagined with a bright and friendly personality. 
Giulio apologizes about the rain, but we assure him all is well with we web-foots.  He drives us to great photo spots that we'd never find ourselves in these hills surrounding Civita and Orvieto.  He never fails to open my car door.
While not crowded, Civita has more tourists than most places off-season.  But when we first arrive, we revel in time as the only visitors on the iconic pedestrian bridge.
Afterwards in Orvieto, I ask Giorgio if he might drop us at a good restaurant for lunch.  He stops at a popular choice where he knows the owner.  (It's Orvieto, everyone knows everyone, he explains.)  Giorgio runs inside to make sure they have an open table.  Yep, just one, and it's ours.  Jim and I are huge fans of hiring local driver-guides.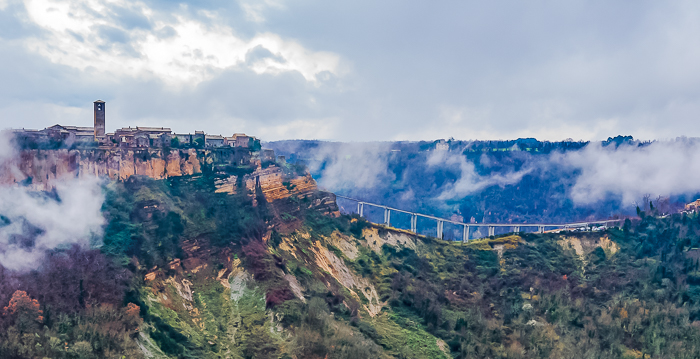 FASHION: 
In Orvieto, we keep stumbling upon bands of chic young Italian men.  I call them the Beatles, as in the early, pre-hairy, smartly-dressed version with slim pants, black coats and ties.
What's the new must-have fashion item in Italy for both sexes?  Bomber jackets.  For a particularly sharp look, layer more than one.  Besides the ribbed coats, women wear clunky high, wide-heeled ankle boots with their black leggings.  Men over 40 make statements with eyeglasses bearing bold white, yellow or red rims.  Jim proposes he get a red pair.
Our handsome young Italian hotel receptionist declares his favorite American TV show is "Undercover Boss."  If he ever visits the States, he would most like to visit Vermont.  We say we've never been to Vermont, but hear it's lovely in autumn with the changing leaves, and that Americans take bus tours to see it.  I say that maybe when we're too old to visit Italy anymore, we'll take a bus tour to Vermont. 
A curious look falls over our hotel clerk's face.  He asks, "So Vermont is where old people take bus tours?" 
Uh...yep.  I guess you could say that. 
Somehow I think Vermont has dropped from our receptionist's wish list.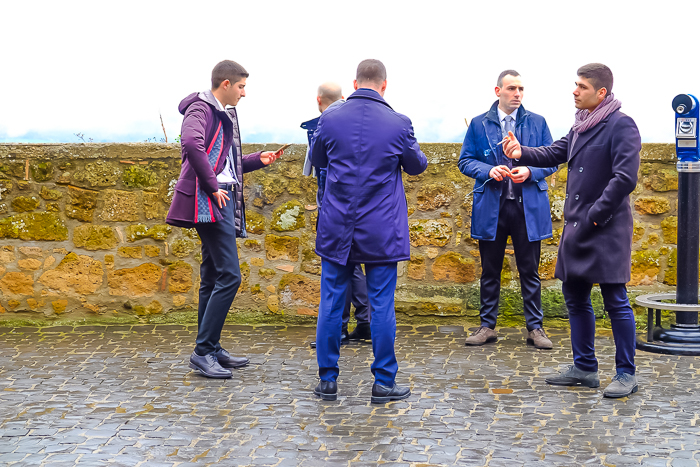 GOODBYE, ITALIA
We're back in Florence, preparing to board a plane for home in the wee morning hours.  As we walk through the rainy streets one last time, we hear loud singing.  Turning, we see a dad riding a bicycle with his young son snug on the seat behind him, the boy holding an umbrella high aloft their heads.  The son has a grin on his face as his daddy sings this song: 
https://www.youtube.com/watch?v=SqYG3f4PaWc
Ciao, Italy.