MADRID
Sunday, February 6
Arriving in Madrid
Madrid's pedestrian streets and plazas burst with folks of all ages taking their evening walk, families with strollered babies and seniors in wheelchairs.  Packs of young adults laugh and spill out of bars during their tapas crawl.  We're in Madrid. 
Jim says this is his favorite-ever first day of a European trip.  I think it has something to do with lowered expectations.  Maybe I'd downplayed Spain too much with talk of fried pigs ears and inky squid and the occasional curt personality (somehow always older women, but Jim says that's sexist for me to point out.)  All that had overshadowed my awe of Madrid's Art Nouveau architecture and the vibrant street scene.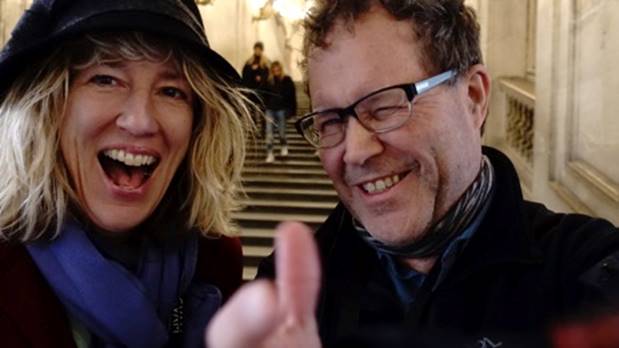 Madrid seems much more lively, hip and cosmopolitan than I experienced in my first two visits.  In 1977, following Franco's death by just over a year, everyone still feared getting tossed into jail for speaking ill of the dictator.  When I came with Annie in 2008, it was during the heat of summer when many Madrileños vacated the city for the cooler coastlines.  But everyone's here now, hanging out, enjoying life and strolling their paseos.
We've decided that today's Spain is not that different from places like Paris, except it's largely unspoiled by the tourist dollar; everything is less expensive.  Plus they're humbler. 
Madrid's Royal Palace rivals Versailles.  The Prado challenges the Louvre.  Top chefs now make their way to Barcelona to study.  Quietly Spain's become a happening place.
Photo:  Outside the Royal Palace in Madrid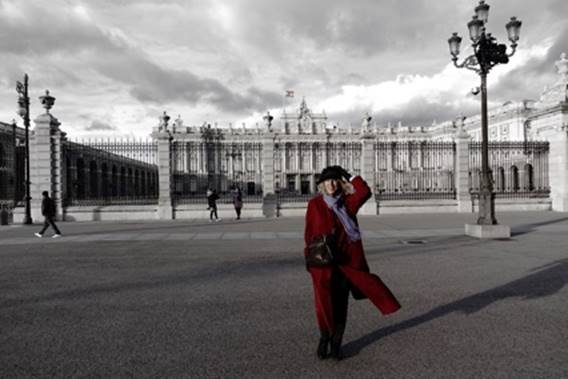 I love France, but understand the quip that she's like the aging aunt who still sees herself at the top culturally and in terms of relevance.  She's the Grande Dame who arrives at the dinner table dressed in her fine robes and jeweled tiara.  Other diners defer to her for her elder status and history while recognizing she's no longer the same player on the world stage.  Still she insists on sitting at the head of the table.  People humor her out of respect. 
If France is the elderly aunt, then maybe Spain is the middle sister of the family.  Often ignored in the past, and off the top of her global game since the defeat of the Armada, she's now coming to her own.  She's well-adjusted and has learned outside the limelight through trial and observation.  In many ways, she's got her act together better than her aunt, but without the self-entitlement or airs.  She's a pleasant companion with strength, capability and modesty.  And she's easier on the wallet, seeing no need for a tiara.  
Photo:  In Toledo with some hysterical English folks we befriended on the funky little tourist train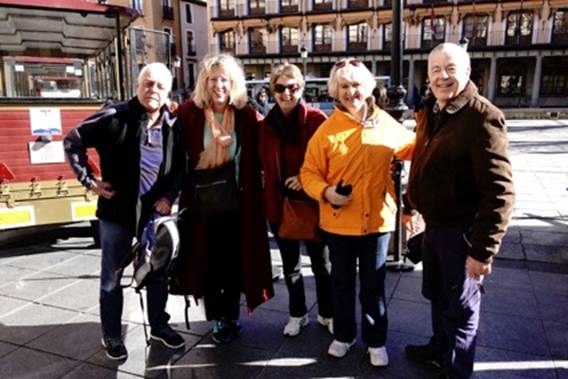 Photo:  In Segovia, sitting under an arch of the 2,000 year old Roman aqueduct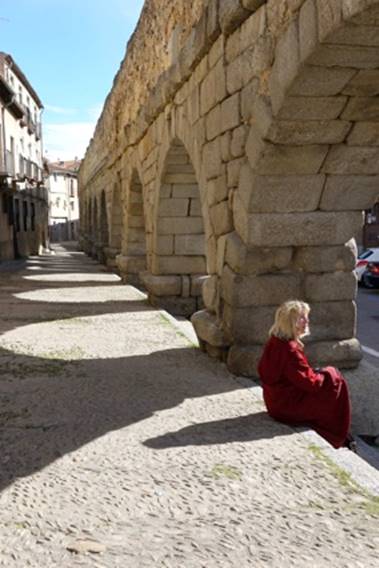 Tuesday, February 7th
Putting on the Ritz
Jim is out taking photos in the twilight, his favorite camera time.  I also think he needs time to chill after a little Spanish social stress. 
We just returned from late afternoon tea at the Madrid's Ritz Hotel, a luxury I'd included in our itinerary as consolation for not staying there.  
Here in Spain hotels cost less.  Staying a full week off-season means even greater discounts.  We could get a tiny room at the Ritz for about $250 per night OR we could rent a 1-bedroom apartment for $79 per night through TripAdvisor. 
Photo:  Jim outside the Ritz Hotel in Madrid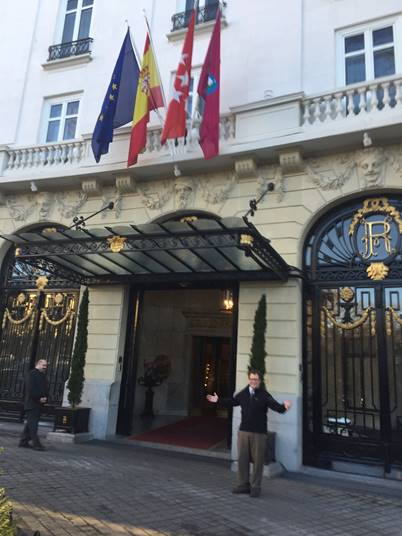 We remained tempted by the swanky lodging option as it was probably the only time we could ever afford to stay in a Ritz.  But how would we handle a closet-sized room during our first few days of jet-lag, when each of us rises at odd hours during the night?  Jim assured me he could comfortably hang out in the Ritz lobby. 
In the end, we went practical and stuck with our affordable, clean, modern, relatively spacious, regular-folk apartment, all in a perfect location.  Our neighborhood is called Barrio de las Letras, or "Writer's Neighborhood."  Our fourth floor, #10 apartment is owned by the gregarious César G, who lives down the hall in apartment #6.  We are very happy here, but still... I wanted that little taste of the Ritz, and tea-time called.
Photo:  Jim with apartment owner, Cesar G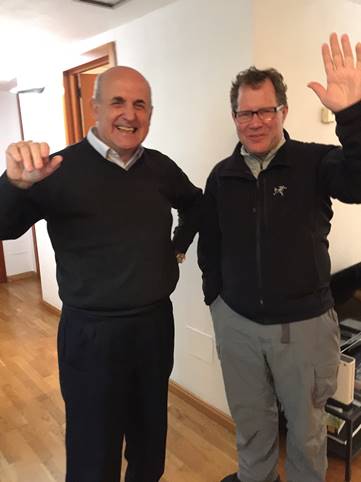 Jim grew anxious as we approached the hotel.  He'd packed a dress shirt, tie, and nice shoes just for the occasion.  I made sure he left his baseball cap at home.  He knew this 1910 hotel built by César Ritz was a posh place that had stuff like dress codes.  As we entered the lobby lounge, I read the current rules of attire:
No flip-flops, athletic wear, torn clothing, slippers, pajamas, sweat pants, or sleeveless shirts.  And for men, no shorts, short-sleeved shirts or open-toed shoes. 
Check.
The waiter seated us for tea in the opulent lobby lounge.  Jim commented on the color palate of the room, as a good artist does.  He noted lots of warm tones, especially gold.  Light abounded-- overhead recessed fixtures, chandeliers and lamps.  Lamps everywhere.  Some larger seat groupings bordering the room had four lamps.  Ours had only one, but it was enough that in our photo and videos I squint. 
We ordered the tea service.  Easy enough.  I used English, figuring everyone employed at the Ritz speaks it fluently.   
I told Jim a little about the hotel's history, how Franco used to spend time here.  Other guests included Mata Hari and Ernest Hemingway.  Grace Kelly and Prince Rainier honeymooned in an upstairs suite. 
I asked Jim if he could still picture himself popping into the lobby during a fit of 3 AM jet-lag?  No, he answered without hesitation. 
Other guests arrived for tea.  Some wore sleek suits but others sported jeans and tennis shoes.  Jim began to relax. 
I told Jim how the hotel itself had relaxed, loosening some of its old policies.  Until the 1950s, they refused guests who were artists, film stars or bullfighters.  Jimmy Stewart once stayed here but only after flashing his US Army badge, presenting himself as more colonel, less actor. 
Across the wide room Jim spotted an amorous couple with a wide age gap.  He was a fit, handsome, elegantly suited man, maybe in his late 60s.  She, perhaps in her early 40s, was reasonably attractive but nothing that would stop construction workers.  But a man can't resist a woman who looks at him with worship in her eyes.  They snuggled, held hands and giggled.  They hung onto each other's every sultry word.
Jim suspected she was his mistress.  I'd been scanning the room with my phone's video camera for Ritz posterity, but Jim feared that Joaquin (that's my name for him) might not appreciate me collecting adulterous evidence.  Soon Joaquin took a call on his cell and Pilar's (my name for her) adoring gaze evaporated.  As the call progressed, Pilar shifted her body away from his, eventually throwing her head back entirely.  When the call ended, Joaquin had some recovery to do.  Jim pretended to read his lips. 
Joaquin:  "Oh, Sugar Cupcakes, I'm so sorry about that call.  My wife always hassles me so." 
Pilar:  "What did you tell her this time?" (I join in, lip-reading for Pilar.) 
"That I was working late, of course.  I'm sorry about the phone call.  How can I make it up to you?  How about that new Chanel purse you've been eyeing?"
"Oh, Pudding, yes, I'd love that!  Maybe they have one here in the Ritz gift shop!"
Then Joaquin starts rubbing his hands gently through Pilar's shoulder-length dirt-brown hair, flipping it around.  Yes, he really did this hair kneading and tossing.  I could stomach no more. 
The piano player tinkled 1950s Bossa Nova and the triple-layer of tea treats arrived.  Jim, initially puzzled over proper tea protocol, mastered the use of tea strainers.  We took our time with the tiny sandwiches and scones, Jim commenting how our cucumber sandwiches with crusts cut from white bread reminded him of kiddie food.  Reaching the top layer of desserts, Jim moaned through a chocolate morsel while I devoured both our macarons.  We had no room left in our bellies for the rest of our cookies. 
Photo:  Tea time at the Ritz Hotel in Madrid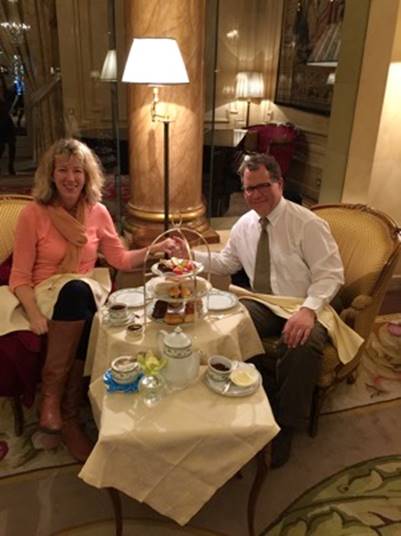 After we paid our bill, I flagged down a waitress, switching to Spanish to sweeten my request.  Might they have a container to carry our leftover treats home in? 
A horrified look flashed over the waitress's face.  She answered in Spanish. Unfortunately I understood her response all-too-well.  "We never do such a thing at the Ritz!  We don't allow people to take food from the hotel!" 
You would have thought I'd outed Jim as an artist or a bullfighter. 
After she collected herself, she offered to consult her compañero, whom I took to mean her buddy, or companion, or co-worker, or something along those lines, and she scurried off.
This isn't good, I told Jim, preparing to wrap up my treats in the paper doilies along with the Ritz-inscribed sugar packets that had already found their way into my purse.  To make space, I first popped the remaining chocolate nugget into my mouth.  Jim was horrified.  "That thing is too good to wolf down like that!  You need to saaavor it!"  I slowed my chewing to appease him. 
"And please hold off a minute with the treat packing," he said.  "We don't want to leave immediately in case they show up with the to-go container." 
I waited. 
My take-out container request had shamed me, someone who is tough to embarrass.  I felt like I'd asked for a doggie bag for a gnawed turkey carcass left behind from a neighboring diner's plate.  I snatched our treats and skillfully enfolded them into the doilies with a trajectory toward my open purse--just as both waiters returned with my plastic container.  The pair spoke no words of any Germanic or Romance language, just the universal dialect of disapproval.  They surrendered the tub and turned away.
"It's just so delicious!" I pleaded to their backs--sadly, weakly, too late.  No response, but her over-shoulder glance contained the beginnings of a snarl.  
Photo:  Leftover treats from the Ritz tea in our to-go container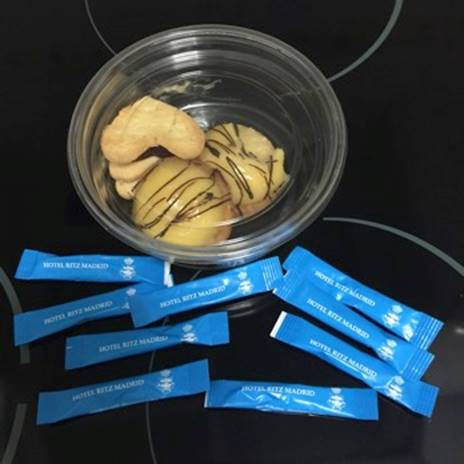 Thanks, I said, transferring the treats into my containers of shame.  We bolted past Joaquin and Pilar and out the door, leaving César Ritz's hotel behind, making our way to where we belong, our apartment in Madrid's writer's neighborhood and our own César who makes us feel perfectly at home.
I think I'm ready for those to-go treats now. 
Photo:  Jim in our Madrid apartment working on his photos!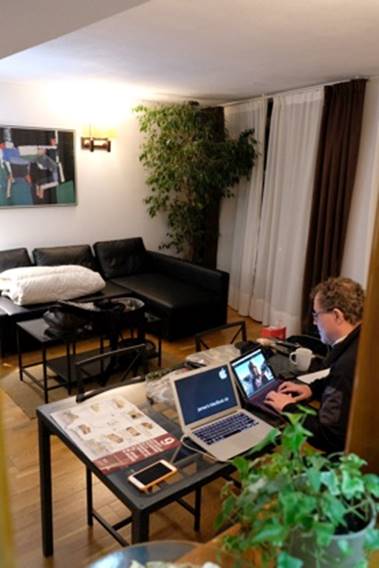 Wednesday, February 9
Remy Joel
Today surpasses all trip days past and present and that's because our 2nd grandson, Remy Joel, arrived last night, all 7 lbs 13 ou, 20 inches of him. Taylor just sent us a photo.  He's perfection, of course.  Lots of dark hair, already opening his eyes.  We are so thankful for his safe arrival.  We don't take such things for granted in life.
Photo:  Remy Joel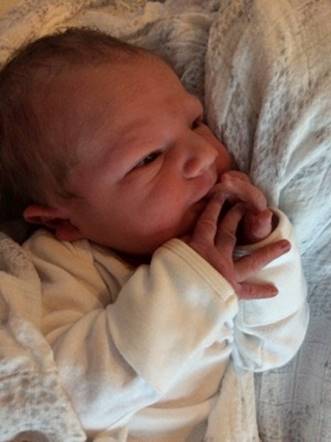 Taylor had sent us a text that Anna was in active labor so we lay tossing all night awaiting further news.  I was so fatigued today I started falling asleep in Toledo's Cathedral while standing, swaying and teetering as if I'd sipped too much sangria.  Of course it was all worth it. 
We'd purchased our plane tickets for Spain before we learned of this pregnancy, and now Remy has arrived in the world a week early.  We absolutely have plans to make up time with him when we return to the States. 
Photo: Valley of the Fallen Monument/Monastery