No, we're not moving to England.  I just realized our recent trip to the motherland revolved around houses--houses of all sizes and purposes, all manner and manor.  I'd inadvertently conducted a strange study of British real estate.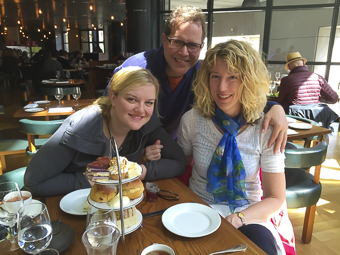 HOLLAND PARK MEWS:  Our newly married Annie accompanied us on this journey since we'd purchased her non-refundable plane ticket before she got serious with her now-husband, Josh.  Because there'd be three of us for a week in London, I took a chance and secured a small apartment instead of a hotel room.  Renting an apartment invites complications, but the pay-off means more space and bang for your buck--or your pound. 
I found a rental cottage just west of London's heart in the Holland Park neighborhood.  I hoped our "mews house" wasn't too sketchy or remote.  Mews houses originated as backyard service space for rows of mansions.  Underground tunnels connected mews houses to their mansions.  At first mews houses functioned as horse stables below and stable-hand housing above.  Eventually mews houses evolved into garages and cottages.  Throughout London, you'll find alleys of these protected mews houses sandwiched between exterior streets of mansions, like the creamy fillings of Oreos. 
Our mews house sported a worn English country decor, full of framed photos and frilly florals.  I found it charming, but Annie called it musty and "grandma-like" (shall I take offense?).  Jim cared only about the comfy bed, adequate internet and big bathtub. 
Before long, we discovered some news-worthy mews neighbors.  Three mews houses down, construction workers used the underground tunnel as access for the remodeling of a fifty-million dollar mansion.  The proud renovators?  David and Victoria Beckham.  
With a little nudging of our neighborhood Starbucks barista, I learned that David regularly brings his kids in for coffee and hot chocolate, but Victoria only occasionally stops by for a green tea.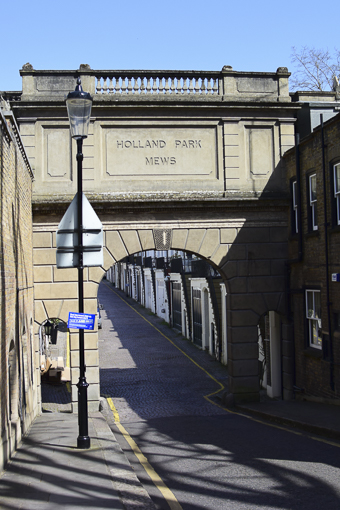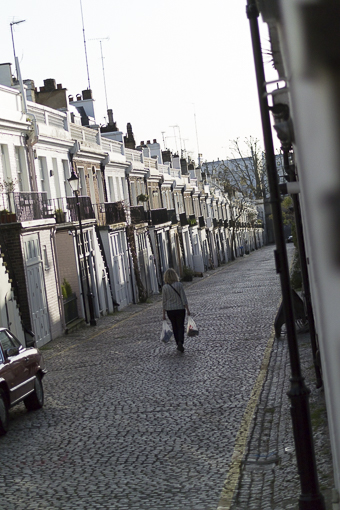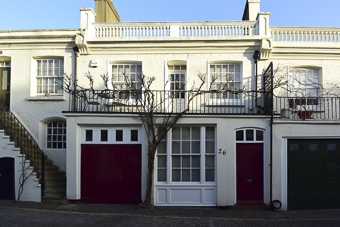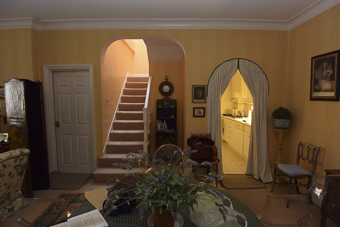 HOUSE OF GOD (Westminster Cathedral):  Not to be confused with Westminster Abbey, this is the seat of Catholicism in England.  The Cathedral contains the body of Jim's 9th great-uncle, Saint John Southworth.  Uncle St John Southworth was a Catholic priest who died as a martyr for refusing to denounce his faith.  In 1654 he was hung, drawn and quartered. 
Centuries later the Church exhumed his body, sewed it back together, encased the face in gold leaf and placed the entire package in a glass coffin for all to see in Westminster Cathedral. 
http://en.wikipedia.org/wiki/John_Southworth_%28martyr%29
Oddly enough, I'd visited this Cathedral twice before on previous visits to London--once with Jim--but never recognized my proximity to a saintly in-law relative. 
Of course, when Annie unearthed Saint Southworth in her genealogical research, we had to pay our respects.  We found it tricky to take our semi-irreverent photos with Uncle John while other pilgrims milled about.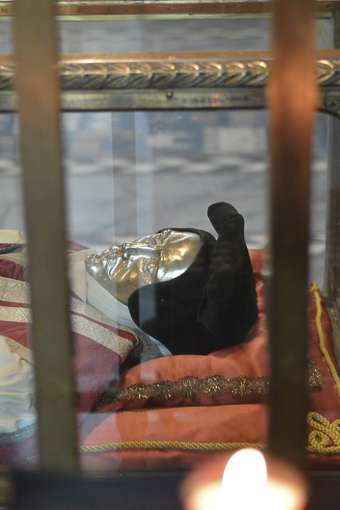 HOUSES OF PARLIAMENT:  These aren't houses, technically, but qualify in name, so I'm going with it.  With elections approaching, Parliament had recessed, opening the houses for tourists.  Go ahead--ask us the difference between the House of Lords and House of Commons. 
We also got smarter about the role of monarchy in British government throughout history.  Before this visit, Jim rolled his eyes at Annie's and my fascination for all things royal.  But by the time we finished touring Parliament, Jim could recite the order of past British monarchs--so he did, repeatedly.  In the gift shop, Jim purchased books about English kings and queens and refrigerator magnets to reinforce his newly acquired expertise in British royal lineage.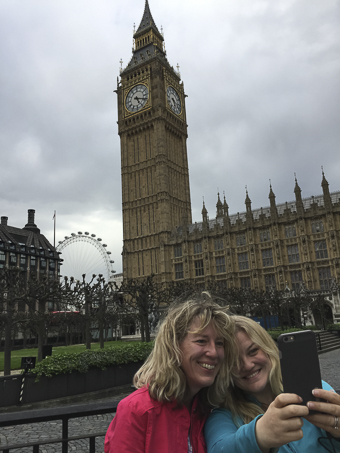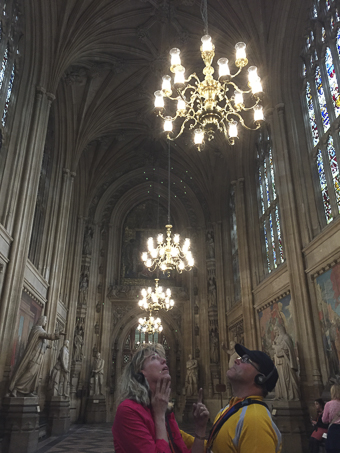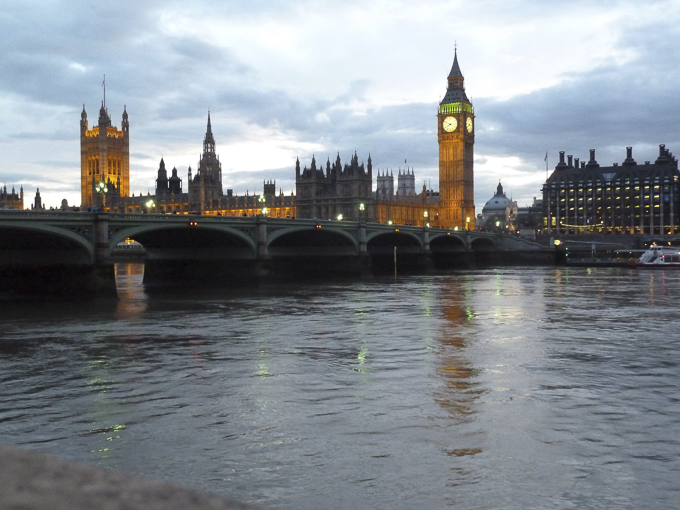 BUCKINGHAM PALACE:  Not long before our trip, I checked the palace's website and stumbled upon some springtime guided tours.  Normally the palace opens for tours only when the queen leaves for Balmoral in late summer (I know way too much about this) so I recognized the unique opportunity and immediately snagged three tickets. 
After undergoing airport-like security, we infiltrated the ambassador's entrance along with about twenty other guests.  No photos allowed, supposedly for security reasons. 
We viewed gilded state rooms galore.  No wonder Prince Charles called the White House "a fine little house" when he visited Washington years ago.  The long portrait gallery contained masterpieces of Rembrandt, Rubens and Vermeer.  Jim's jaw dropped.
Our guide identified the hidden door which the Queen uses to reach the State rooms from her private quarters.  Why the guide showed us that, I don't understand.  Buckingham Palace security rules:  Photos--No!  Secret door--Ah, go ahead, tell everyone about it!
After a couple of hours, we completed our tour in the large entrance hall, where staff distributed glasses of champagne and sparkling cider.  Whilst sipping our bubbly, Annie and I inched toward a tempting telephone table.  Next to the phone lay a list of names and numbers of palace staff, including "Queen's personal assistant."  Annie probably remembers the digits, if you ever have cause to call Elizabeth. 
Those who wished could spend more money in the adjoining gift shop.  Certainly we couldn't pass on that offer, and took our sweet time doing so.  We were among the last to leave the palace.
. 
When finally willing to go, we had to be accompanied by a palace guard.  He escorted the three of us across the interior courtyard, then through an arch fronting the palace.  These are the arches you see in photos of the palace, below balconies where newlywed royals kiss for their devoted subjects. 
As we walked from the arch to the front gate, we noticed tourists taking our photo.  I turned to Annie and said, "Let's wave."  We smiled and gave our best royal wave to our adoring crowd.  By the time we reached the gate, our gig was up and our fans had dispersed.  But I do wish I had one of the photos they snapped of us during our regal exit.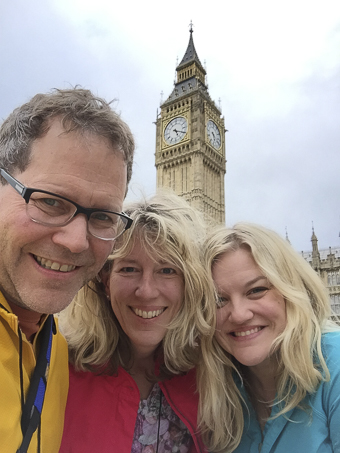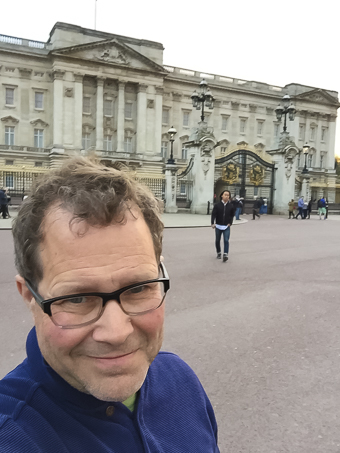 BATH:  From London, we traveled to Bath where we rented a modern apartment.  Here Annie confessed that she missed her Josh so terribly that she wanted to return home.  We agreed, and two hours later Annie boarded a train for Heathrow Airport.  Early the following morning we got word that our elderly dog had died in her sleep.  While we've come to terms with these events. and even recognize Bailey's sudden death as a blessing, I equate our Bath apartment with sadness.  Jim and I grieved, then proclaimed a fresh start as we left for the greener pastures of the Cotswolds.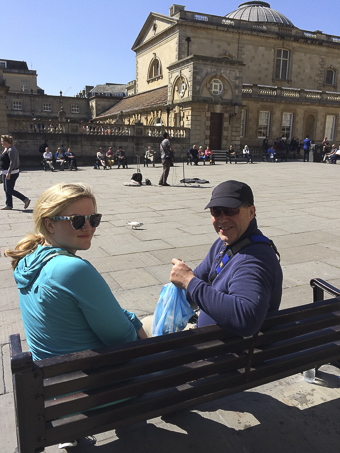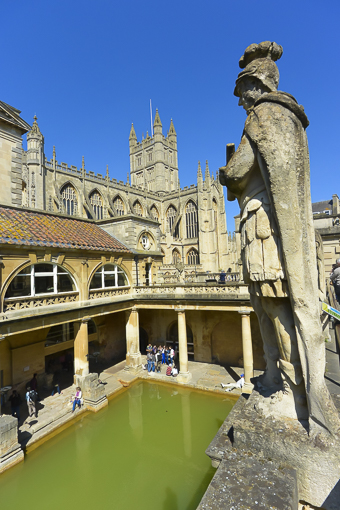 SOUTH VIEW COTTAGE:  We considered this the heart of our trip and a major reason for picking England in the first place.  We wanted down-time in the Cotswolds countryside, land of thatched cottages and unlimited photo opportunities for Artist James.   
I found this stone house in Stow-on-the-Wold, a major wool-marketing town of centuries of old.  We entered our front yard not from a street, but a stone passageway called "Sheep Alley."  The narrow width of Sheep Alley mandated a single-file line for herded sheep, which facilitated in their counting.  Our little stone cottage began as home for a humble shepherd.  Like all houses in Stow, it goes by a name instead of a numbered address.  So, if we ever move to Stow, please forward our mail to "South View Cottage on Sheep Alley." 
We lit candles and plugged in the ever-present electric English tea kettle.  We played a John Lennon CD (found in the cottage's collection), watched "The Queen" DVD (also in the cottage's collection), read our commemorative Buckingham Palace book, and caught part of the royal family weekend marathon on television.  I never thought I'd catch Jim watching a Princess Diana movie, but there it was. 
We hiked miles of trails through the countryside around Stow.  The English hold their hiking sacred and vigilantly protect their right of passage across historic pathways.  Each year a hiking group covers every trail, swiftly dismantling any barriers that land owners dare erect. 
The singer Madonna once tried to block hikers after finding that her new property contained a trail going smack through it.  Madonna's pleas with town councils for special consideration fell on deaf ears. 
We trekked beyond elaborate security gates of grand manor houses.  We crossed their farm fields diagonally, the trail simply a trampled stretch of grass.  We had close encounters with cows and sheep and horses.  We grew intimate not just with farm animals, but a wide variety of gates, including several 'kissing gates."

Stow and South View cottage provided the perfect place to lick our wounds after losing our precious Bailey.  Stow, a big dog-friendly town, allows its pups entry to most restaurants.  At first I couldn't look at the dogs, but by the end of our stay, I wanted to crouch down and cuddle them.
Jim and I didn't want to leave.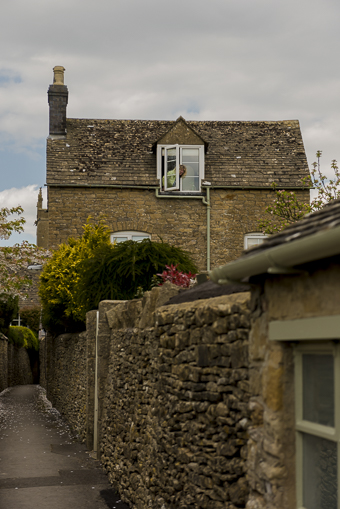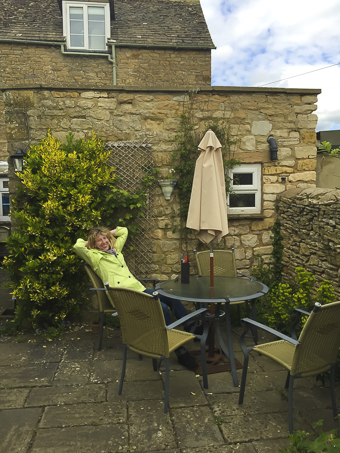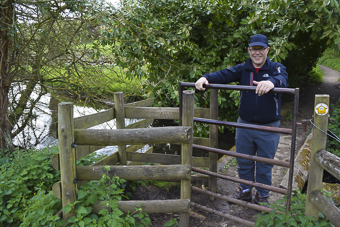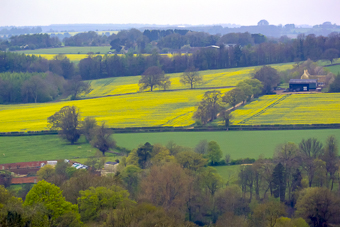 SAMLESBURY HALL:  This hallowed Hall in northwest England served as the other big inspiration for our trip.  Annie linked us to Samlesbury Hall and the year 1325, when Gilbert de Southworth built this manor house.  (Uncle Saint John Southworth spent his boyhood here in the 1600s.)
Today Samlesbury Hall operates as a museum and wedding venue, with a small lodge on the grounds available for overnight rental.  (Apparently wedding couples customarily bunk in the lodge, but I went ahead and booked it for us.)  After touring the Hall during museum hours, we got to mosey around the locked grounds after hours to our heart's content. 
As devout Catholics, the Southworths faced big challenges once Queen Elizabeth outlawed the faith.  Inside Samlesbury Hall, the family built "priest holes"--small cubbies for visiting clergy to hide.  Local authorities conducted regular sneak searches at Samlesbury in their hunt for illegal priests.  They captured and killed one priest in the Hall's small "priest room" and his blood stains reportedly still appear in the wood flooring--despite the panels having been replaced long ago.  Some tour guides refuse to enter the room. 
Ghosts supposedly roam the property, and the house makes the list of Britain's most haunted.  When Jim and I stood in the "ghost room," I noticed a lady lurking nearby.  Later this woman proclaimed a ghostly presence while in the room with us.  Were I to believe in ghosts, I'd suggest it had dropped by to scrutinize a visiting family descendant--Jim Southworth.
Lady Dorothy Southworth headlines another ghostly Samlesbury Hall story.  In the 1600's, Dorothy fell in love with a neighborhood Protestant boy.  In Romeo and Juliet fashion, the families denied their children permission to marry.  The couple made preparations to meet in the nearby woods for an elopement, but someone overhead their plan and reported it to Dorothy's father.  That night, he sent his son to ambush and murder Dorothy's fiance' during the young lovers' rendezvous. 
The family sent grief-stricken Dorothy to a convent in northern France, where she withered away and died.  But Dorothy has had the greatest revenge, for she continues to haunt Samlesbury Hall to this day. 
http://scribol.com/anthropology-and-history/ghosts-and-murder-the-bloody-history-of-samlesbury-hall
Today visitors regularly spot Dorothy, adorned in a white gown, floating through the Hall and on the grounds.  Often she'll appear alongside the busy highway, where she's caused several accidents by perplexed motorists. 
Jim and I decided to recreate our own Dorothy apparition.  We waited for the staff to leave for the night.  I borrowed a white robe and blanket from our quarters and draped them over myself in my best ghostly fashion.  Jim had me race across the front lawn several times while he snapped photos.  We made sure we weren't visible from the highway as we didn't want to trigger any more Dorothy wrecks.  Afterwards Jim used his photoshop magic to turn my image into something Dorothy-like.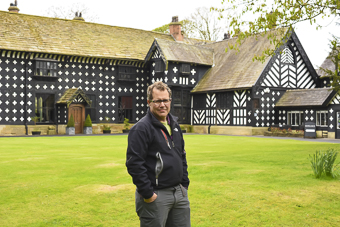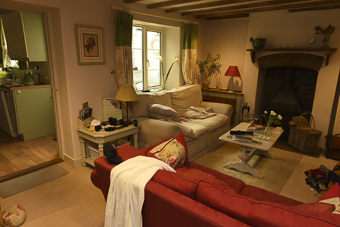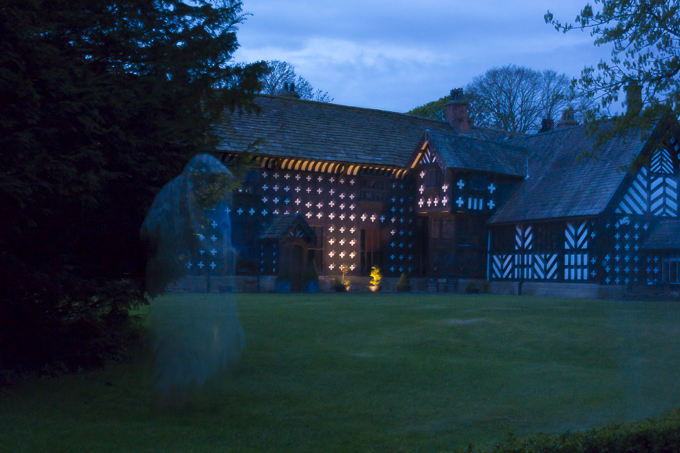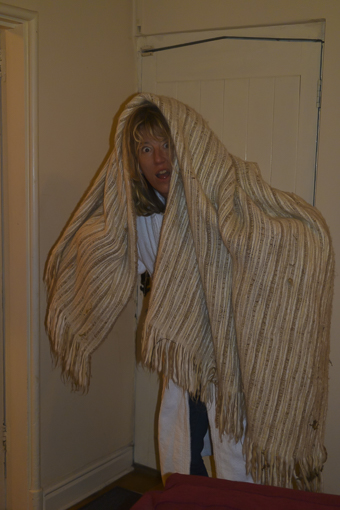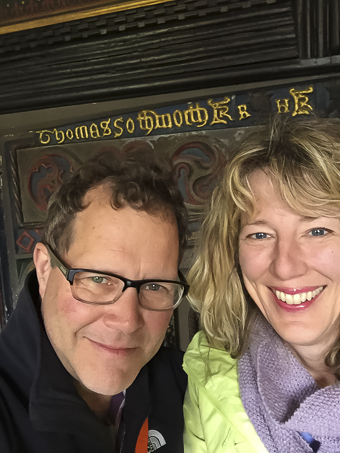 PAUL AND JOHN'S HOUSES:   Since Liverpool isn't far from Samlesbury Hall, we decided to make a Beatles pilgrimage before flying home--despite warnings from Londoners about the city. 
Fortunately Liverpool has undergone a recent renaissance and we found it a surprisingly delightful city of great museums and Beatle sites.  (There's also something to be said of a city that must try harder and doesn't take its tourists for granted.)  We stayed at a nice hotel, but nothing house-like, so it merits no commentary.  Instead, I'll focus on the Beatles' houses.
A historic trust owns and operates John Lennon and Paul McCartney's childhood homes in Liverpool for small group tours.  Since the houses sit in residential neighborhoods, the trust group has strict regulations on the number of tours and visitors they can schedule each day.  Tours run for just six months of the year, and like Buckingham Palace, they forbid photos inside. 
Several years ago, Yoko Ono purchased John Lennon's childhood home for the trust group.  John lived in a middle class neighborhood with his Aunt Mimi and his house remains exceptionally well-preserved.  Aunt Mimi had sold her house to a bachelor who never bothered to re-decorate.  John flipped these very same light switches.  Jim and I got to sing in the entryway where John and Paul liked to practice their vocals-- the enclosed space has excellent acoustics. 
Paul McCartney lived in a more modest, working class home.  In the backyard, our guide pointed out the large drain pipe that Paul climbed whenever he got locked out of the house.  Paul's dad told his boys that if they didn't get home in time for dinner, he'd lock them out.  Paul circumvented this by leaving the second-floor bathroom window ajar.  He would later gain entrance by scaling the plumbing pipe and crawling through the window.  (Perhaps the inspiration for She came in through the bathroom window?)
We preferred Paul's warm little home to John's.  Paul's mother died when he was young, but his home still filled with loving extended family who often crowded into the tiny living room to play the piano and sing folk tunes in harmony.  Later this room worked as an after-school gathering spot for the young Beatles to compose and practice their own music.  Since Paul had no mom at home, his house also served as a handy daytime meeting place for certain lads who played hooky by playing music instead. 
None of Paul's furniture was original, but that didn't make it any less thrilling when I got to plunk a few chords on the piano.  While the guide spoke, we listened and lounged on the parlor couches.  It was easy to imagine the boys creating their magic in this little space.  Jim and I whispered to each other, "I can't believe we're in Paul McCartney's living room!"  We certainly felt Paul's presence here more than we did Lady Dorothy Southworth's back at Samlesbury Hall.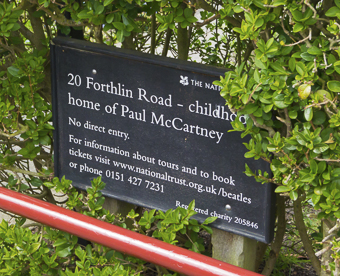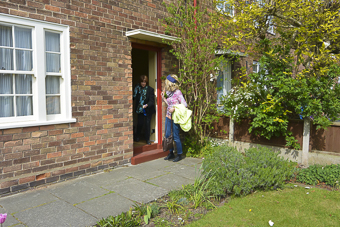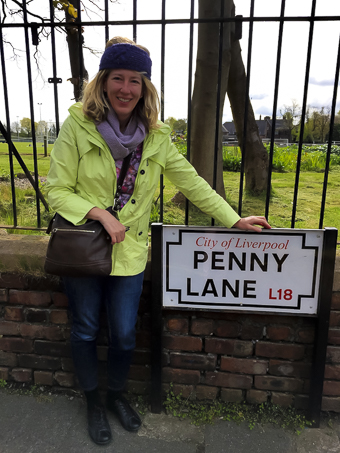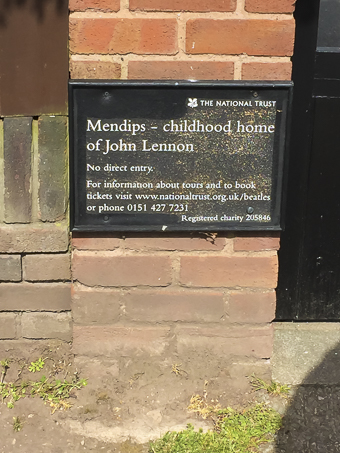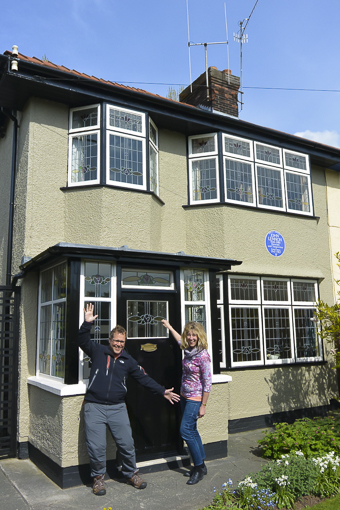 AND, IN THE END...  So, which houses did we prefer?  The answer:
 The worn former stable in Holland Park
 The shepherd's stone cottage in Stow
3.  The working-class family home in Liverpool
It boils down to this--where do you really like to hang out?  In the gilded and glorious, or the homey and harmonious?   Coziness, warmth, and music trump grandiosity and pomp every time. 
Yes, Paul McCartney got it right.  THE LOVE YOU TAKE IS EQUAL TO THE LOVE YOU MAKE.   Okay, I'm not exactly sure what that means, but we're back now, exactly where we belong.  So it's time to light a candle, brew some decaf, and push play on Abbey Road.   We're home.