Generally tourists visit Milan for three reasons: to use the airport, to see The Last Supper, and to detour to Lake Como.
"Are you going to see George?" my sister-in-law, Lisa, asked when I described our Italian itinerary.
I knew just who she meant. I told her I'd look for Clooney in Como, but made no promises.
November isn't exactly high season at the town of Varenna on Lake Como. The train station office closes. I'd invalidated our return ticket by punching it early, and the hour ride back was too long to attempt our march and pivot shenanigans.
Only one other soul de-trained in this little resort village. Most businesses shut down for the season. Sinister skies threatened. This day-trip looked like a huge mistake.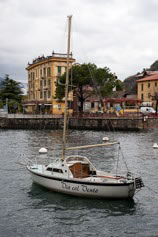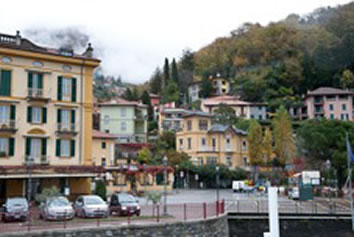 We ambled down to the waterfront where we encountered a spectacular view of the lake and the Alps, and an outgoing American couple who'd been in town for a couple of days. They taught us the Como ropes. This wasn't the first time we'd met other Americans, made friends, and exchanged travel stories. (One couple from Eugene wore full Duck regalia. It was game day, they explained.) Lovely folks, all of them. They represent our homeland well, I thought.
After deciphering the schedule, we boarded a ferry and sailed across the lake to Bellagio. It was there I discovered a residue of George, all smirk and charm, hanging out in a café.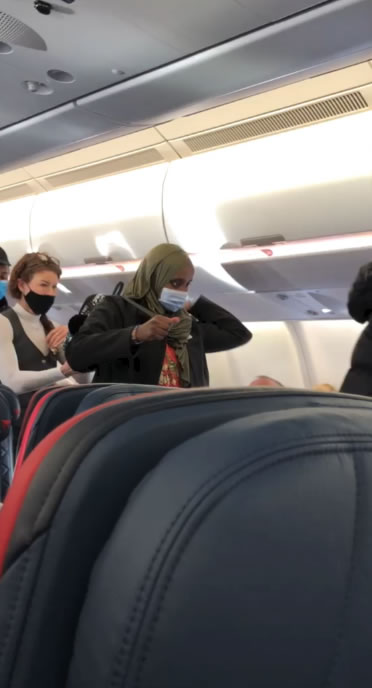 A thundercloud accompanied us back to Varenna. We found cover from the raging rain in a glass-enclosed café. We did what we always do when Italian uncertainty strikes: we ordered tiramisu and decaffeinated cappuccinos. A fail-safe solution to most travel predicaments.
Even though I had to purchase a replacement train ticket (at the travel agency) and even though the weather was wet (we're Oregonians, no problem), we were glad to see Lake Como for a day. But for a longer visit, go in June.
There's no off-season in Milan. Well-dressed folks stroll streets filled with stylish boutiques and elegant pastry shops. Patisserie clerks pack up your sweet treats with gift-wrap and ribbon, like Christmas. We discovered Happy Hour in the Brera neighborhood. Order one drink for 7 Euros and partake in the all-you-can-eat buffet spread. I was probably the first to ever order acqua naturalle, bottled still water, at Happy Hour.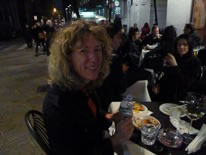 Our hotel doesn't have the same fuzzy warmth as our previous lodging, but it's a pleasant professional place befitting the city. The owners wear suits. Our room has an elaborate ironing station to press your clothes, just so. We have two full-length mirrors. I've never seen so many free toiletries. Grooming reigns in Milan. Outward appearances matter here.
But The Last Supper pays no heed to that rule. The building's exterior underwhelms, ironic considering the magnitude of what's inside. After exchanging our voucher for tickets, we joined a group of 25 and waited on benches for our English-speaking guide. She gave us a short art-history lesson to maximize our upcoming 15-minute time-slot with the painting.
For The Last Supper, Leonardo da Vinci attempted a different technique than the usual fresco method. Instead of working on wet plaster, he painted directly on a dry wall, then varnished it with a mixture which included ingredients such as eggs and milk. This allowed Leonardo to take his time, to make changes and improvements as necessary, and to achieve a better, more beautiful painting. Unfortunately, this method also resulted in rapid deterioration, and paint flakes began dropping from the masterpiece a handful of years later.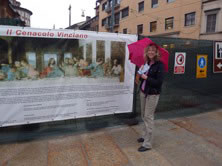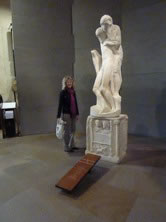 The room that houses the Last Supper originally served as a dining hall for Franciscan monks. The friars ate while watching Jesus and his disciples share a meal. In the centuries that followed, the space served many purposes. Animals lived there. French soldiers from the Napoleonic War used the room as an armory; they threw rocks at the painting and climbed ladders to scratch out disciples' eyes. In World War II, Allied bombers hit the building, knocking down two adjacent walls. The painting survived only because of friar foresight; they'd covered the piece with wooden scaffolding.
Knowing all this, my expectations for magnificence weren't real high.
Our group's time arrived. A guard escorted us through sliding glass doors into a dehumidifying room, then through a second set of doors. We waited in an area just outside the painting. A buzzer, and the group before us shuffled away. In we went. We edged to the barrier a few feet from the painting.
I was blown away. I grabbed Jim's hand.
While we stared, our guide explained more about the painting. How Leonardo used perspective and depth. How he positioned the disciples in groups of three. How he'd captured the moment immediately following Jesus' announcement that one of his friends would betray him.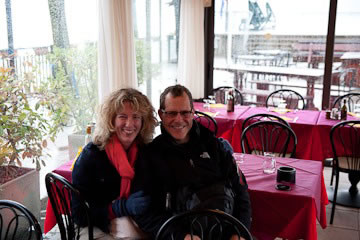 Leonardo incorporated the disciples' personalities into the painting. Peter hunches over, reaching out to Jesus for an explanation. James shoves Peter from behind, encouraging Peter's reactionary nature so they might all get an answer.
On Jesus' right sits the disciple John, a young man of only 13-15 years. Oftentimes in art, John is portrayed with his head asleep on Jesus' shoulder. Here John is fully awake, but Leonardo gives him the Renaissance marker of adolescence: a clean-shaven face. John was not, our guide stressed, actually Mary Magdalene, as suggested in "that book."
Like John, Phillip has no facial hair. Phillip's and Jesus' faces are the only ones undamaged and unaltered since 1498. They are stunning. We couldn't take photos, but I snapped one in my mind. Click. Our Leonardo time ended too soon, just like our overall Italian time. The splendor of Northern Italy paints a lovely piece in my memory. Parts may flake away, but I'm counting on the essence hanging around.
-