We sit in the train station in Coventry, England with two hours to kill.  We missed lunch but the station's one and only restaurant has closed for repairs.  Ticket agents denied our request to catch an earlier train.  The cold wind blows and the single indoor waiting area has no available seating.
Across the street a mostly-boarded building promises an Indian restaurant but upon closer inspection, it too has closed.  Sketchy characters roam the roads of a neighborhood that appears never fully recovered from the Blitz.  A pub on the hillside looks hopeful but requires conquering a convoluted round-about, a jagged fence, and broken pavement.  Not exactly friendly suitcase-rolling territory.
We don't mind any of this.  In fact, we're positively giddy. 
So why are we so content in Coventry?  Let's rewind the clock...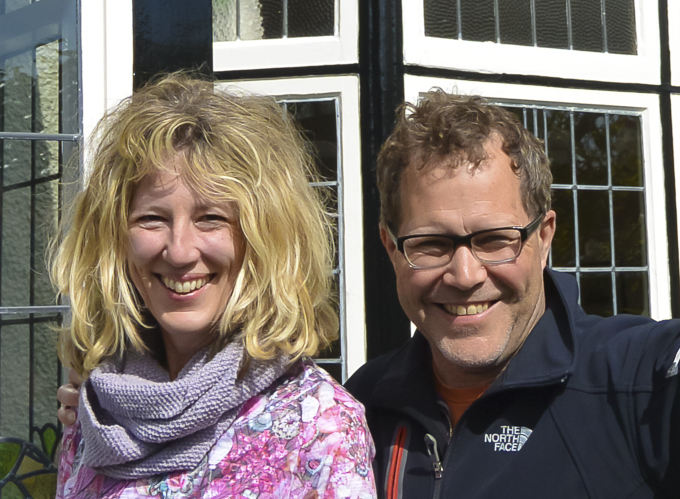 PREPARATION TO DRIVE: 
How does an American practice driving on the left side of the road?  We rehearsed for a few yards down at Minto Brown Park, but clearly couldn't continue with any traffic around--which is the whole point of our tutorial.  I searched for an English driving video game, but that doesn't seem to exist.  Despite this, Jim remained reluctantly agreeable.  We moved forward with our brave plan; he'd drive in England and I'd navigate. 
We formulated our most complicated, elaborate trip ever, assured by the fact that we spoke the native tongue, an advantage covering a multitude of mistakes.  Plus, we knew we needed a car to experience the remote Cotswold villages as we wished.
We had a whole week in London to observe traffic patterns before we stuck Jim behind the wheel on the wrong side of car.  In London, even crossing the street carries risk; if you don't look right first, you die.  We managed by looking both ways, back and forth, while Jim yelled, "Look right!  Look left!"  As pedestrians, we also had to remember to straddle the left side of sidewalks and stairs.  It all felt unnatural. 
As we approached our D-Day (driving day), we started paying even greater attention.  One evening in our Holland Park neighborhood, we stopped at a small intersection where I suggested, "Let's watch this car and taxi in front of us, and see how they handle their turns."  Moments later those very cars--mere feet from us--crashed into each another.  Not exactly a confidence builder.
We took a train to Bath, where within a few hours, Annie left us and our dog, Bailey, died back home.  The trauma distracted me from my normal evening preparations for the next day.  I had to ask Jim for help, something I can't remember doing before. 
On our way to Bath's Hertz office, our cab driver said he'd visited the States but never drove there out of fear of traveling on the right side of the road.  Another bad sign:  A professional driver paralyzed by opposite side driving.  Our cabbie also warned of major road construction leaving Bath and advised us to detour through the suburbs on our way to Stone Henge. 
At the Hertz office, they offered a bigger car for a small fee, which Jim quickly declined.  He has too vivid of memories driving a Mercedes on narrow roads in France.  We were better off with a compact car, and since we didn't have Annie with us, our luggage fit nicely.
The Hertz clerk couldn't explain how to operate the car's new GPS system.  We never did fully figure it out.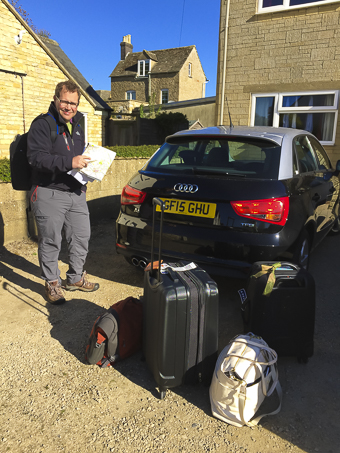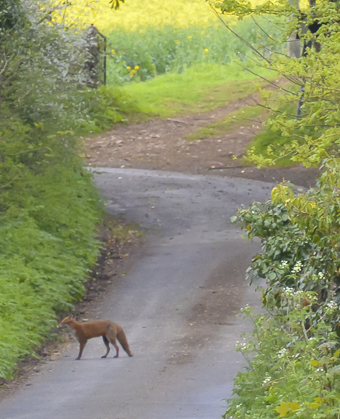 TIME TO DRIVE:
Jim climbed into the driver's seat on the right side and tried to orient himself with the car.  Fortunately we'd reserved an automatic so he didn't have to use the stick shift on the opposite side as well. 
Rick Steves explains that the biggest problem American drivers experience is England is not driving on the left side of the road, but driving from the right side of the car.  The driver's placement in the lane is off.  This causes disorientation and a strong tendency to position the car in the far left side of the lane.  Americans veer dangerously close to--and sometimes into--curbs and ditches. 
Our initial destination was Stone Henge.  Because we couldn't decipher the car's GPS, we decided to use my phone's GPS, despite some extra charges.  When we reached our first major intersection in Bath, Jim asked me how he should negotiate the right turn.  I pointed to some erroneous entry lanes--which might have killed us.  Jim understandably lost confidence in me for a time. 
During our residential detour, I directed us to a wrong turn, enabling us to see even more of Bath's suburbia and narrow neighborhood lanes.  Turning around felt too difficult, so we just kept snaking forward. 
Eventually we hit a round-about where Jim nearly smashed into a truck stopped in front of us.  (Actually, my side would have been the one to plow into the truck.  Jim was unaccustomed to the volume of car to his left.)  I told Jim we now cancelled out each others' dangerous blunders, and he agreed.  In the meantime, we noted you sometimes have to stop before entering a round-about.  We faced a steep learning curve. 
Once we completed our bypass and reached the highway, my phone's GPS did a decent job of guiding us to Stone Henge.  Still, Jim could never relax while maintaining his lane position.  And neither of us could overcome the distress of having cars speed towards us from the opposite side of the road.  In the US, that's catastrophic. 
Traffic moved fast everywhere except designated camera zones.  In England, police don't try to hide and catch speeders.  They simply post a graphic of an old-fashioned camera warning drivers of upcoming slow areas; the guilty get clocked then ticketed by mail.  Signs even announce where the zones end, so you can safely resume raceway velocity.  However, the signs never indicate the exact speed limit--just the need to slow down.  On the other hand, we were pleasantly surprised that they still use miles in Great Britain instead of kilometers. 
After Stone Henge, my phone could no longer locate a signal in the countryside.  Fortunately I'd printed out MapQuest directions to deliver us to Stow-on-the-Wold.  We decided to follow this rather than the car's confusing GPS.  Afterwards we realized we should have gone with the weird GPS since it had been suggesting major highways. 
Instead, MapQuest guided us through narrow roads in small villages.  Jim frequently had to to pull over to allow oncoming traffic room to pass.  In Europe, sometimes it's not your side of the road, or my side of the road--it's just the road. 
In one small village, we witnessed some disturbing road rage.  An on-coming hot-head expressed unhappiness with the car ahead of us.  The issue:  Who got to pass the narrow section of the road first?  Hot-head demonstrated his fury by veering sharply towards the car in front of us, as if to crash into him.  Jim gasped in horror.  We wondered how these English drivers--so polite in person--could turn so barbaric on the road. 
As we approached Stow, some of my folding maps came in handy.  Later I realized that I'd forgotten to retrieve other maps which would have helped us avoid the narrow village roads.  I blame my distraction on Bailey's death; my heartache caused a lapse in my usual over-preparation. 
We made better time once we joined bigger highways.   We scooted along pretty comfortably in the slow left lane for a while, safely tailing a big truck.  But Jim fretted about the many cars merging into our lane.  He decided to switch to the fast lane. 
"Are you sure about this?" I asked.
"Yes, I am," he answered, making his move.
Ten seconds later two vehicles swarmed us in a honking frenzy.  Jim hyperventilated and returned to the slow lane, where we remained. 
The drive from Stone Henge to Stow, which should have taken 1.5 hours, took us 2.5.  Every minute of that required Jim's complete concentration, exhausting him. 
But our reward awaited in adorable Stow.  We'd rented a car largely to explore this and other Cotswold villages.  But during our four days in Stow, we rarely drove anywhere.  Walking sounded infinitely easier.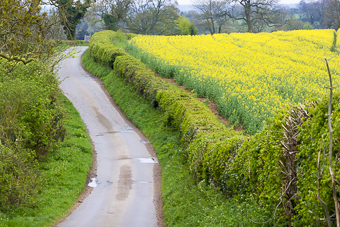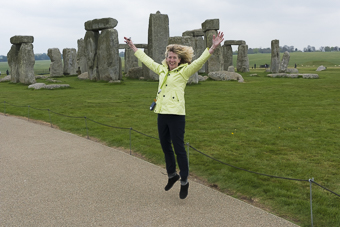 LET'S DUMP THIS CAR:
One of the hardest parts of renting a car is having to return it because companies place their offices in larger cities.  In our case, we needed to deliver our car to the Hertz office in Coventry.  The drive looked simple enough on paper... 
When we first left Stow for Coventry, my phone's GPS still couldn't catch a signal.  We played with the car's GPS enough to provide some direction, but I had to move the knob every 100 yards while pushing a button for audible instruction.  If I messed with the knob, we lost voice direction entirely.  I'd brought good maps partway to Coventry, but not of the city itself--an oversight, in retrospect.
The first half of our drive went reasonably smoothly, though I had to keep reminding Jim not to hug the left side of road.  Several times we came within inches of clipping my side mirror.  To his credit, Jim never snapped at my reminders, thanking me instead.  I was just grateful I didn't have to drive. 
Coventry had major construction everywhere.  Our car's GPS couldn't locate Hertz's address of 4 Lamb Street.  How about 3 Lamb Street instead?  Okay.  We sweated our way to 3 Lamb Street, which turned out to be entirely the wrong place. 
My phone's GPS mapping now worked but offered only the 3 Lamb Street option.  I begged Siri for help.  "Please take us to "Hertz on Lamb Street in Coventry!"  Siri came through for us, though with limited information; Jim was frustrated by a lack of next-step direction. 
Siri didn't recognize the miscellaneous driveways on some of the crazier roundabouts.  When we obeyed her command to "Take the third exit on the round-about" we ended up in mini-malls or Ikea parking lots.  At Ikea we couldn't figure out how to exit the parking lot and got funneled towards an automated parking garage. 
This was our most pathetic moment:  temporarily trapped at Ikea in Coventry. 
We found it hard to recover from wrong turns.  Panic began setting in.  Jim gripped the steering wheel so hard his carpel tunnel flared.  He uttered his first of many "damns," a mild profanity I can't recall him ever using before.   
Jim eventually located the correct exit off a frenzied roundabout, despite it being small and poorly marked.  Finally we found the right Lamb Street, only to discover the road blocked by construction.  This one-way street appeared the only route into Hertz.  Siri hadn't gotten notice of the construction barricade.  She just kept returning us through chaotic round-abouts then back to the blocked road. 
Jim started shaking.  "Let's just abandon the car," he begged.  But we were still almost a mile away, so I talked him into getting a little closer before we bailed.   
So we attempted one last time.  At one point, Jim panicked-- were we on a one-way or a two-way street?  "Just stay left!" I cried, and we survived. 
We got within .2 miles of Hertz and ditched the car in a scary parking lot near the Lamb Street barricade.  We walked the last 200 yards to the office, dragging our suitcases around the roadwork.  Lamb Street suddenly turned into a two-way street on the other side of the barricade--a significant piece of information not recognized by any GPS. 
Jim asked the Hertz staff to help retrieve our car.  They began describing how we could do it ourselves by simply going to this-or-that different round-about, but my gentle Jim cut them off with a loud NO. 
Okay, they agreed.  A Hertz rescuer left with Jim while I stayed at the office with our luggage.  Jim handed the keys over to the Hertz employee, refusing to drive an inch more.  Afterwards the staff sheepishly admitted they'd had to assist other drivers exactly like this as a result of their barricaded Lamb Street. 
Another Hertz guy checked our car closely for body and tire damage.  Jim still laughs at how long he took examining the vehicle's left side, like he fully expected scratches and scrapes.  Certainly we understood how many Americans might mar their rental cars in such a way. 
After our car passed inspection, we hopped a cab to the Coventry train station.  Because of the construction, our driver had to make several creative moves to cross town.  We sighed in relief that we were no longer at the wheel. 
POST DRIVE: 
We're glad we rented a car in England, but would never do it again.  It caused too much stress and required too much concentration.  Instead, we would manage by train, bus and taxi, despite any inconveniences.  Having to piece together transportation would be worth the peace of mind. 
And that explains our delight at reaching Coventry's nasty train station.  No more driving ahead for us, just smooth train rides.  All aboard!