PORTUGAL STORIES, PART 2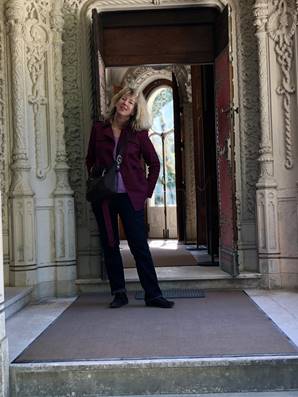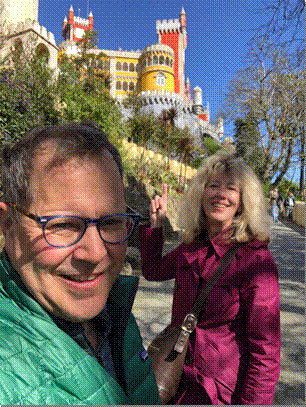 Pena Palace in Sintra
Food and Drink:
We hadn't expected so many palm trees here, but all the fresh fruit juices make a lot more sense after seeing them.  Like Spain, you can find fresh-squeezed orange juice at a great price at nearly any cafe, along with varieties like mango and strawberry.  Bottled water often comes unrefrigerated; in fact, they'll ask you if you prefer your water fresh (chilled) or natural (room temperature.)  I'm not so natural of a girl in Portugal, but I do love my strawberry juice.
The national dish in Portugal is cod and they claim to have 365 recipes to prepare it.  I believe them.  They love their cod so much they've fished their waters clear of it and have to get it dried and salted from Norway.  They then soak it to rehydrate it and remove the salt before manipulating it one of their 365 ways.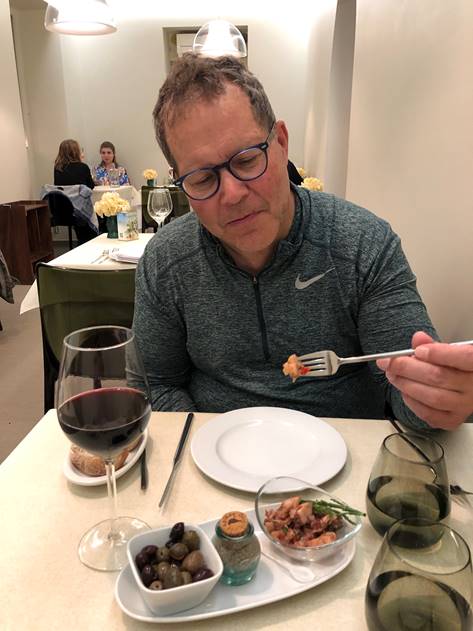 Incomum restaurant in Sintra
You can find your hunk of salted cod in local grocery stores.  It looks like big, torn pieces of cardboard that got left out on a rainy sidewalk before freezing stiff and solid overnight.  It smells just as funky.  Jim ordered some cod where they chopped it up and disguised it with a bunch of spices, vegetables and grains.  He said it was fine. 
Jim tried the octopus but neither of us went anywhere near the tripe (there's a whole restaurant dedicated to it near our apartment.)  I did sample another favorite Portuguese dish, green soup.  This sounded pretty good except it's made of collard greens, and not really so good after all. 
For lunch today, we split a popular sandwich called the francesinha, which means little French girl; I have no idea why.  It's built with layers of pork cutlets, two types of sausages, cheese, bread, more cheese, a fried egg, and a spicy tomato-beer sauce poured all over it.  They serve this atop a pile of french fries.  Some people call it a "heart attack on a plate," but we called it okay.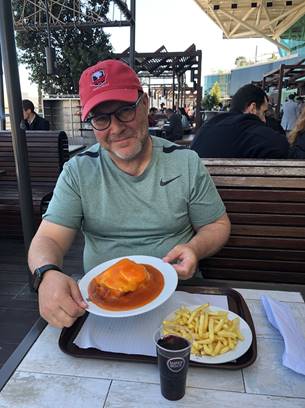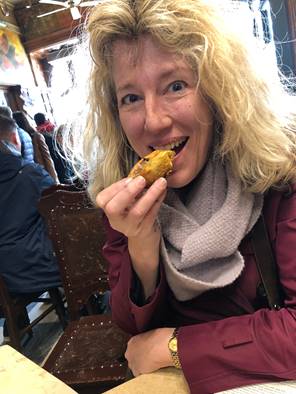 Eating a francesinha sandwhich at Nacoes Mall in Lisbon
Lastly, we have the famous pastel de nata custard pastries.  Finally, a dish I can finally get fully behind.  It tastes like a cross between a gooey piece of cinnamon-sugar toast and the thick french toast from your favorite weekend bistro, all served in a tasty little tart and costing only a euro or two.  For good reason, you'll see these around even more than the orange juice.
Stop, Turn and Disappear (S.T.D.):
At a museum cafe today, I ordered us a couple pastel de natas, and as usual, Jim left me to engage with the staff.  I sprinkled the obligatory cinnamon and powdered sugar on top, but the sugar lid popped off and I made a huge mess.  I turned around but Jim had vanished, just like that.  In fact, he'd opened the glass doors to the outside patio and hid. 
After I recovered from my powdery mess, we sat down to eat our pastries and I decided to quiz Jim on why he so often disappears on me in moments like these.  He thought about it for a bit before coming up with his Stop, Turn and Disappear theory.  Here's Jim's explanation of his S.T.D., as he calls it--
STOP  Jim claims this first part occurs reflexively.  It helps to hover a few paces behind me whenever he senses any challenging encounters ahead; it's good to be prepared, he says. 
TURN  The turning happens in a delicate, fluid motion, Jim explains, as  successful slinking away requires special heightened awareness:  it's an acquired skill.  Jim says he got really good at it at work whenever he'd notice his dental assistant, Kelly, interacting with an agitated patient down the hall.  He mastered spinning around the opposite direction in hopes that Kelly could resolve whatever conflict was happening before he'd have to deal with the patient himself in the chair.  Jim says he's learned to let the women in his life help resolve problems in his paths ahead.   
DISAPPEAR  At work, disappearing meant taking cover in his private office.  When traveling, it means ducking around a corner or perhaps behind a tree, post, or group of people.  Jim says the tricky part is to keep just enough eye contact with me that he can feign ignorance of his S.T.D. and maintain plausible deniability about it. 
Jim says he's had this S.T.D. for a long while and he's not getting rid of it anytime soon.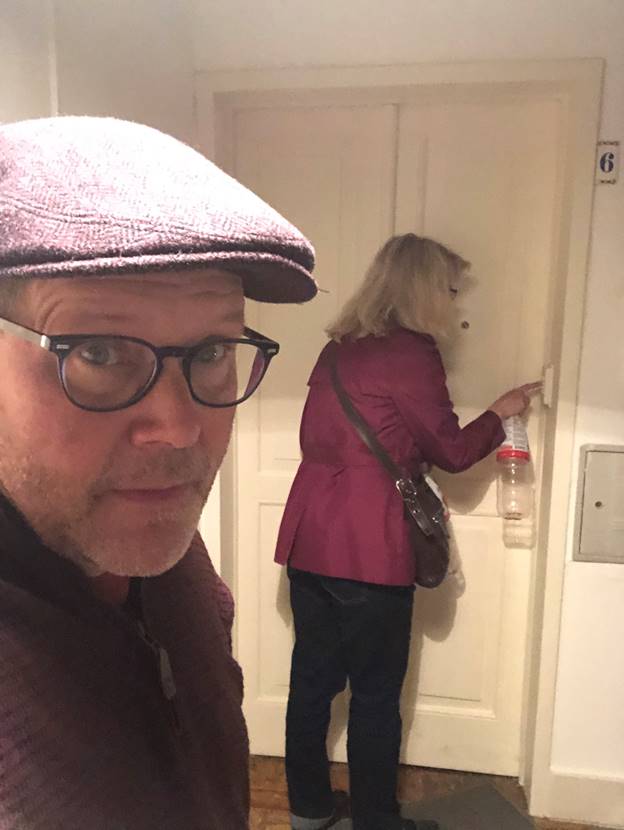 Opening apartment lock in Lisbon
Fado:
Portugal's Fado music originated in the early 1800s with peasants warbling sad tunes accompanied by junior-sized guitars.  Senior women commonly performed these soulful songs, strains of longings for the past. 
We attended a Fado performance mostly as a Portuguese cultural check-list event.  I worried that it might cause my brain to hurt, like opera, but sadder.  Fortunately that wasn't the case; our 30-something male and female singers had great voices and weren't at all depressing.  The woman held one note longer than anyone I'd ever heard in my life.  The man had everyone singing in response to a folk-type song clearly familiar to most of the audience.  (Eventually we joined in, too, though I'm uncertain what we sang.  Unimportant.)
I'm not sure where all this deep longing comes from, either, but I have my own hypothesis.  Portugal dominated the world stage for a bunch of years centuries ago but now they feel reduced; even their last few tiny colonies have gained independence. 
Maybe that's also why the Portuguese can't stop bringing up their early explorers, such as Vasco de Gama, Henry the Navigator and Magellan.  They're like the former high school jock who can't stop reminiscing about catching the football for a touchdown at the state playoffs.  It would be as if we mentioned Daniel Boone and Lewis & Clark in every other sentence; impressive fellows they were, yes, but we do have other stuff to talk about now and then. 
I think that the Portuguese carry a sorrow and longing for their world status and power that is no more, and they need to croon about it--the more mournful, the better.  Fortunately for us, our Fado night was fantastic.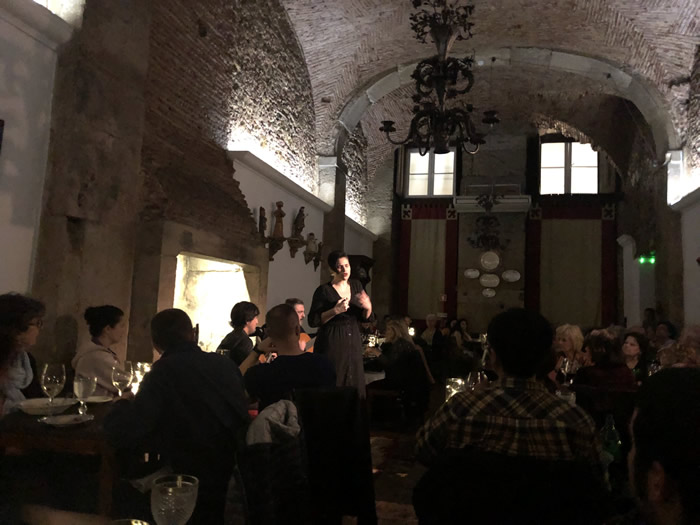 Fado at Casa de Linhares In Lisbon
Sintra:
This small town 40 minutes from Lisbon comes packed with several major tourists sites, including the National Palace where we signed up for a guided tour in English and ended up as Victor's only guests.  Victor, a former high school history teacher, did a great job explaining the Palace, spending nearly two hours showing us around.
Afterward he led us out onto the square where he offered us a reasonably-priced driving tour in his van to a few other sites outside of town, including Cabo da Roca--the westernmost point of Europe.  After Cabo, we visited a remote Visigoth chapel dating from 700 A.D.
About this point, Victor grew increasingly political in his speech, going so extreme that I couldn't tell if he were far right or far left or maybe just far nutty.  He also rambled obsessively of topics ranging from numerology to cursive writing to rationalism to the Free Masons.  We were puzzled but kept quiet aside from an occasional "uh huh," while Victor ignored our disengagement. 
The three of us had the Visigoth chapel entirely to ourselves as the sun set on the abandoned hill overlooking the Atlantic.  Victor announced he wanted to show us something away from the chapel down a path into the trees.  "Just ten meters," he promised. 
"These woods are called the "Enchanted Forest," he said.  I have a story to tell you about them.  Come, follow me," Victor urged.
Alarm bells started ringing in my head.  Danger, danger!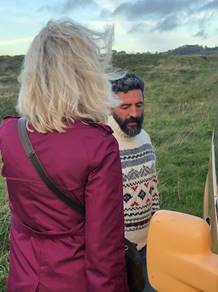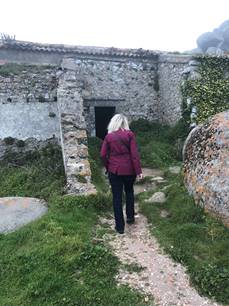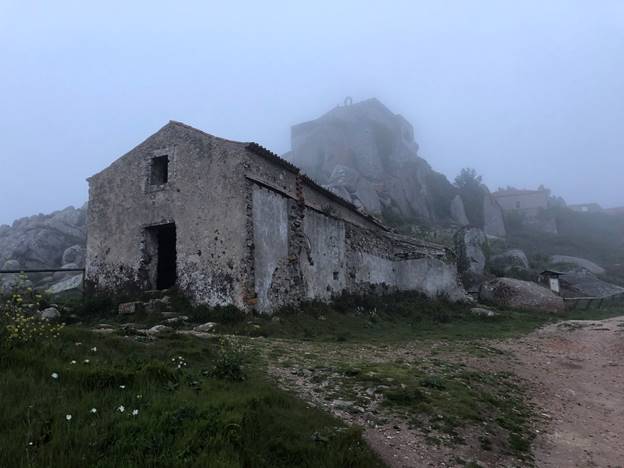 Touring with Victor at Visigoth chapel outside Sintra
Did we continue?  Yes, but instead of a stroll into the Enchanted Forests of Portugal, we set out more like Hansel and Gretel following the wicked witch. 
Later Jim and I compared notes, realizing we'd both had the same thoughts:  Was Victor actually a psychopath who planned to stab and rob us and leave us for dead?  Not a soul knew where we were.  Authorities would have to unearth our bodies from beneath the Visigoth chapel, perhaps tracing the final pings on Jim's cellphone.
But Jim had determined that while odd, Victor hadn't shown any signs of violence.  Plus he'd been vetted by the Palace--presumably-- so we should be okay.  And we were.  Except that on our way back to our hotel, Victor's political rantings turned downright conspiratorial.  We think we may have discovered why his whole teaching career didn't pan out.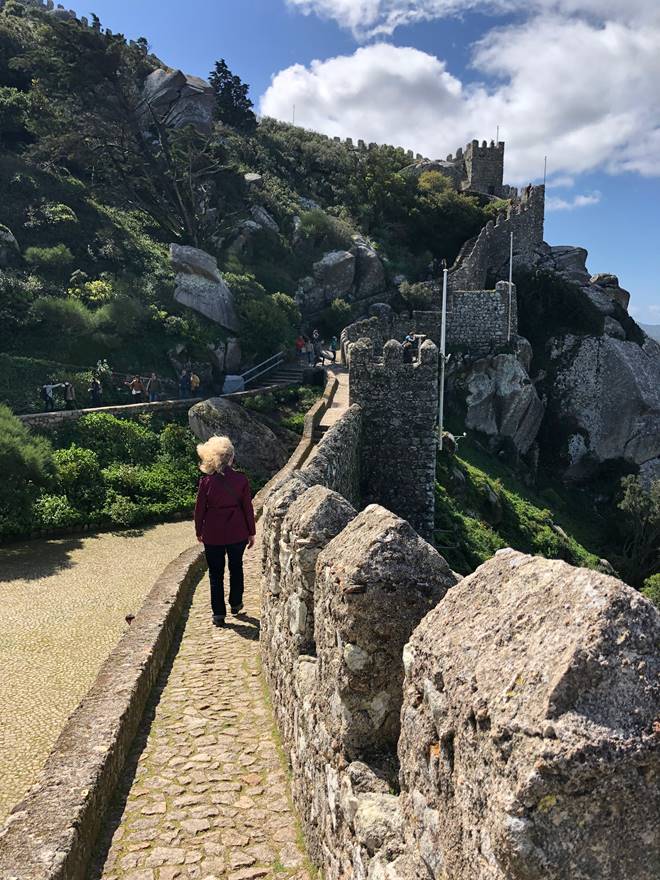 Moorish Castle in Sintra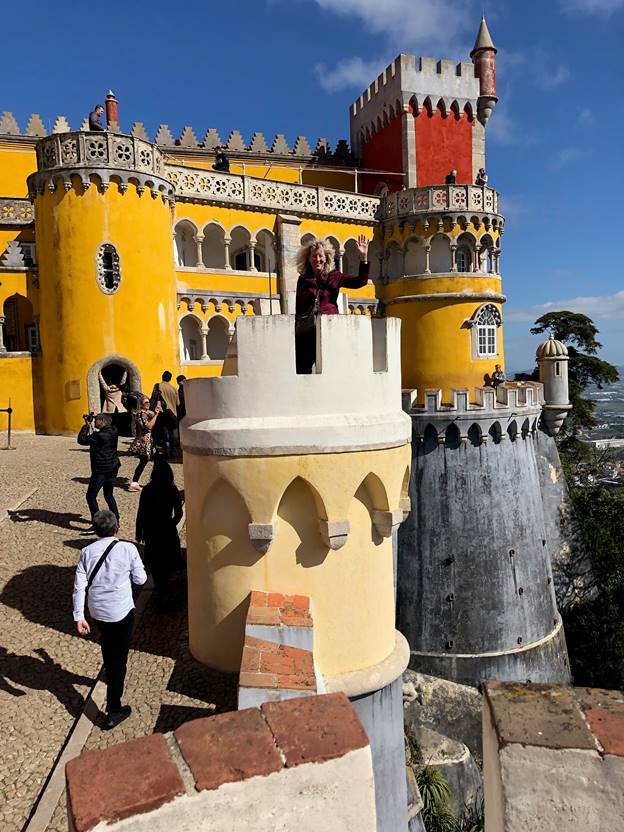 Pena Palace in Sintra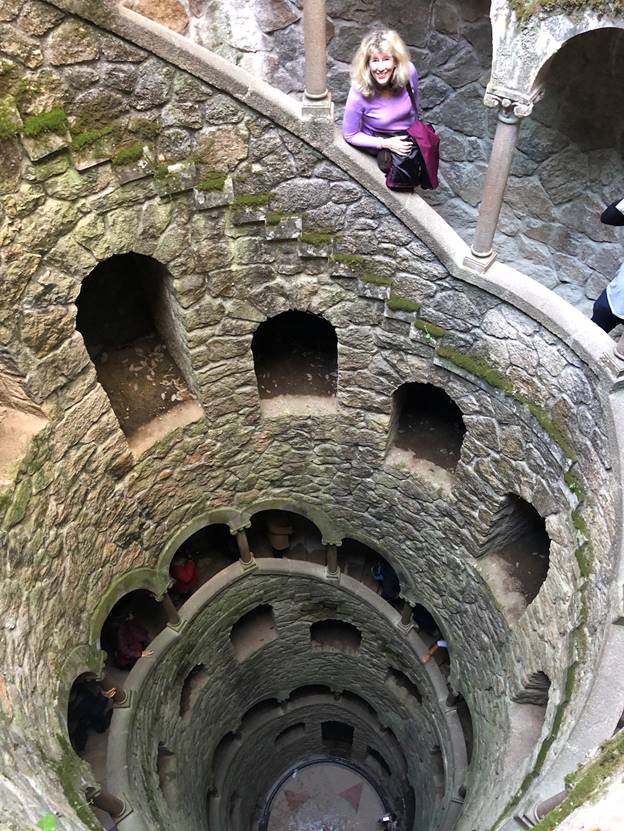 Cistern at Quinta da Regaleira in Sintra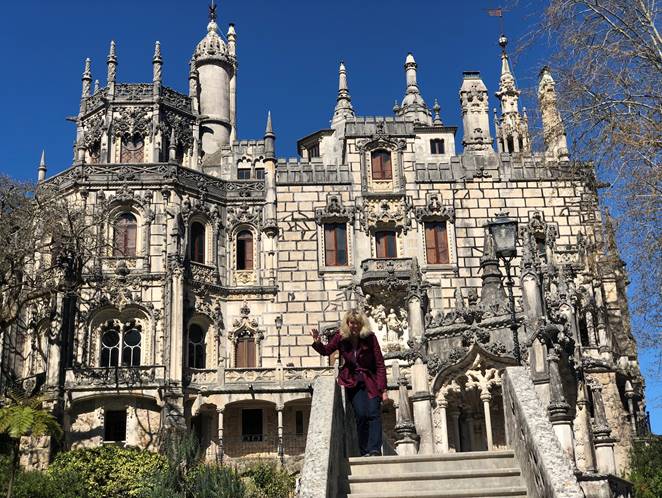 Quinta da Regaleira in Sintra