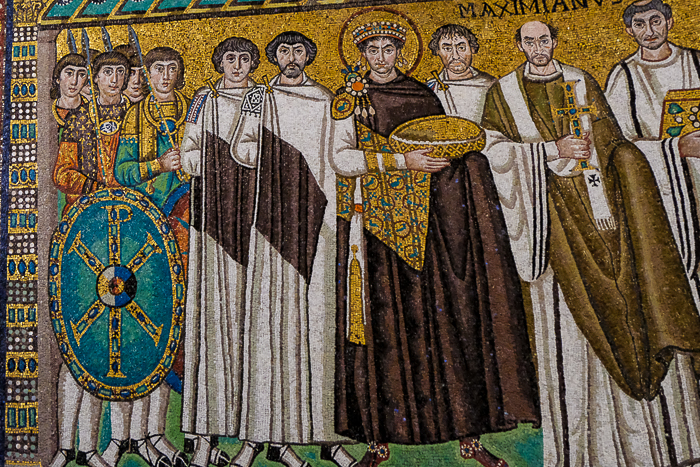 We're in Ravenna, a place unknown to most people in my daily life, except those art and church historians who lit up when I mentioned our plans to visit.  "Oh, I wanted to see Ravenna, but just couldn't figure out how to get there or fit it into our trip."  It's a little isolated geographically from other cities in Italy, and as we've personally learned, getting here does have its challenges.   
This morning I broke one of the great commandments of travel:  Thou shalt not accept assistance with one's luggage from a stranger in a busy train station.  In my defense, I hadn't intended to do any such thing, and also in my defense, it ended up saving our travel bacon--as in we miraculously caught our train.  Still, Jim asked me to promise I'd never repeat this particular offense.  I agreed. 
I committed my transgression as we travelled from Padua to Ravenna, a journey that didn't look that tough on paper.  In fact, I'd selected Bologna as our station to change trains specifically because of its smaller size.  I understood that our 14 minute layover was pretty tight--anything under under 15 minutes puts you in the red zone when purchasing tickets--but I didn't worry too much about it. 
No problem in little Bologna, I thought.  We'll just run over a track or two and all will be simple and easy. 
Little did I know that Bologna now operates one of Italy''s busiest stations as a major crossover for rail traffic, or know that they'd recently added several new high-speed lines.  Since the station didn't have space to widen out, they built the extra lines and platforms four levels underground.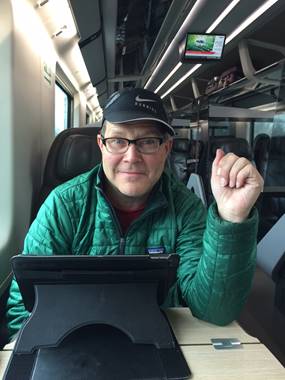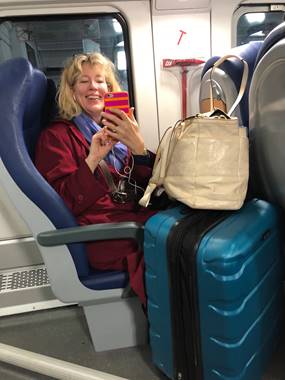 We knew something funky awaited us when our train into Bologna dipped deep into dark tunnels.  Arriving a couple minutes late, we hustled from our train car, down to just 12 minutes to catch our connection. 
The monitor board listed only other high speed routes--nothing at all about our regional train to Ravenna.  I'm sure I appeared puzzled, because I was.
Suddenly an eastern Mediterranean dude popped up to ask me what we were looking for.  At first I thought (hoped?) he worked for the railroad.  I showed Dude our ticket.  He looked concerned, tapped his watch and cried, "platform nine!"  
Before I could respond, Dude grabbed the handle of my roller bag, yelled "follow me" and bolted off.  I raced after him, anxious about my bag, but also worried that I'd lose Jim.  I kept glancing back to make sure we'd not left my sweetheart in the tunnel dust. 
Dude took us to an elevator where we ascended four levels.  I grew worried about our escort, questioning our wisdom in getting into an enclosed box alone with him.  But soon enough we burst out and Dude sprinted us through a bright connecting tunnel, up an escalator, and across the central station.
Finally we reached our platform.  Dude pointed to our still-there train, smiling that we'd made it--a whole two minutes to spare.  He helped haul our heavy bags onto the train car and lifted them into the overhead bins.
We knew we needed to compensate the guy for his assistance.  Jim pulled out his little pouch of euros and Dude saw that it contained a wad of cash, including some 50s.  Dude demanded a 50 euro bill. 
Jim said no, ten euros.  Dude argued, grabbing onto the cash in a tug-of-war with Jim.  Dude could have snatched the bills and ran, but I guess he didn't want to be an outright criminal.  Jim held his ground and his euros, repeating, NO, TEN.
A recording announced it time to exit the train if you weren't a passenger, and Dude reluctantly left.  Through the window, Jim saw him talking to his buddy on the platform.  Suddenly our guy reappeared with an exaggerated sad clown face.  I utilized the bulk of my non-gastronomical Italian vocabulary:
"No!  Ciao"
Dude didn't flinch.  

"Grazie!  No!  Arrivederci!"  
Fellow travelers looked disturbed by our exchange.  Ultimately, Dude  decided to leave--for good this time; probably our immediate train departure saved us.  
Afterwards I researched the Bologna station and discovered more stumbling blocks than just the deep pit of high speed lines.  I learned that Bologna's regional trains stop in three sections-- central east, central, and central west.  Each of these sections unhelpfully begins with the number one. 
Americans regularly miss their train connections in Bologna. 
The whole incident left Jim pretty stressed, though we realized we would certainly have missed the train without Dude.  While thankful we made our connection, we decided that next time we'd do better missing it than subjecting ourselves to another shake-down.  We dogged a bullet on the bullet train.  Lesson learned on my part.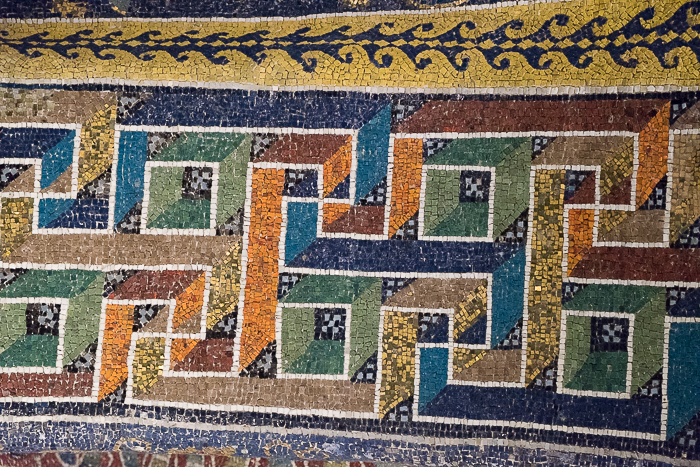 But the day's journey hadn't ended yet.  We still had to get from the train station in Ravenna to our Bed and Breakfast, about a fifteen-minute walk.  While we log plenty of miles by foot on our travels, we regularly hire cabs from train stations to our lodging, even when a short distance.  Dragging bags across European cobblestones isn't easy, plus taxis locate the exact location for us. 
I showed the cab driver our map with the name of our place:  'Club M' Bed & Breakfast.  "Near San Vitale," I said.  As far as landmarks go in Ravenna, saying you're staying near Basilica San Vitale would be like telling a New York taxi driver you're staying next to the Empire State Building:  kind of a no-brainer. 
"Oh, yes," Driver brightened, "the B & B!"  He routed us around the city center; I figured he was circumventing pedestrian-only roads in the core.  But then we reached highway signs on the opposite end of town.  Jim feared we were getting kidnapped.  I wondered if we'd actually gotten off the train in someplace besides Ravenna. 
I reminded Driver about our B & B being near San Vitale, even holding up our Rick Steve's diagram map, but he couldn't be bothered by such information and pesky details. 
Driver got onto his radio and began consulting his taxi company colleagues.  They chattered incessantly.  I don't speak Italian, but it's similar enough to Spanish that I understood that they were talking smack about the "Ingleses" (English-speakers) in the back seat.  As in us.  
Driver turned around a couple of times, clearly lost.  Once again I described the big landmarks by our B and B--the San Vitale Basilica, the Adriana Arch... 
Eventually Driver stopped at a B & B outside the perimeter in a somewhat sketchy area.  We saw not a soul.  This B & B looked too quiet, perhaps abandoned.  Jim and I knew it wasn't the right location.  Please don't leave us here all alone, we both thought to ourselves.  I showed Driver the map once again.  Finally some light went off deep in this guy's brain and he got it.
After a few more wrong turns and Italian curse words against other drivers, we reached the correct B & B.  Our ride, which should have cost about E 6, now racked up E 16 on the taxi meter.  Driver tried to make excuses about some other San Vitale 20 kilometers out of town, throwing him off. 
"You can pay me twenty euros," Driver declared.  Really he should have charged us the E 6, but I think he and his radio buddies somehow blamed us for the dilemma.  We had no energy left for quarreling, so we handed over the cash, relieved to have arrived safely at our lodging. 
We mentioned to our Bed & Breakfast host about our driver's bewilderment with a different San Vitae.  She had no idea what he was talking about.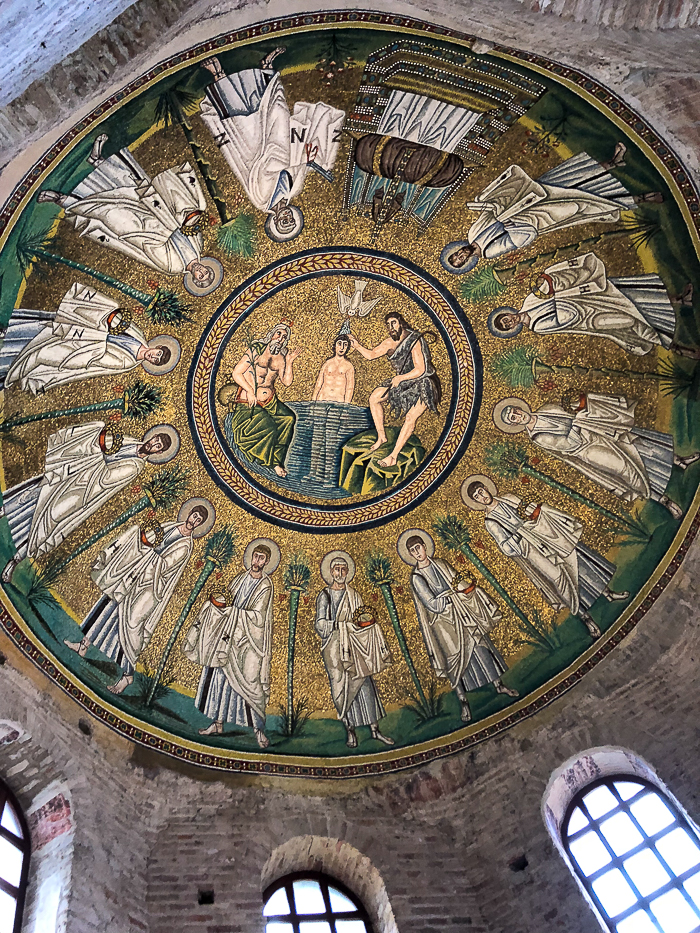 After Rome fell, Ravenna became the European beacon of western civilization for a couple hundred years.  Art historians love Ravenna for its bounty of 1,500-year-old churches, chapels, baptisteries and mausoleums filled with mosaics, most of these mosaics in pristine condition. 
Brighter than we expected, full of color and life, the mosaics look like they might have been installed yesterday.  The modern appearance of some of the designs surprised us, particularly those in Basilica San Vitale; the geographic shapes reminded us of the border of the little oriental rug we inherited in 1985 from our Aunt Katherine (a scholar still legendary in my family for her fastidiousness). 
In high-season, Ravenna hosts masses of kid field-trippers, art historians, and cruise-shippers.  During our stop at San Apollinare Nuovo church, we had only a small academic group as company.  I eavesdropped for a bit.  The English professor did a masterful job educating all of us listeners about the panels detailing Christ's miracles, his last week of life, and his resurrection. 
The elder professor began by having his students attempt to decipher a mosaic scene before allowing his assistant to explain the content in detail.  Afterwards he'd add commentary, often beginning with "If you know your Bible, you'll recognize and know this scene as..."
Throughout Ravenna, Jim and I were struck by our familiarity with the biblical stories on these ancient mosaics.  Though I enjoyed listening to the professor, we had decent success interpreting the scenes all on our own. 
In the 450 AD Mausoleum of Galla Placidia, a mosaic illustrates four colorful volumes on a bookshelf--the Gospels of Matthew, Mark, Luke and John.  Deer sip water in tribute to Psalm 42:  As the deer pants for water, so I long for you, O God.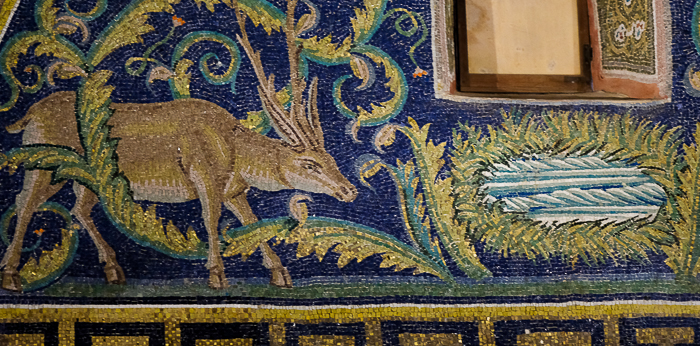 In the sixth century Chapel of Sant'Andrea, Christ stomps on and conquers evil in the form of a snake and a lion.  This famous "Warrior Jesus" mosaic shows Christ holding his cross like a weapon.  Jesus proclaims, "I am the way, the truth and the life,"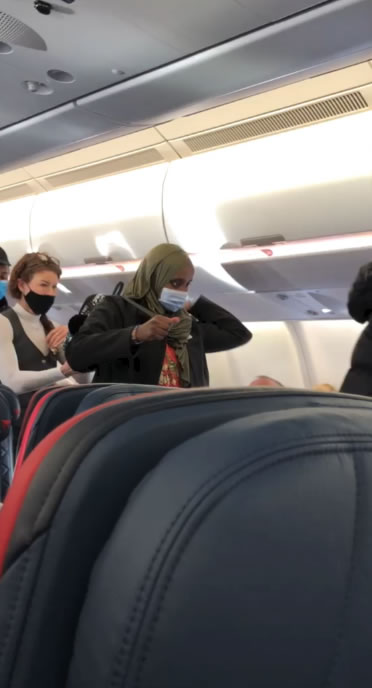 Stunning to us how not a single aspect of these messages has changed in over 2,000 years.  Like Ravenna's mosaics, the Word continues, as solid and fresh as the day of its formation.