PORTUGAL STORIES, PART 3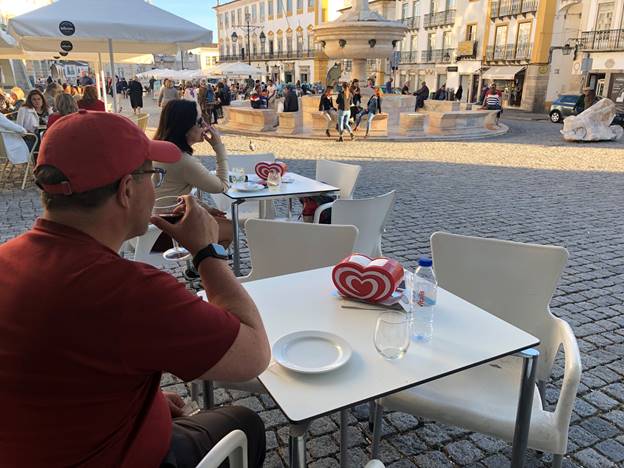 Praca do Giraldo
EVORA
I've learned to schedule small town stops between our big city arrival and departure points.  We always love them.  Something about taking a break from the crowds and traffic, meeting earthier people, eating great meals at low cost, having the ability to walk everywhere, and maybe just getting a chance to catch our breaths a little. 
The town of Evora's on the way to Spain in the middle of nowhere southern Portugal.  The rest of the country considers it po-dunk.
Besides that, people know Evora for its Roman ruins, its university (founded in 1559) and its neolithic stones dating back to 5,500 BC.  These megalithic sites make you think of Stonehenge, but predate it by 2,500 years. 
In 1964, an amateur archeologist named Henrique Pina got credit for discovering the ancient stone formations just outside of Evora.  In truth, he simply asked a local shepherd who showed him the way.  Pina used dynamite to blast the rock roof cap from one of the sites--a large funerary structure--compromising it to such a degree that it's now in danger of collapse.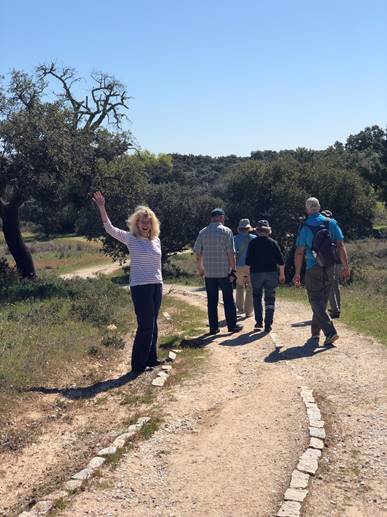 Cromeleque dos Almendres outside Evora
The Portuguese government has offered essentially no help in preserving these sites.  Each sits on private property, and all that landowners are required to do is keep them accessible to the public.  Vandals, unrestrained tromping feet, new agers (who leave behind offerings of food and candles atop the stones), and even bullets continue to damage the stones. 
Local archeologists, like our guide Mario, plead with the government to intervene, but so far lack of money and enthusiasm have kept authorities from acting.  I'm hopeful that the increased tourism and attention will somehow bring about necessary protections before it's destroyed.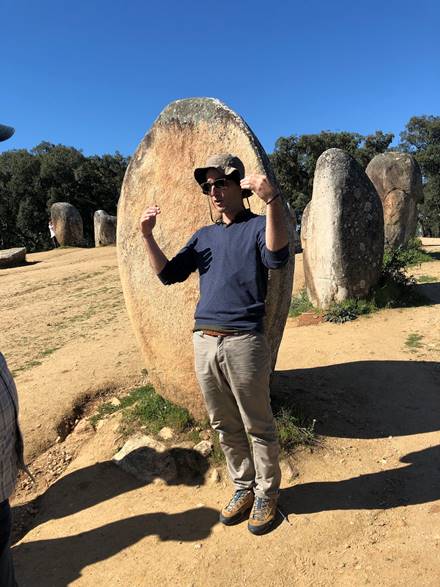 Mario
I found Mario on TripAdvisor and now understand why he scores such rave reviews. 
https://www.tripadvisor.com/Attraction_Review-g189106-d2169534-Reviews-Ebora_Megalithica_Guided_Tours-Evora_Evora_District_Alentejo.html
Mario grew up in Evora, helping his parents work their farm near the megalithic sites.   He later attended university in Evora and Lisbon and now owns and operates his own touring business.  Mario's like the cool, young, funny teaching assistant you hope you get assigned to in college. 
We started comparing Mario to our Sintra tour guide, Victor.  Jim came up with this list of differences between the two guys:
Mario vs Victor
 Mario has a master's degree in anthropology.  Victor doesn't, yet still refers to himself as "the professor."
 Remains professional at all times vs. smokes and swears in English (it takes intention to use the f-word in a second language)
 Has a driver and a personalized tour van vs. a van that he refers to as "vintage."
 Avoids anything too controversial vs. speaks constantly of conspiracy theories.
Small wonder Mario is the one with the highly-successful tour business. 
Date-night in Evora:
We chose a tiny restaurant with just six tables where owner Miguel fusses over you and locks the door after everyone's arrived for the evening.  At many restaurants in Europe, once you get your table, it's yours for the duration; you can camp out as long as you please.  https://www.tripadvisor.com/Restaurant_Review-g189106-d6892951-Reviews-Bistro_Barao-Evora_Evora_District_Alentejo.html#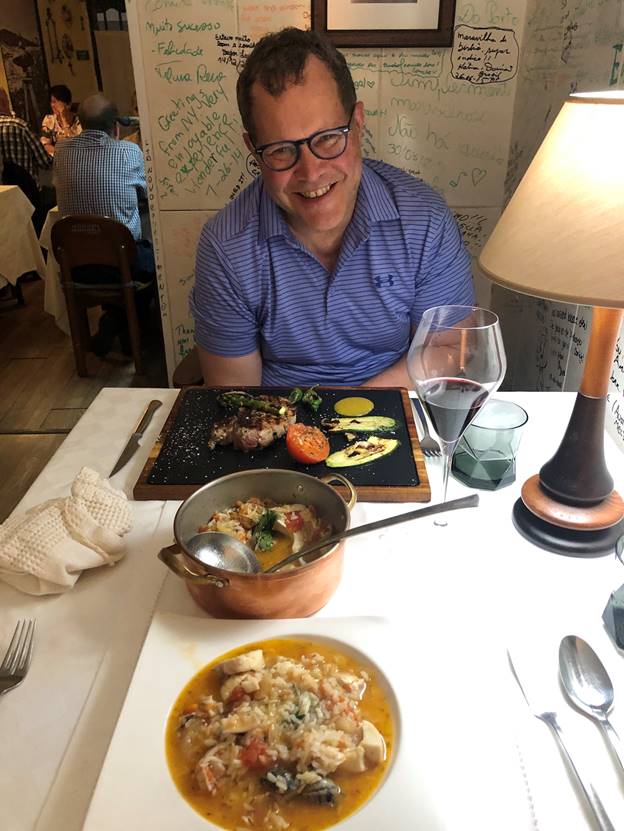 Bistro Barao

Miguel immediately dropped off two appetizers at our table, a cheese & bread dish and a plate of large anchovies.  Portuguese restaurants commonly bring hors d'oeuvres you didn't order--but get to pay for.  If you don't want the appetizer, you gotta say so, immediately.  Fortunately costs run cheap here in Portugal, especially in Evora, so we kept the dishes with Jim gamely scarfing down a pair of anchovies. 
A couple main courses on the menu appealed to me but Miguel has his own ideas for his guests.  He asked if we preferred fish or meat.  When I said fish, he pointed to two choices:  octopus or grouper.  I had no idea what grouper was but Jim suggested I'd probably seen it at the Oceanarium in Lisbon last week, which didn't exactly help matters. 
https://blog.nationalgeographic.org/2014/08/22/watch-grouper-slurps-down-a-shark-not-a-typical-meal/ 
But I ordered it anyway--since nope to the octopus--and I didn't dare deviate from Miguel's recommendations.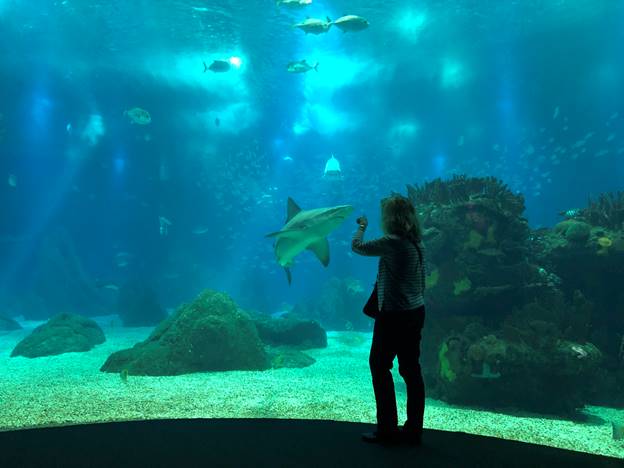 Oceanario de Lisboa
The grouper dish turned out rather tasty, kind of a soupier version of paella.  It included rice, sauce, clams, shrimp and other fish I didn't care to investigate too closely. 
Miguel prefers to stretch out his diners' experiences, it turns out, but after two lingering hours we had to leave.  Getting him to bring our check without ordering any dessert took some effort.  Miguel, you darling man, we have a concert to attend!
The previous day at Evora's town hall we'd noticed flyers advertising a special Portuguese tribute band honoring the rock group Queen, accompanied by an orchestra:  something you don't come across everyday.  They scheduled just one performance in Evora at the town's sometimes bullring/sometimes concert hall.  We walked to the bullring to purchase our tickets for their show titled, A Kind of Magic. 
Our ticket teller had closed shop for the day but kindly invited us inside anyway.  This lovely woman spoke no English, but what wonders you can do with seating maps, cash and friendly attitudes!  Our tickets cost only E 10 each, which translates to about $12, which is about what we'd pay for the service charge alone at an American concert.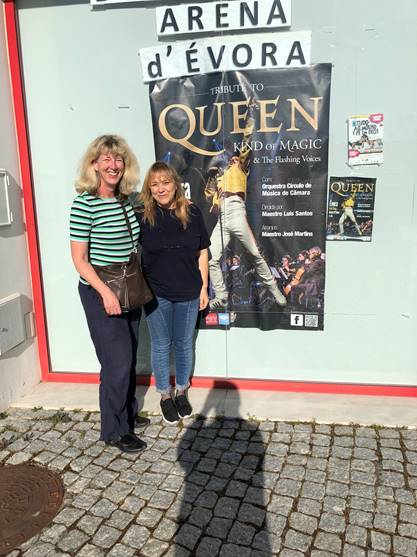 Bull ring box office
After we purchased our Queen tickets, we toured the ancient University of Evora.  Jim befriended the ticket guy who spoke no English; how I wish I could have videotaped their sweet conversation.  Jim said it reminded him of communicating with some of his elderly patients in the dental chair, trying his best to figure out what the heck they were talking about.   
I made my own buddy at the University with a young student who wore her school uniform of black skirt and vest and white blouse.  She relaxed with her smokes while waiting to escort her group of freshman on their orientation.  Several chamber music musicians practiced nearby and my new friend noticed my interest.  She invited us to their concert that evening at the university, starting at 10 PM.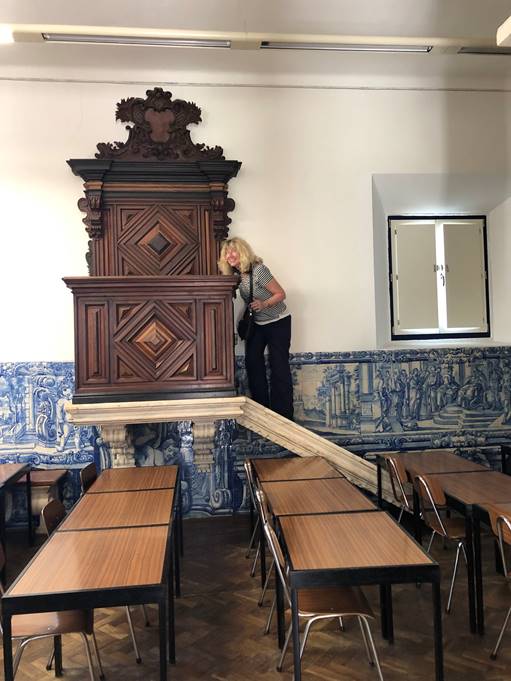 Evora University
Tempting, but we already had our Queen tickets, ones which promised to be A Kind of Magic. 
We arrived at the bullring for the performance at 9:10 PM for the 9:30 PM time (or 21:30, as they call it) listed on the ticket.  Crowds milled outside the locked doors until they opened at 9:25. 
We had tiny seats in the terrace of the bullring.  A one-minute video of the band goofing around played on loop, over and over.  Colored lights mechanically roved the arena.  Next to me sat a young woman who reeked of stale cigarettes.  Those of you who know me well also know about my acute sense of smell, which is not always a good thing.  Like at the Queen tribute.  I grew slightly nauseous, but reassured myself everything would get better once the music started.  
By the time the band took the stage at 10:20, I'd watched the video loop approximately forty times.  Near the end I had to bury my head into Jim's shoulder to avoid it further. 
The band began without the orchestra.  Clearly they selected the guy playing Freddie Mercury more for his appearance than his voice, but honestly, who can really compare with Freddie Mercury's voice? 
Lights continued to roam over the audience, sometimes getting stuck on small groups, rendering them temporarily blinded.  The dimmest of wattage illuminated the band itself; we could hardly see them.  From across the opposite side of the bullring, far, far away, a single spotlight shone on wanna-be Freddie. 
Freddie scampered back and forth on the stage.  The spotlight operator had trouble keeping up with him, often leaving Freddie prancing in the dark.  When the spotlight did hit him, Freddie's crotch caught more light than his head.  At least once the operator abandoned his post, possibly for a cigarette break, and Freddie had no spotlight at all. 
For sure this will improve when the orchestra comes out, I told myself. 
The audience knew all the English lyrics of Queen's songs and sang back in response, at least on the familiar tunes; oddly the band included several songs nobody recognized.  The audience desperately wanted to engage, but that was difficult with songs you'd never heard before.  Instead of getting to their feet, they got bewildered.  
Occasionally Freddie spoke something to the crowd in Portuguese, which made them very excited.  We never heard a single spoken word of English at the concert all evening from a single person.  
A half hour in, a line of about 30 musicians filed onto the murky platform behind the band, like zombies shuffling in the shadows.  We could hear little of their work.  All we could see were the tops of their heads and the occasional raised violin bow.  
After a few more songs, I whispered to Jim, "This is horrible.  Wanna go?"  He chuckled and nodded in response.  We exited as quietly as possible.
We laughed about our evening as we strolled back to our hotel--while dodging night drivers who used the quiet streets in the historic center as personal racetracks, their own video game courses come to life. 
The university chamber music would have been the better choice, we realized, but we didn't regret anything.  It was all part of our travel experience. 
"It was A Kind of Magic," Jim decided.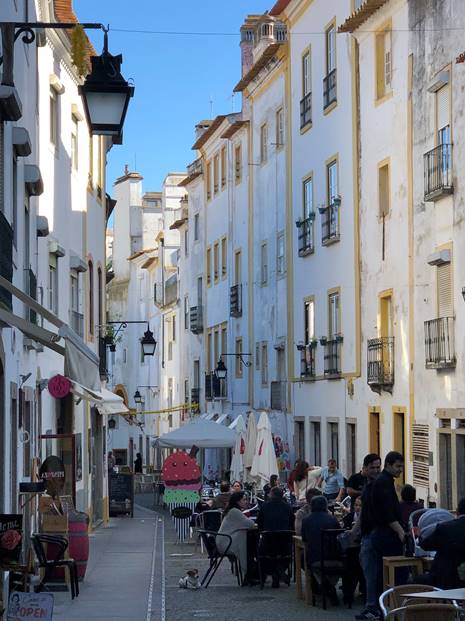 Street in Evora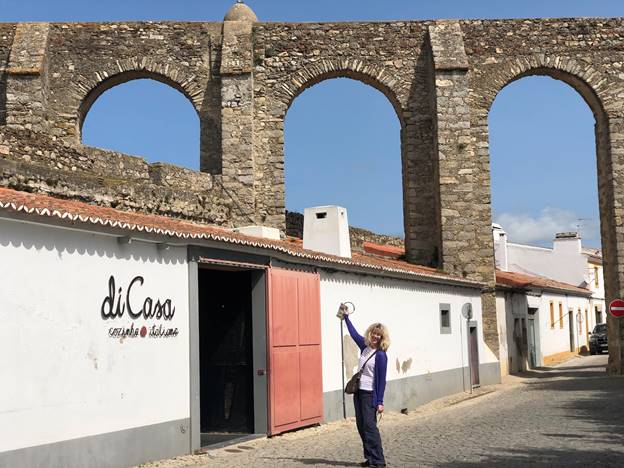 Evora Aqueduct