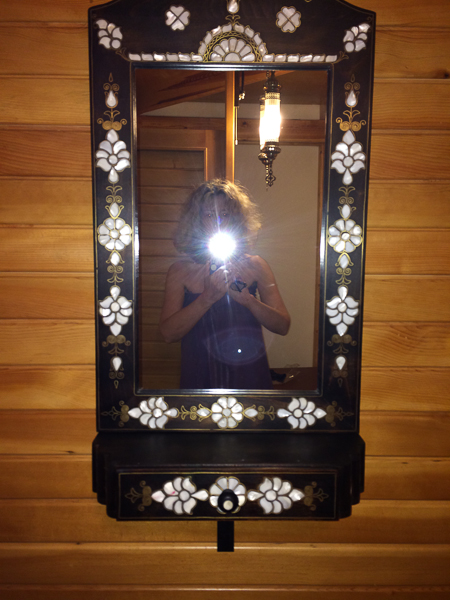 Before we go on big trips, I do my homework. My research for Istanbul suggested we visit a Turkish bath, which they call a "hamam."
Hamams trace back hundreds of years into Ottoman history, and before that as the Roman bath. Men and women segregated in the hamams for a time of cleansing, visiting, gossiping, and allowing mothers to check out potential brides for their sons. They'd bring along snacks for an almost picnic-like experience, which often lasted for hours. Access to a hamam ranked high on the needs-scale; a husband failing to provide the means for his wife to attend her regular bath constituted grounds for divorce.
I knew we had to go. I just had two concerns:
I heard they were pretty naked. Turks run fairly conservative with modesty between the sexes, but within their own gender, inhibitions go out the window Yet, I figured, could it really be any more traumatic than the women's locker room at my gym after the Silver Sneakers class lets out?
I wasn't sure how I could convince Jim to go.
I decided to offer Jim a trade. I would go with him on the day cruise up the Bosphorus Strait, and he would go to the hamam with me. My worries about the Bosphorus involved sea-sickness (I am capable of nausea after simply watching a video of ocean swells.) Jim visualized a beefy, hairy Turk scrubbing his near-naked body at the hamam. (I ended up loving our short cruise on an especially calm day up the Strait.)
I picked the swankiest hamam I could find. I reserved the simplest wash option for Jim, just 35 minutes long. For me, I selected the "Elixir of Life" 90-minute treatment--the whole-enchilada. I figured if I were going to do this, I should do it right. I had us go to the hamam first-thing on the quietest day possible, when I heard we might just have the place to ourselves.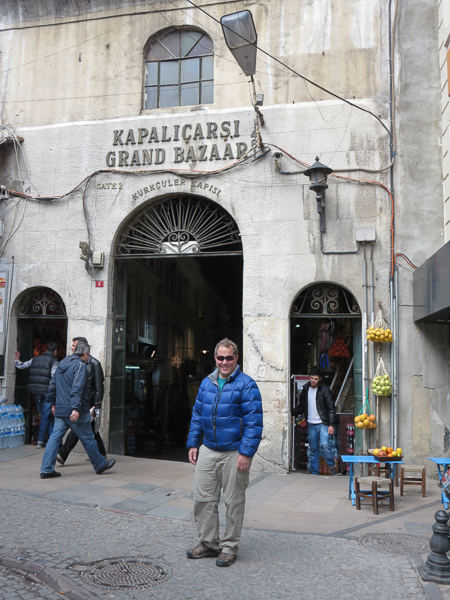 Since Jim knew he would finish his treatment long before me, we made plans to rendezvous outside the men's hamam. Jim could go snap more photos of the Hagia Sophia next door while I completed my Elixir of Life.
A young Filipino named Ryan escorted Jim into the men's hamam. As I watched Jim pass through the door, I had a twang of trepidation, like I'd just dropped off my kindergartner for his first day of school.
I went around to the other side of the building to the women's section. I entered a large domed pavilion. A young woman directed me upstairs to a private changing room with a self-coded entry lock. She instructed me to remove all my clothing and put on rubber slippers and a purple sarong, which I wore in the manner of a beach towel cover-up.
I walked downstairs where my attendant fetched me. She appeared to be in her mid-fifties and had a somewhat hefty build. She wore a pink uniform, not unlike that of a dental assistant. She asked for my name and then pointed to herself. "Norton, " she said. I'm sure that's not how it's spelled, but that's exactly how it sounded, and I don't know of any other way to spell Norton. So she was Norton.
Norton took me by the hand and guided me into the inner bath area. In the center was a large raised platform shaped as an octagon. Around the periphery were several niches with marble fountains and benches. Nearly every surface in the room was covered in this glistening mottled-white marble. Above, a large dome delivered ample sunlight through its pentagonal windows. Yellow-orange spotlights streamed up the walls toward the dome.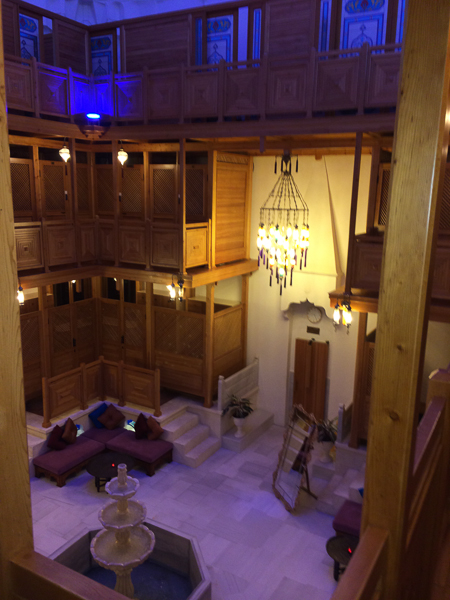 To my relief, Norton and I were the first arrivals.
The air felt warm and moist, with just a touch of steam. Norton seated me next to one of the little niche fountains. She filled the fountain basin with nicely hot water. Using a small gold bowl, Norton started throwing water at me, including my head and face. I learned to breath between water tosses. Once sufficiently doused, Norton instructed me to sit and rest for five minutes. Her exact words: "Sit, rest." I leaned back into the wall and did just that.
A few minutes later, Norton returned and grabbed my hand. Now this was not just a sweet gesture, but a practical one, given the wet marble floor. Norton had changed from her dental assistant uniform into her own sarong. She appeared to be wearing some type of black thong bikini underneath.
Norton delivered me to a fountain on the other side of the room, where she sat me down and threw more water on me. Then she started scrubbing me with a Brillo-type mitt. This sounds worse than it was; it actually felt okay, like a mild back-scratch.
Okay, here's where the naked part starts.
Norton yanked my sarong down to my waist. She started scrubbing my upper regions, treating my back just the same as my front. Made no difference to Norton. Okay, I thought, this is weird, but probably Norton has man-handled more female upper body parts than my mammography technician back home.
Next it was time for hair-washing. Nobody besides my hairdresser has washed my hair since I was about five years old. I have to say, I enjoyed it. Norton was pretty nurturing, actually, like the gentle nursing home caregiver we'd all be lucky to have someday.
Since I'd signed up for the big-game Elixir of Life treatment, it was time for my mud bath. Norton uprighted me and seized my sarong entirely. She handed me a small barrette to secure my hair.
I stood there naked, fumbling with the barrette because it was no match for my big head of hair. Norton chuckled and told me to wait. Or as she said, "Wait," and then she disappeared. I stood under the dome, abandoned, alone, 100% naked, wondering how I should react if somebody else arrived. Norton soon re-appeared with a towel which she began wrapping around my head, turban-style. (Note that nudity wasn't a concern here, but muddy hair was.)
Norton had trouble applying my turban since I towered over her. She asked, "Model?" while pantomiming somebody shooting a basket.
Did Norton think I was a model, a basketball player, or a basketball-playing model? "No," I replied, covering all of the above.
Norton decided this was a good opportunity for small-talk, with me standing naked (except for my turban, of course.) "Where you from?" "America," I answered. (If you answer "the United States," Turks automatically say, "Oh, America!" as in "Amerika!"
Norton wanted to learn more about me. "Where Amerika?" she asked.
"California," I said.
"Oh, California!" Norton responded. This was the first time I've ever told anybody I lived in California, but everyone in the world knows California. Oregon? Not so much. I figured that Oregon exceeded Norton's knowledge of international geography, and California was close enough.
"Hamam- New York!" Norton told me. I believe she was trying to brief me about a hamam in New York, and that maybe I should drop by there sometime.
"Okay," I nodded.
Norton finally got to the mud. She spread the gray goop everywhere...well, almost everywhere. She saved a small amount for me to complete the job. How considerate of Norton, I thought.
Once fully plastered, Norton sat me down to dry, then vanished. Soon Norton returned bearing my special snack, part of my deluxe hamam package. My treat consisted of fresh pomegranate juice plus a platter of nuts and fruits-- both fresh and dried. Quite an impressive spread, really. Norton handed me a fork, which was helpful, given that my hands were caked in mud. Then she left me to enjoy my little feast, snatching my wet sarong on her way out, lest I be tempted to cover up during her absence.
Now comes the truly strange part:
For several minutes, I sat there completely naked, covered in mud, munching on sliced strawberries, pears and apples. Eating the grapes proved challenging because I couldn't touch them with my muddy hands. I stabbed individual grapes with my fork and shook them loose from the bunch.
I started thinking just how creepy and eccentric I must look. Please, I thought, don't let anyone else come in here right now except Norton.
Norton materialized and confiscated my fruit tray before I could finish, promising to save it for me for later. Or, as she put it, "Save." Then she pulled me to my feet and blasted hot water at me with the gold bowl. Mud streamed from my body.
Now it was time to recline on the octagonal slab in the middle of the room. Norton spread a towel on the warm marble and instructed me to lay my naked self down. "Lay," she said, so I did. She doused me with bubbles, rubbed them around and rinsed me off. "Roll over, " she instructed, repeating the bubble wash on my front side. Then she hurled more water at me.
It occurred to me that Norton's English vocabulary wasn't all that different than our dog Bailey's. Sit, stand, lay, roll over...
Finally, Norton concluded my bath experience. She toweled me dry then handed me a fluffy white robe. She slipped on my rubber slippers, and took my hand. As we exited the bath area, she pointed to herself again, saying "Norton!" I suspect she wanted to make sure I remembered her name when it came to tip time.
Norton discharged me to a wide couch where the remnants of my fruit tray and juice awaited. I took a seat and tossed back a few walnuts and dried apricots.
But my visit wasn't over. The Elixir of Life package comes with a massage following the bath. The massage therapist appeared, took my hand, and said, "Come, lady." She guided me to the top level of the pavilion for my massage. The massage was okay but nothing to e-mail home about, other than:
.It was pretty naked, too. (The towel served more as a warming tool than for modesty.)
Like Norton, the attendant also treated my top front exactly the same as my upper back.
After my massage, I noticed that two hours had elapsed. I dressed quickly, tipped Norton and the massage therapist, and raced out the door. I scurried to my meeting point with Jim, but when I arrived, Jim was nowhere in sight. I figured he'd gotten distracted taking his photos after completing his own Turkish bath long ago. I waited for several minutes until Jim finally emerged from the men's hamam. He appeared happy and relaxed.
"How was it?' I asked.
"Great!" he answered, smiling. Jim's attendant, Ryan, had taken extra long with Jim because he was the only client there, too. Jim got to keep his towel wrapped safely around his lower half the entire time. After his bath, Ryan guided Jim to the bench couches, spread out some towels and handed Jim a glass of pomegranate juice.
Jim lay down while Ryan wrapped towels over him, cocoon-like. Jim then fell fast asleep for about an hour. Jim imagines there was snoring involved.
As Jim awoke, he knocked his pomegranate juice all over a pillow and towel. Ryan ran over to Jim, apologized (for what, I'm uncertain) and swiftly replaced the towel and pillow.
We each submitted to Turkish experiences that we dreaded--the Bosphorus cruise for me and the hamam bath for Jim. In the end, those very experiences wound up as favorites. Some risks are worth taking, I guess. Bonus: the apartment: Few more!