March 26     Connellsville, Pennsylvania to North Brunswick Township, New Jersey
We left Connellsville, all nuzzled in rolling hills and perched along the meandering Youghiogheny River.  Like other small towns we passed in rural western Pennsylvania, Connellsville embraced the same two-story house:  long and thin, wood-framed, spilled onto the street. 
Here's my take:  Early settlers transported their architecture from somewhere Germanic where scarce property dictated tight housing.  Arriving in the New World, they crammed their new residences tightly despite the abundance of land in country villages, purely out of habit and not having a clue about any other stylistic possibilities.  And they considered a strip of front yard an utter waste of real estate. 
Of course I'm totally making this up and could be completely wrong.  In any case, I fretted for these houses positioned so close to busy thoroughfares today.  Instead of crossing onto the shoulder of a road, a veering car would take out somebody's porch or living room. 
Anyway, while Connellsville thrived, many other rural towns didn't, particularly ones situated near shuttered industries.  So many desolate towns... 
We have few truly old houses in the Pacific Northwest, where our pioneer history reaches back only so far.  And our homes consist primarily of wood--a material which rarely lasts like the stone or brick construction you find in most other parts of the country (western PA an exception).  Oregonians would likely consider many of Pennsylvania's old abandoned houses as unpolished beauties and snatch them up for restoration if they could.
Down the highway, we'd reserved our specific hour entry at Frank Lloyd Wright's celebrated Falling Water house.  The woman at the guard hut knew our names with little prompting, like we'd arrived at the most over-priced of Four Seasons restaurants, our names embossed on the executive list.  Falling Water had three guests that morning:  Jim and I counted as two of them.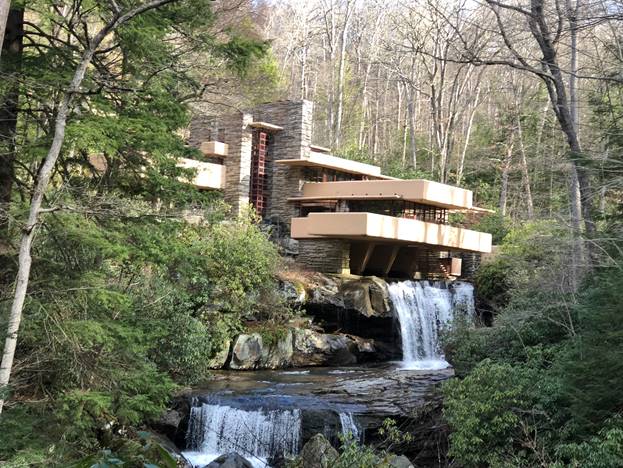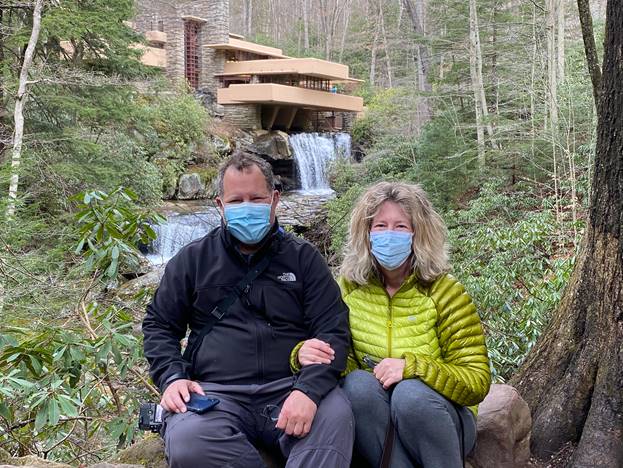 The house itself had closed due to Covid but the grounds remained open.   We didn't mind since Falling Water is more about the outside than the inside.  Plus we got to peer through Wright's bounty of windows for a good feel for the interior. 
We had to wear masks at all times despite being outside, which makes more sense when you consider that this place normally crawls with visitors.  One glance at the big (empty) bus parking lot reminded us of that.
The grounds, however, teemed with earnest but restless guides.  And they'd spotted us.  One raced down the viewpoint stairs as fast as her cane would carry her to impart her knowledge, like she was a Nordstrom saleslady who got paid on commission and we were the only customers to show up for the day.
The guide kindly offered to take a photo of us--masked, of course--in front of that famous Falling Water view.  I think she'd have hung out with us a couple hours had we encouraged it.  We didn't mourn her eventual departure in order to:
 Bask in the unusual quiet of the site all alone.
 Slip off our masks for an illicit naked-faced Falling Water selfie, which   we promptly sent to our kids. 
Daughter-in-law Anna phoned us as we soaked in our private, mask-less panorama.  I asked if she was familiar with Falling Water
"Oh, yes, that image is on the cover of every textbook," she answered.
"What type of textbooks?" I asked.
She laughed.  "All types of textbooks!"
Google maps suggested a questionable route returning to the interstate so I re-entered our destination as we headed north.  Exactly then we lost all WiFi and I had to speculate our way along the network of country backroads.  I missed my old AAA paper maps.
Fortunately we regained coverage before joining the Pennsylvania Turnpike.  I grabbed my bag of quarters and small bills for payment, but  instead we sailed through vacated stalls with signs urging us to Keep Moving.  We should get a bill in the mail instead.  What charges await us in our mailbox, we have no idea, but if the sparse traffic is any indicator, they might sting.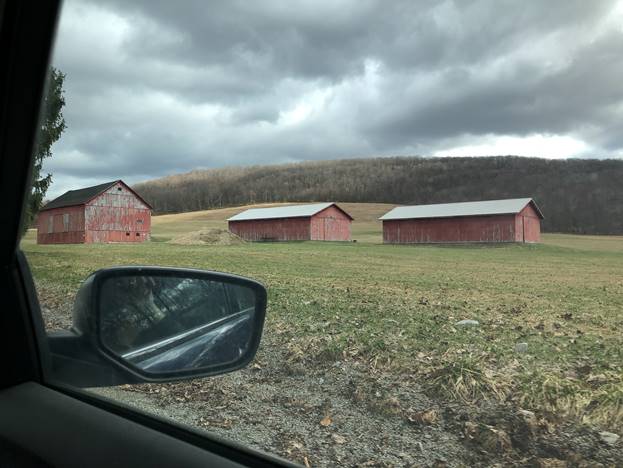 The turnpike slices through mountains with familiar names like Allegheny and other strangely-named ones I can't remember, all in tunnels of incredible length.  Their narrowness and repeated lights made Jim dizzy and disoriented.  At one point he realized he'd been holding his breath, never helpful for a driver.
Outside Philadelphia, we noticed a rapidly-expanding red line on our Google maps and decided to make a wider detour around the city.  This bypass delivered us over more interstates, turnpikes, expressways, construction sites, roundabouts, and city streets than I could count.  We arrived at our hotel, fried but intact.  
We holed up for the night about an hour outside of Manhattan in order to avoid Friday evening rush hour and also get a jump on Saturday morning traffic into the city.  We hoped to get a good night's sleep, arise at dawn, and beat the bulk of New Yorker drivers out on the roadways. 
We cleaned out the Honda Accord in the parking lot as best we could.  Smudges of Nebraska mud on the driver's floor mat will have to serve as a memento of our cross-country journey.
Zach texted us before we went to bed.  He'd recognized Falling Water from our selfie. 
He said he remembered it from his engineering textbooks. 
March 27    North Brunswick Township, New Jersey to Brooklyn, New York
We left our New Jersey hotel at 6:30 AM, a clear day greeting us for this final stretch of our journey.  When I entered our travel destination on my iPhone, a red line bled on the road ahead.  Soon a crash icon appeared, and Google maps diverted us in tortuous fashion.  In retrospect, I'm grateful we'd not fully understood how complicated a route we faced or we may have never dared leave the Staybridge Suites of New Jersey.  As we proceeded, the sun rose over the eastern horizon, a flashlight beaming precisely into our field of vision. 
We tangled with two more toll stations, both times having to reverse the car and jockey over to the correct ticket line.  Thankfully we had exceptionally light traffic or this mortifying maneuver wouldn't have been possible.
Our directions ushered us from New Jersey to Staten Island, over the Verazzano Bridge to Brooklyn, through the Battery Tunnel to Manhattan, along Manhattan's FDR drive, across the Brooklyn Bridge back to Brooklyn, then finally onto surface streets approaching Annie and Juan Carlos's apartment. 
Last night Jim suffered nightmares about tunnels in his sleep and this morning he ended up having to conquer the Battery Tunnel--one of the longest underwater tunnels in the United States.  The tunnel dove us beneath the East River for three minutes of wheel-gripping in the narrowest of lanes.  Jim asked me to talk him through it, and I did. 
Afterwards when I asked Jim to describe our drive into the city today, he declined.  "I don't want to relive those moments."  Annie later said we'd taken a driving tour of New York City. 
We found the two-hour free parking near Annie and Juan Carlos's place in Brooklyn, per their instructions, then phoned them.  Jim spotted our kids coming down the street and delivered Sophie to them. 
At first, Sophie looked confused, like "How ever did you get here?"  But then she cried and jumped and danced in jubilation, a scene which nearly compensated for all the dog spit across the continent.  Later Sophie repeatedly licked my arms, which I took as, "Thanks for bringing me here to my doggy parents.  The journey was canine hell, but completely worth it.  You found them!"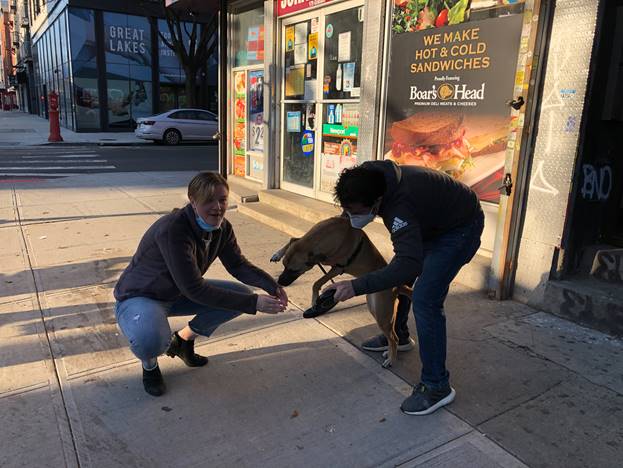 Jim and I had our own sweet reunion with the kids after not seeing them since November.  Their apartment appears very much as I'd imagined, thanks to photos and FaceTime.  Like most New York apartments, it's cozy, but has exactly what they need. 
Annie and I ventured down the street to purchase donuts for breakfast, and I immediately noticed the serious relationship New Yorkers have with their masks, even wearing them outside--all the time.  Annie said she witnessed a guy at a park receiving a citation for forgetting his face-covering. 
At any type of restaurant or food service, patrons have to provide their name and phone number or e-mail for contact tracing.  Annie reminded me that while 2,977 people perished in 911, New York City lost 1,000 per day from the coronavirus for a stretch last March. Annie and Juan Carlos explain that New Yorkers are Covid-traumatized; they remember and don't mess around.
We placed Sophie in her familiar crate, now in Annie and Juan Carlos's main room, and left for some sightseeing.  Annie guided us through the subway system back into Manhattan where we toured both Ellis Island and then the 911 Memorial, no lines anywhere.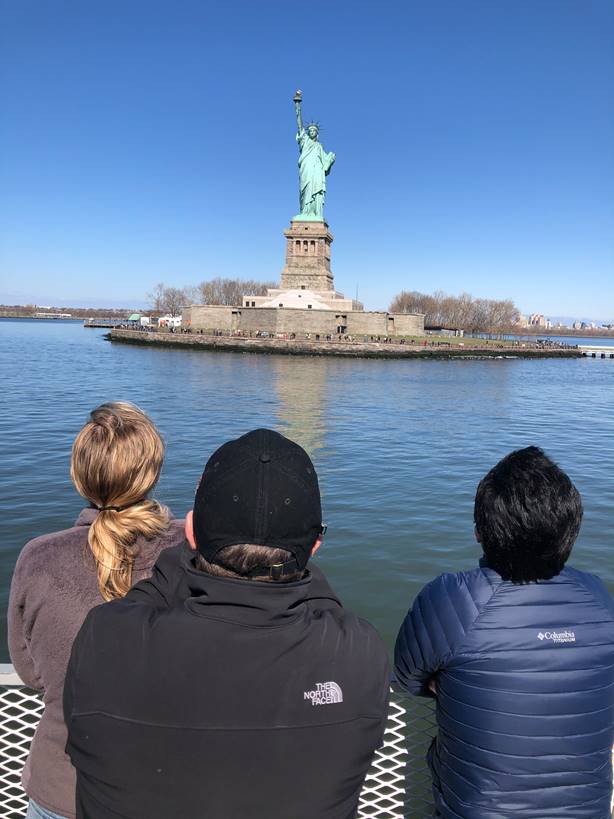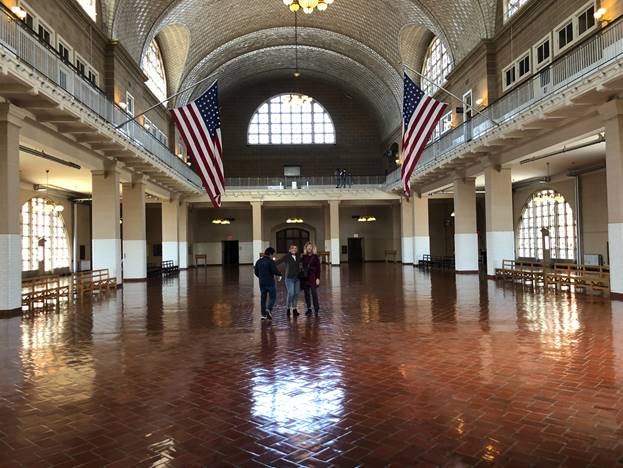 We had a great but short stay with our kids in a still-great city.  But mostly we felt relief, having successfully handed over the dog leash and the keys to the Accord to Annie and Juan Carlos.  Now these responsibilities belong to them.  We accomplished our mission.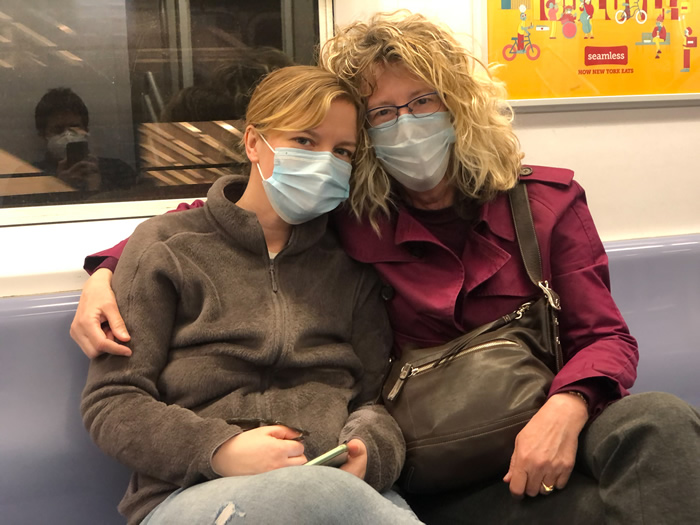 March 29    Brooklyn to Salem
Early this morning Jim and I boarded our flight at JFK for Portland.  Mid-trip, a flight attendant approached our seats and verified my name. 
"I see that this is your first flight with us in over a year?"
I nodded.  
"We're happy to see you again on Delta. Welcome back."  
"Glad to be back," I answered.